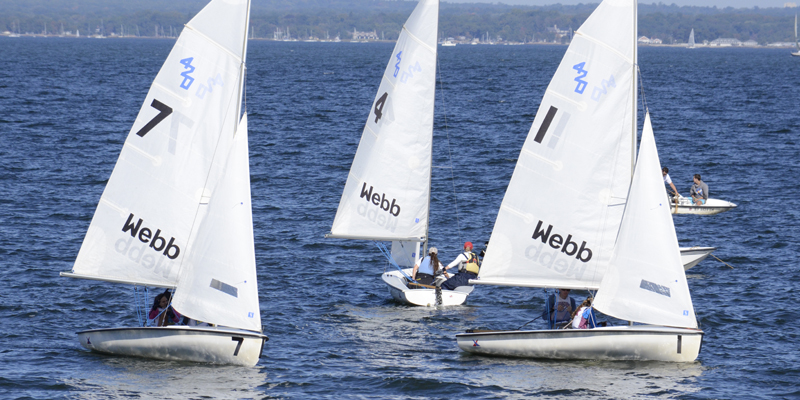 Most applicants to Webb are unmarried and between the ages of 16 and 24 on the date of admission. Homeschooled students and students from other colleges are also welcome to apply.
Regardless of AP scores or previous college coursework all students enter Webb as freshmen. Selection is made without regard to race, religion, gender or geographic origin.
The required standardized tests, the SAT, SAT II's or ACT must be no older than two years old at time of application.
Students applying to Webb from other colleges may have the SAT II's waived in lieu of college courses in calculus and either physics or chemistry with no less than a 3.2 or B+ final average. This is reviewed on a case by case basis and students should consult the Office of Admissions regarding this waiver.
Academic Requirements
Candidates must have the following units of high school credit by graduation:
Physics: 1
Chemistry: 1
College Preparatory Mathematics: 4
English: 4
History or Social Studies: 2
Electives: 4
TOTAL: 16
Almost all applicants to Webb will be, or are, taking calculus in their senior year.  Students who are not on track for calculus in their senior year need to discuss their options with the Office of Admissions. We also recommend that if given the opportunity students take a mechanical drawing class or CAD class as part of their academic preparation. You must have a B average (85 percent) in physics, chemistry, and mathematics, as well as a generally satisfactory high school record.
Standardized Tests
Webb requires applicants to submit regular SAT scores and SAT subject test scores in Mathematics Level I or II and either Physics or Chemistry.  Webb will accept scores from the ACT with the Writing test, as well if that was the test taken in lieu of the SAT.
The middle 50 % score range of the current freshman class is:
Reading   660 to 740
Math        700 to 760
Writing    620 to 690
Health Requirements
Due to mandatory participation in the four Winter Work terms in the marine industry Webb also has health requirements of all applicants.
An applicant must be physically and mentally capable of performing all work required in the academic courses and in the annual practical work periods.  All students will be issued a United States Coast Guard Merchant Mariner Document with Student Observer classification.  To meet the document's requirement, an applicant must have the agility, strength, and flexibility to climb steep or vertical ladders; maintain balance on a moving deck; pull heavy objects, up to 50 lbs in weight, distances of up to 400 feet; rapidly don an exposure suit; step over doorsills of 24 inches in height and open or close watertight doors that may weigh up to 56 pounds.  Any condition that poses an inordinate risk of sudden incapacitation or debilitating complication, and any condition requiring medication that impairs judgment or reaction time are potentially disqualifying.  Students with disabilities should contact the Office of Admissions to determine if they can complete the academic and practical aspects of the program with reasonable accommodation. The Institute reserves the right to exclude from continued class attendance or enrollment any student who, in the judgment of the authorities, is not physically or mentally qualified to follow the regular curricular program.
All questions regarding health requirements and eligibility for admissions to Webb should be directed to the Office of Admissions.