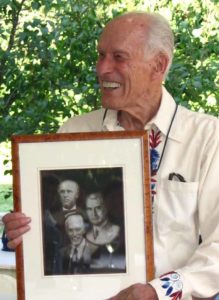 During the early morning hours of Thursday, October 19th 2017, we lost a beloved friend. Professor Emeritus Jacques Hadler will be sorely missed on the Webb Institute campus.
Falling ill in the spring, requiring hospitalization and then physical rehabilitation, Professor Hadler moved home to Maryland in June. Continuing his physical rehabilitation there, he regained strength and was enjoying time with his family. He was with his family as he passed.
Professor Hadler came to Webb as Director of Research from 1979 and 1983; was Dean from 1983 and1987 and again from 1991 and 1998. He was the J. J. Henry Professor of Naval Architecture from 1989-2001. Webb Institute awarded him an honorary Doctor of Science degree in 1993, the highest honor Webb can bestow. Professor Hadler taught a countless number of students over his time at Webb, once being referred to as a Propeller God.
The Webb Alumni Association is proud to announce its newest Honorary Members; Ms. Jocelyn Wilson and Mr. Mike Henry Read more…
A 2011 inquiry from one of the world's richest businessmen, Carlos Slim Helû, led to Ted Gurneé's latest venture, OxyHeal Tunneling Group, Inc.  One of Sr. Slim's companies, Carso Infraestructura y Construccion S. A de C.V., was contracted to drill three of the six nine (9) meter diameter tunnels for the 62 km long Emisor Oriente Wastewater Tunnel project under Mexico City.  The geology of the project requires operators of the Tunnel Boring Machines (TBMs) to change cutting tools between sections of soft ground and basalt rock.  Earth Balance Pressure (EPB) TBMs developed by The Robbins Company had to be modified for the high water pressures of this area.  Read more…
Robert Conachey, Class of 1980, has been working on special projects, some unrelated to his Webb education, for most of his career, and he enjoys every minute of it.  He attributes his success in working on these disparate activities to his natural curiosity along with a broad, well-rounded education at Webb. Read more…
Keith R. Mullins, P.E., was named a stockholder of Gannett Fleming. Based in the firm's Philadelphia, Pa., office, Mullins serves as senior Intelligent Transportation Systems (ITS) manager in the firm's Transportation Operations Practice.
With more than 14 years of experience, Mullins coordinates ITS planning, design, and construction support services. He is knowledgeable in the areas of ITS standards development, traffic and highway safety, and technical outreach and training. He manages all aspects of the ITS project delivery process and has led ITS design-build projects throughout the Northeast. Read more…