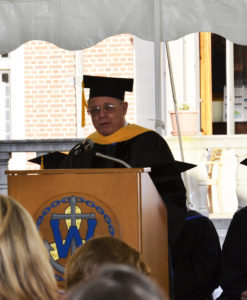 On Saturday, May 20, 2017, Webb Institute honored one of its own during the Annual Alumni Homecoming event.
After a fun-filled day of activities, delicious meals, class reunion photos, and presentations, Alumnus Arthur A. Burr '54 was awarded in a special ceremony with the highest degree Webb Institute can grant, an Honorary Degree of Doctor of Science.  Mr. Burr was chosen for his excellence in the marine industry, and unwavering support of Webb Institute and its students.
Over the years, Mr. & Mrs. Burr have given so much to Webb. In 2006, their generous donation made The Arthur & Marilyn Burr Junior Classroom possible, which is in memory of Arthur's departed classmates, John Franklin and John Dalzell.  Additionally, in 2007, the Benjamin C. Keeler Reading Room was dedicated because of the Burr's gifts to Webb.  The "Art Burr" William H. Webb scholarship endowment provides a full tuition scholarship for a Webb student each year.
Alumni in attendance for the special ceremony remarked that they were "inspired" by Mr. Burr's achievement and the example he has set for alumni to give back to Webb.
After receiving his honorary degree, Mr. Burr thanked Webb, his extended family (his Burr Yacht company associates), his wife Marilyn, and daughter Theresa for their support.
The Webb community is eternally grateful for Mr. Burr's supreme generosity that will transcend throughout our institution for years to come.
Video of Honorary Doctorate Ceremony
Photo Gallery of Homecoming 2017
Naval Architect — Turned Paper Engineer
After gra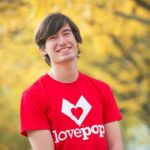 duating from Webb in 2009, I pursued a master's degree at MIT in Computation for Design and Optimization, hoping to learn how to harness the power of technology to create better ship designs without having to build them one at a time. I learned a great deal about Greek symbols, linear algebra, and most importantly, how difficult it is to sum up realworld problems as a system of equations. While at MIT I worked with ABS and the folks at SeaRiver Maritime (ExxonMobil) on building a logistics system for offshore vessels and employing it to attempt to predict future trends in offshore support vessel design. As a lucky coincidence, I met a professional management consultant and fell in love with his job of helping managers identify their biggest challenges and influencing others in their organization to make positive changes. I was incredibly surprised to learn that there is an entire profession dedicated to this and that I could get a job doing that. Read more…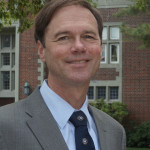 After considering input from the many stakeholders that comprise the Webb community, the Board of Trustees selected the Bentel & Bentel design for our new Academic Center. Located on the second terrace in close proximity to Stevenson Taylor Hall and the Livingston Library, the Academic Center will be readily accessible by students and faculty. The Center will house classrooms and lecture halls, student team rooms and conference rooms, faculty offices, and the Couch Lab (our computer technology center). It will be a modern teaching facility which stylistically complements the Georgian architecture of Stevenson Taylor Hall. We are nearing the final stages of Schematic Design, roughly equivalent to the preliminary design phase in shipbuilding. Please check back here for updates!
At Homecoming, we look forward to updating alumni on the design status. We anticipate start of construction in early 2018 and opening of the Academic Center for the 2019 fall semester.
-President R. Keith Michel '73
On Monday, March 6, 2017, Founder and President of 4aBetterBusiness Paul Vragel '72 is scheduled to speak to students as part of Webb's Monday Lecture Series.  Vragel will address students on the topic, "Using Systems Engineering to Achieve Transformational Business Results."
Based on transformational results achieved by 4aBetterBusiness in manufacturing, distribution and B2B services companies, the presentation will cover the core insights that enable transformational results, an example of systems engineering applied to a design and manufacturing company, implementation issues to ensure management and employee buy-in, tools that can be used immediately, and resources for further reference and investigation by the students.
During this year's Alumni Banquet, several Webb Alumni and Faculty were honored by The Society of Naval Architects and Marine Engineers (SNAME). Some were named Fellows, while others received awards for their 50 years of membership, outstanding service, and work in the industry.
Congratulations to all this year's honorees!
SNAME Fellows:
Michael Martin, Professor of Electrical Engineering
Richard Royce, Professor of Naval Architecture and Director of Research
Russell Hoffman '74
50-year Golden Membership Certificate:
Peter Fontneau '68
John Glaeser '68
Michael Goodwin '69
Ralph Johnson '68
Thomas Koster '67
William McCreight '67
James Royle '66
Paul Snyder '69
Robert Walsh '66
The Elmer L. Hann Award – Honorable Mention:
Christopher Rose '11, et al. for their paper, "Automatically Determining the Latest Possible Equipment Installation Times for Shipbuilding."
The Lisnyk Student Design Competition – Third Place:
"Ice hardened Medium-Sized Combatant Design Proposal"
University of Michigan
Faculty Advisor: Dr. Matthew Collette '99
Certificates of Appreciation:
Matthew Tedesco '91 – For his dedication, service, and active participation as the Editor of MT
Bruce Rosenblatt (Hon.) and Webb's Chairman of the Board, for 22 years of service and active participation on the SNAME Maritime Convention Committee.