Founder's Day 2015 was notable for several reasons. First, the observance was moved from the traditional first Friday in April to the first Friday in May. Last year's cold, which prevented our undertaking a number of projects, especially planting on campus, led to a decision to put the date back a month. Thankfully, the weather cooperated this year, and we had a nice day for working.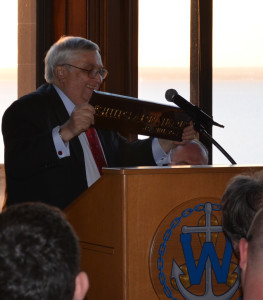 Student Organization President Matt Weklar and Social Committee chair Erin McElroy organized the activities, which Fernando Tamayo and his crew made possible
with their help. The day's activities were filmed by Anthony Pizziatolla, and still photos were taken by Kelly O'Brien and Kerri Allegretta. The celebration began with Professor Harris reading the 1894 testimonial of the shipwrights of New York, who praised Mr. Webb's generosity and "spirit of disinterested benevolence," followed by all hands around the fountain for several quaint Webb cheers, and a hearty "1, 2, 3, Webb!"
Dinner that evening was marked by the ceremonial cutting of the cake by the oldest alum present, Professor Emeritus Tom Bond '45, and the youngest current Webbie, Andy Panek '18. President Michel recognized all the work groups. The highlight of the day was the Founder's Day speech, which this year was given by Dean Rick Neilson '70, who retired this July. S.O. President Matt Weklar presented Dean Neilson with a beautiful plaque made by freshmen Andrew Vogeler, with the Dean's immortal words, "Ships are neat!" Founder's Day 2015 was pretty neat too.