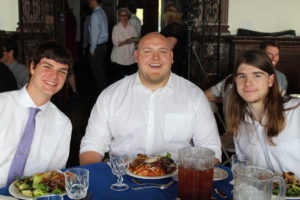 On Friday, April 28, 2017, the Webb community celebrated Founder's Day. Founder's Day focuses on honoring and recognizing our founder, William H. Webb for his grand achievements, extraordinary vision, and generosity. William Webb's grand efforts have given hundreds of students the opportunity to obtain a great education in a truly unique way. Therefore, it has become a tradition to honor him by devoting one afternoon each year to repairing, reorganizing, and beautifying Webb Institute's historic campus.
During this year's Founder's Day observation, students, faculty, and staff spent the day combing the beach, maintaining student whalers, reorganizing library archives, planting new trees and flowers, washing windows, setting up for the evening's dinner and much more!
After the days tasks were completed, everyone washed up, dressed in their formal wear, and headed to the Visconti Reception Room to enjoy the Annual Founder's Day Banquet. The evening included performances by the WooFs, a delicious dinner by Flik Dining, the traditional cutting of the cake, and speeches by Webb's Student Organization President Vincent Commisso '18, Dean Matt Werner, and President and CEO of Metal Shark Boats, Chris Allard '04. Allard's captivating speech touched on the current state of the marine industry, what lies ahead in the future, the legacy of William H. Webb, and the importance of carrying on Webb's mission.
View Founder's Day Dinner Video