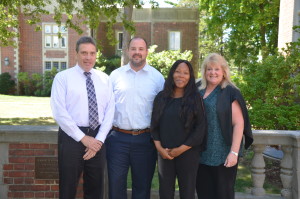 On Monday, August 15th, Webb's Development team welcomed Joseph Cascio as their new Assistant Director!
Joseph comes to Webb with twenty years of hands on experience in development consultation and fundraising. Prior to his appointment at Webb, Joseph worked with companies (most recently Parish Development Consultants) who specialized in helping Catholic Parishes & Dioceses across the country with their fundraising needs. He was responsible for conducting capital campaigns, planning studies, offertory programs, direct mail appeals and overseeing redemption services.
As Webb's Assistant Director of Development, Joseph will help support the overall operations of Webb's Alumni Fund, Parent Fund and Parent Alumni Fund. He will also assist with "Campaign for Webb"; a $40 million effort to help insure the college's programs, infrastructure and financial resources to meet the growing challenges of an expanding marine industry.
When he is not at Webb, Joseph enjoys spending time with his family, loves to cook & BBQ, is active in his church community and continues cheering on the New York Mets. He is very excited to become a part of the Webb Family!