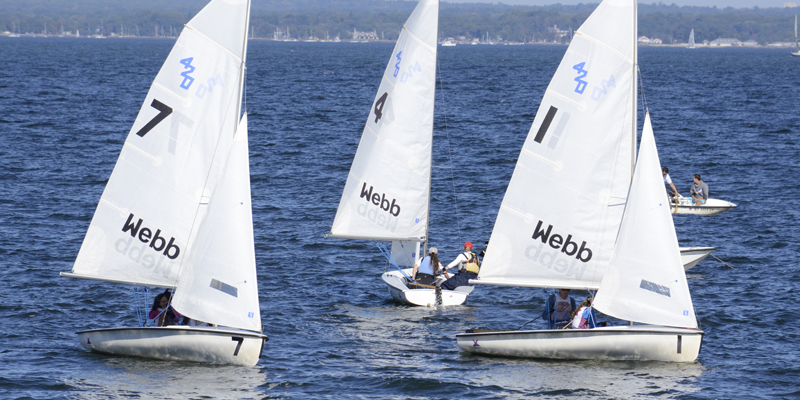 Admissions Plans
We offer an Early Decision option for those of you whom have decided that Webb is your first-choice school. If accepted to Webb under our Early Decision plan, you must withdraw all applications from other colleges and universities. If you are seeking financial aid for Room and Board, you do not need to withdraw your other applications until after you have received notification from Webb regarding your financial aid package.
In order to be considered for Early Decision, you must complete your application by October 15th. Incomplete applications will be rolled over into the Regular Decision pool. In early November, finalists will be invited to spend an overnight on campus, during which they will be interviewed by our President and a faculty member. Finalists will also be asked to take a short math test and respond to a writing prompt. Final admissions decisions will be released by mid-December.
In order to be considered for Regular Decision to Webb Institute, you must complete your admissions application by February 15th.  By the beginning of March, finalists will be invited to spend an overnight on campus, during which they will be interviewed by the Webb Institute President and a Webb faculty member, and be asked to take a short math test and respond to a writing prompt.  Final decisions will be released by early April.
Our College Board SAT code is 2970. Our ACT code is 2987.
Requirements
Application Requirements:
Webb Institute Application
 A non-refundable application fee of $60
A copy of your birth certificate, valid US passport, or US Permanent Resident Card
Official High School Transcript
Secondary School Report Form (to be filled out by College/Guidance Counselor or other School Official)
The Following Official Standardized Tests

SAT* OR ACT
SAT II in Physics OR Chemistry
SAT II in Math, Level 1 OR Level 2*
*If you were unable to take the SAT subject tests, contact Admissions for possible alternatives.
 Two Teacher Recommendations (preferably one from a math or science teacher)
If applying for Financial Aid, the FAFSA must be submitted within two weeks of the application deadline
If you are selected as a finalist, you are also required to take part in an overnight experience, during which you will be interviewed by our president and a faculty member, and be asked to take a short math test and respond to a writing prompt.
*Webb will accept scores from the old SAT, the new SAT and the ACT (with writing).  If you send scores from multiple tests, Webb will use concordance tables to determine which test places you in the best standing in our application process.  In the application process, Webb will also superscore the new SAT, the old SAT and the ACT.
High School Preparation
At Webb, our goal is for our students to design what they love and to make their mark on the world.  While the education here centers on Naval Architecture and Marine Engineering, these fields are incredibly dynamic and multi-disciplinary.  Our 146-credit undergraduate education is unique and rigorous, and our students must be able to handle the challenges of such a curriculum.  Therefore, to be competitive in our applicant pool, students must have completed the following coursework by graduation.
English: 4 Years
Mathematics: 4 Years including Calculus
Lab Sciences: 3 Years including Physics and Chemistry
Social Studies: 2 Years
It is also recommended that students take advanced level coursework (APs, IBs, etc.) wherever possible, or coursework in mechanical drawing, engineering, or CAD classes if available.
Regardless of AP scores, SAT scores, or college coursework, all students enter Webb as freshmen.
Health Requirements
All students must be physically and mentally capable of performing all work required in the academic courses and in the annual practical winter work terms. All students will be issued a United States Coast Guard Merchant Mariner Credential with Student Observer classification. To meet the document's requirement, an applicant must have the agility, strength, and flexibility to climb steep or vertical ladders; maintain balance on a moving deck; pull heavy objects, up to 50 lbs in weight, distances of up to 400 feet; rapidly don an exposure suit; step over doorsills of 24 inches in height and open or close watertight doors that may weigh up to 56 pounds. Any condition that poses an inordinate risk of sudden incapacitation or debilitating complication, and any condition requiring medication that impairs judgment or reaction time are potentially disqualifying.
Students with disabilities should contact the Office of Admissions to determine if they can complete the academic and practical aspects of the program with reasonable accommodation. Webb reserves the right to exclude from continued class attendance or enrollment any student who, in the judgment of the administration, is not physically or mentally qualified to follow the regular curricular program.
Transfer Applicants, Non-US Citizens, Homeschooled Applicants
Webb Institute has a unique transfer policy.  Transfer applicants must apply through our Early Decision plan by October 15th or through our Regular Decision plan by February 15th, and are reviewed on an individual basis in the context of the applicant pool.  Please keep the following in mind when applying as a transfer student:
Regardless of previous college coursework, all students including transfers, enter Webb as freshmen
(Credits from other institutions do not transfer)
The SAT or ACT must be no older than two years old at the time the application is submitted
Student may have the SAT II requirement waived in lieu of college coursework in Calculus and either Physics or Chemistry. In order to do so, they must contact the Office of Admissions and provide them with SAT/ACTs and their transcript. Scores can help your chances of being admitted. This information will be presented to The Admissions Committee for review.
Only US Citizens and Permanent Residents are eligible for the full-tuition scholarship and for Financial Aid.
Admissions Requirements:
The admissions requirements for non-US citizens are the same as the admissions requirements for all applicants.
Homeschool applicants are welcomed to apply.  We ask, that you submit a supplement to the application that provides the admissions committee with a better picture of your homeschool environment and curriculum.  We also ask that any AP Scores/SAT/ACT/Subject Tests be submitted to provide the Admissions Committee with more insight into the student academically. We evaluate every applicant on a case-by-case basis.