The Alfred M. Zeien Lecture Series presented Dr. David Porter: The Well-Tampered Clavier: Play-Musical and Otherwise on October 28th, 2015.  Dr. David Porter performed twentieth-century piano music by Charles Ives, Henry Cowell, and John Cage. Many thanks to Professor Richard Harris, who organized this event.
Program notes: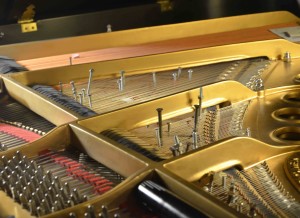 From the outset it is important to know that David Porter loves puns. The title of his program is, in fact, a pun on the title of one of Johann Sebastian Bach's most famous works, "The Well-Tempered Clavier," a series of 48 keyboard exercises published in two volumes in 1722 and 1742. The clavier referred to in the title denotes a keyboard instrument. The phrase well-tempered, or "well-tuned," has to do with a tuning system developed in the early eighteenth century that allowed for a harmonious relationship between notes played in both major and minor keys. The late nineteenth and early twentieth centuries saw a revolution in the arts, as many artists challenged or rejected traditional, established ideas: painters explored new ways of seeing, and writers explored new ways of dealing with time and point of view, and thus "truth." Composers also experimented with new melodies and harmonies and new instrumentations, encouraging those interested in music to listen to and appreciate non-traditional musical creations. Charles Ives, Henry Cowell, and John Cage were three of the major figures in this modernist movement in music.
About Dr. David Porter: 
David Porter received a B.A. degree from Swarthmore College and a Ph.D. in Classics from Princeton University. He retired in 2013 after 51 years of teaching classics, English, and music at Carleton, Princeton, Williams, Indiana, and Skidmore, often in named chairs. During his academic career he also served as president of both Carleton College and Skidmore. In 2011 Carleton College conferred on him the honorary degree Doctor of Humane Letters. He has been doing strange things with and to pianos for decades, and while he was president of Skidmore (1987-99) he inflicted programs such as tonight's on each new first-year class. He has given piano recitals throughout the U.S. and in the U.K. and is the author of eleven books on Horace, Greek tragedy, pianist Edward Steuermann, Virginia Woolf, Willa Cather, and, with Helen Porter, on Lucy Scribner, Skidmore's founder (2011). His edition of Lucy Gayheart for the Cather Scholarly Edition was published in August 2015.