Webb Institute is one of the nation's best colleges for students seeking a superb education with great career preparation and at an affordable price according to The Princeton Review (www.princetonreview.com).
The education services company features the school in the 2016 edition of its just published book, Colleges That Pay You Back: The 200 Schools That Give You the Best Bang for Your Tuition Buck (Penguin Random House / Princeton Review Books, $21.99, Feb. 2).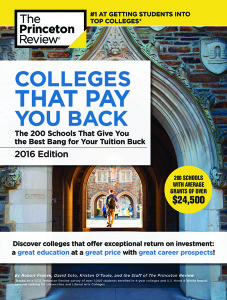 The Princeton Review chose the schools based on ROI (return on investment) ratings it tallied for 650 school last year. The ratings weighted 40 data points that covered everything from academics, cost, and financial aid to graduation rates, student debt, and alumni salaries and job satisfaction. The Princeton Review editors culled data from the company's surveys of administrators and students in 2014-15 and from PayScale.com's surveys of school alumni conducted through April 2015.
"We highly recommend Webb Institute, and all of our Colleges That Pay You Back schools.  They stand out not only for their outstanding academics but also for their affordability via comparatively low sticker prices and /or generous financial aid to students with need – or both," said Robert Franek, The Princeton Review's Senior VP/Publisher and lead author of the book.  "Students at these colleges also have access to extraordinary career services programs from their freshman year on, plus a lifetime of alumni connections and post-grad support."
In the book's profile of Webb Institute, The Princeton Review editors praise the school for its "full-tuition scholarship that creates the lowest average student loan indebtedness of any four-year college in the nation besides the military academies." and a quote from Webb Institute students the company surveyed who described the college as "THE college for Naval Architecture, and a job offer is basically guaranteed after graduating." It also cites PayScale.com figures reporting Webb Institute's graduates with at least a bachelor's degree have a median starting salary of $65,400 and median mid-career salary of $ 105,000.
The book also has an introductory section identifying "Great Schools for the Highest Paying Majors" and tips for getting financial aid, scholarships and grants from colleges. In addition to the profiles of 200 (66 public and 134 private) tuition-charging schools, profiles of nine tuition-free schools, which includes Webb Institute, are in the book.
About Webb Institute
Founded in 1889 by William H. Webb, Webb Institute is a top-ranked undergraduate college specializing in Naval Architecture and Marine Engineering. Webb provides full-tuition scholarships to all admitted students; admission to Webb is extremely competitive with a maximum of 28 students being accepted into the program each year. Webb Institute prides itself on a 100% placement rate for graduates who are highly sought after by all segments of the marine industry. Webb Institute is located on a beautiful, waterfront campus in Glen Cove, NY, on the North Shore of Long Island.  For more information, visit www.webb.edu.
About The Princeton Review
The Princeton Review is a leading tutoring, test prep and college admission services company. Every year, it helps millions of college- and graduate school-bound students achieve their education and career goals through online and in person courses delivered by a network of more than 4,000 teachers and tutors, online resources, and its more than 150 print and digital books published by Penguin Random House. The Princeton Review is headquartered in Natick, MA and is an operating business of Match Group (NASDAQ: MTCH).  For more information, visit www.princetonreview.com. Follow the company on Twitter @theprincetonrev.