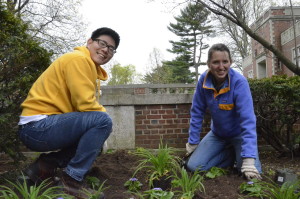 On Friday, April 29, 2016, Webb Institute's students, faculty, staff, and administration celebrated Founder's Day. Founder's Day focuses on honoring and recognizing our founder, William H. Webb for his extraordinary vision and generosity. William Webb's grand efforts have given hundreds of students the opportunity to obtain a great education in a truly unique way. Therefore, it has become a tradition to honor him by devoting one afternoon each year to repairing, reorganizing and beautifying Webb Institute's historic campus.
During this year's event, student's planted flowers, repainted parking space lines, built a new table for the campus wood shop, cleaned the beach, repaired bicycles, maintained student whalers, demolished the Luckenbach patio, reorganized the library's archives, cleaned the student kitchen and pub, painted a mural, and much more!
After all the hard work was done, everyone washed up, dressed in their formal wear, and headed to the Reception Room to enjoy the Annual Founder's Day Banquet. The evening included great performances by the WooFs, a formal dinner, the traditional cutting of the cake, and an inspiring lecture by third generation Naval Architect and Marine Engineer, Mr. Bruce Rosenblatt. Mr. Rosenblatt gave words of wisdom to students, reflected on his inspiring career, and expressed his love and support for Webb Institute.
View Founder's Day Dinner Video