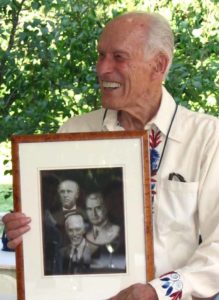 During the early morning hours of Thursday, October 19th 2017, we lost a beloved friend. Professor Emeritus Jacques Hadler will be sorely missed on the Webb Institute campus.
Falling ill in the spring, requiring hospitalization and then physical rehabilitation, Professor Hadler moved home to Maryland in June. Continuing his physical rehabilitation there, he regained strength and was enjoying time with his family. He was with his family as he passed.
Professor Hadler came to Webb as Director of Research from 1979 and 1983; was Dean from 1983 and1987 and again from 1991 and 1998. He was the J. J. Henry Professor of Naval Architecture from 1989-2001. Webb Institute awarded him an honorary Doctor of Science degree in 1993, the highest honor Webb can bestow. Professor Hadler taught a countless number of students over his time at Webb, once being referred to as a Propeller God.

Professor Hadler lived his final years with the same dignity, joyfulness, and sense of purpose that he carried through life. He was an inspiration to all of us at Webb. We will miss him dearly.
Last night, Webb students gathered on the Stevenson Taylor patio to give a toast to Jacques. A memorial service will be held in Silver Spring, Maryland, and we will be hosting a remembrance event at Webb celebrating Jacques's life. Details will be announced.
Excerpts from then-Chairman of the Board, R. Keith Michel's remarks presented during Professor Hadler's retirement party on May 20, 2011 can be viewed here.
Professor Hadler's personal memoir "From the Prairie to the Shining Sea," written in 2008 is also available online.
Also available, Victoria Dlugokecki's '89 SNAME Founders and Leaders article about Professor Hadler, written for the January 2015 Marine Technology (MT) Propulsion issue.