THE JOURNEY TO AMERICA'S CUP
A WEBBIE'S DREAM OF DESIGNING AMERICA'S CUP BOATS BECOMES REALITY
by Bobby Kleinschmit '06
"I grew up dreaming of designing America's Cup boats and wanted to be a naval architect from age 11."
When I graduated from Webb in 2006, America's Cup boats were highly specialized, highly optimized and, well, pretty slow. The technology, speed potential, and design freedom in the world of big offshore racing multihulls interested me far more, so I decided to pursue a career in that area. Little did I know, the America's Cup would be following me in that direction.
After graduation, I joined Morrelli & Melvin (M&M) in Huntington Beach, California, the only company in the United States working on big, fast sailing multihulls. Working for M&M was a lot of fun and I learned a lot. It is a small company that works on a very wide range of interesting design and engineering projects, and I was able to take on responsibility, solve problems, and develop my engineering skills right away. I designed hullshapes for production sailing catamarans and aluminum workboats, engineered and produced drawings for carbon fiber sailing catamarans, and did pretty much everything in the process of designing boats. I was sent all over the world for various projects, often alone, including several trips to South Africa, China, and Mexico to work with boat builders and develop designs on site.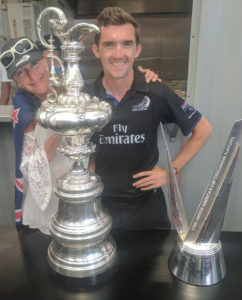 The America's Cup, and my life changed in 2007 when Oracle challenged Alinghi to race in giant multihulls. The Oracle team and their giant trimaran were based in SanDiego at the time, and due to our experience with high performance multihulls, Morrelli & Melvin was hired byOracle for consulting projects, and I contributed to hulldesign and VPP (performance analysis) work. The 33rdAmerica's Cup took place in 2010, and Oracle's trimaran, with its 220-foot wing sail, beat Alinghi's giant catamaran.
After Oracle won the 33rd America's Cup in February 2010, they spent some time deciding on the type of boat to use for the 34th Cup, and hired two independent groups to write rules, one rule for a conventional monohull, and one rule for a new type of catamaran. We were hired for the catamaran rule and spent about six months deciding what the boats should be like and then writing the rule. Of course, we thought there was no possible way the catamaran would be chosen for the34th America's Cup, but we enjoyed the project anyway. We met with the Oracle team in Newport, RI, in August 2010, and it was announced that the rule we were working on would become the rule, and work on the monohull had been stopped. I'll never forget sitting on the terrace at the New York Yacht Club in Newport, discussing the new AC72 class rule while watching C-Class catamarans race, and imagining what the future of the America's Cup would be like.
After the AC72 rule was published in October 2010, we started working straight away for Emirates Team NewZealand (ENTZ), designing the first AC72. In early 2011, two others and I from M&M moved to Auckland, NZ, for two years to work with ETNZ. Designing and engineering the boat proved to be a huge task, but the single most memorable part was developing the now-familiar concept of a stable, foiling catamaran. Early on, it was not at all obvious that foiling would be possible or fast. Scott Graham (Webb Class of '83), who was part of the ETNZteam, pushed for exploring foiling and other possibilities such as adding elevators to the rudders, which provided a big increase in performance by allowing the foils to lift more of the boat's displacement. At the time, C-shaped daggerboards were becoming common on small racing catamarans, but would become very unstable as soon as the hull was out of the water. We didn't know how much we could rely on the foils to generate lift before becoming unstable, so we started testing a wide variety of foil shapes on smaller, 33-ft catamarans to find out if we could develop a heave-stable foil design. After plenty of development work, our team decided to try a C-foil that made a sort of V shape at the bottom. I made some drawings for attaching an old, broken piece of C-foil to the end of another C-foil, which we tested on the33-footer on a wet and windy day in December 2011. We saw that, instead of leaping out of the water and crashing down, the boat would maintain an even height above the water – foiling! We decided that night that that's what our AC72 foils should look like.
When we launched the first AC72, photos of the boat foiling up Auckland Harbor started surfacing on the internet. Most people thought they were photoshopped. Our competitors must have believed the photos were real, because they eventually launched boats with similar looking foils and started foiling, too. It was obvious that all the teams would be foiling, at least downwind.
In 2013, the entire ETNZ team moved from Auckland toSan Francisco for the 34th America's Cup. Our team at ETNZ had led the development of the AC72 class from the beginning, but most key design decisions were made long before the race before we really knew exactly how fast the boats would be. We had a head start and were leading in the first-to-nine-wins America's Cup match by a score of 8-1, but ended up losing to Oracle, 8-9. AfterSan Francisco, we were devastated but the team managed to stay in operation, with just a few people working in Auckland on developing software tools. The rest of us wanted to hear what would happen for the 35th America's Cup.
I returned to California and went back to work for M&M, who had been hired by Oracle to revise the AC class rule. After the new rule was released, I decided to join my girlfriend Genevieve in France and went to work for a colleague of mine at ETNZ, Guillaume Verdier, who has his own yacht design office in France. Genevieve and I found a place to live by the water in a small village called Larmor Baden, in Brittany. I had the opportunity to apply the design and performance optimization software developed at ETNZ to French offshore racing projects. Throughout 2014, we were very busy developing several new designs of IMOCA 60s (Open 60s) for the singlehanded, around-the-world Vendee Globe race. Just as with the AC72, most of the development revolved around foil shapes that would reduce hull displacement at high boat speed. Six of the designs I worked on started the race and took first and second place. I also started work with Verdier on a 100-ft fully-foiling trimaran for GitanaTeam, which was launched last year and is planning on racing the Route du Rhum transatlantic race later this year.
In late 2014, I returned to Auckland and started working for ETNZ on the next AC challenge. Soon after, it was announced that Bermuda would be the venue for theCup, and the boats would be scaled down to 50 ft. Our team had fewer people and a much smaller budget than before, but throughout 2015 we continued to develop our new designs, using the simulation tool that was developed in-house at ETNZ. This tool allowed our sailors to sail virtually on candidate designs before choosing which designs to build. While some of our competitors were out sailing and developing test boats, we had no boat and used our simulator to develop our designs. Unencumbered by the practical constraints of building and testing on the water, we were free to rethink how the boat would operate. The key tradeoff in foil design was between speed and stability, and unstable foils would be much faster, so we developed a system whereby one of the sailors would be continually adjusting the foil angle of attack, based on a target provided by the on-board instrumentation system. This plan required an additional sailor with free hands, so we decided to use bicycle 'grinders' instead of traditional arm grinders, which also provided power and windage advantages. Instead of a winch to trim the sails, we had hydraulic rams operated by a PlayStation-style controller. I oversaw the appendage design program, which meant drawing and analyzing many foil and rudder shapes, doing structural engineering calculations and drawings, and project managing our research and development program. It was very stressful, very hard work but very rewarding. "We ended up with a very unique boat and took a lot of risks, but in the end, it paid off as we beat Oracle 7-1 and won the America's Cup!"
2017 was a very exciting year! Genevieve and I were married in Queenstown, New Zealand, on New Year's Eve and in October our daughter Tara was born.
I am still working with ETNZ and have been working on concepts for the new class of boat for the 36thAmerica's Cup, to be held in 2021 in Auckland. The rate of advancement in technology during my time of involvement with the America's Cup has been amazing, and it doesn't look to be slowing down anytime soon. We have a new class of fully-foiling monohulls to design, with a new set of challenges and potential to advance the state of the art of high-performance sailing yet again. OK, back to work!