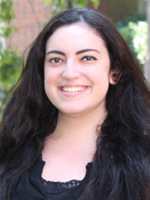 Webb would like to introduce Marissa Alperin as the new Assistant Director of Student Affairs and Residence Life.
Before joining the team at Webb, Marissa worked in higher education at the State University of New York at New Paltz in Undergraduate Admissions as a Student Manager and Ambassador, and for Student Affairs as a Work Studies Manager and Student Activities Manager. Most recently, Marissa worked as a Residential Director at Skidmore College. While working in these positions, Marissa helped provide prospective and current students with an enriching, safe, and educational environment, so that students could excel in academic and social communities on campus. Having experience in running school Open houses, overseeing student employees, organizing/running events, and being a point person for emergencies, Marissa is eager to begin her journey here at Webb. 
Marissa has a Bachelor of Arts degree in History from the State University of New York. Upon graduation, Marissa's research was electronically published by the school, and she received a Distinguished Senior in Student Affairs award. 
As the new Assistant Director of Student Affairs and Residence Life, Marissa will be in charge of student wellness, student health, student activities, residential life, emergencies, parking, and van access, among other tasks.
When Marissa is not on campus, she enjoys spending time with her family and friends, singing, traveling/exploring new places, watching some of her favorite shows: Game of Thrones, The Office, and Gilmore Girls, and going to museums.