Where are you working for the Winter Work term?
I'm spending my freshman Winter Work Term at the Chantiers de l'Atlantique in Saint-Nazaire, France. 
Why are you interested in this company?
I was originally interested in this company because they design and build the world's largest cruise ships for leading cruise lines and are at the front of innovation toward sustainable shipping. Although I don't have a passion for cruise ships, their complexity is certainly fascinating. Everything I learn here will be applicable in almost every other sector of the industry. My personal favorite project they are working on is the Solid Sail. 
How is the work environment?
I am part of an outfitting supervising team. I joined a team of 7 who specializes in supervising the outfitting of anything welded or attached to the metallic hull of the ship. This includes life-saving apparatuses, strategic fire-fighting equipment, mooring decks, hydraulic doors, machinery, and balconies. During my winter work term, I will be supervising the installation of some life-saving apparatuses. 
What skills are you learning at the company?
I am learning technical French terminology and the logistics behind such a large and complex shipyard – there can be up to 8,000-10,000 personnel in the yard at a time and up to 4 ships under construction. There is activity 24/7 in the yard, and thousand-ton blocks are being lifted on an almost daily basis. I am also taking this opportunity to ask questions about the design process of ships. It takes 500 engineers and technicians to realize all the different ship's plans fully. I am able to help my team with translating English to French and teaching them English terminology to ease their communication with contractors. 
Why are you the best candidate for this internship?
I showed interest in learning from the world's leading passenger ship shipyard and my French language skills enabled me to do my job in the language spoken daily within my team and with contractors. Some overseas shipyards can accommodate English speakers but that is not standard in French yards.
Where do you see yourself after this internship (or after graduation)?
As I am only a freshman, I will return to Webb after the winter work term to explore more sectors before deciding on one to pursue during my early professional career. I do hope to come back to this shipyard in my junior year to work in the design offices of their new sail and Liquified Natural Gas (LNG) -propelled ships.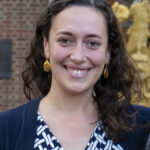 By Lauren Carballo
Director of Admissions and Student Affairs at Webb Institute
In September, U.S. News and World Report released their 38th annual ranking of colleges and universities…and once again, Webb Institute, the college for which I serve as Director of Admissions and Student Affairs, was labeled "unranked" in all but one category. As we've always known, a "tuition-free" undergraduate college with one unique degree and a student body size of just over 100 was never meant to fit neatly into any category. If that weren't enough, per U.S. News' ranking criteria, it was simply our specialized program and student body size that automatically relegated Webb to this status.  
We are not alone. In total, 131 (or 8%) of the 1,631 schools considered by U.S. News are also labeled "unranked" in most categories. They include schools like Olin College of Engineering, Babson College, The Juilliard School, and the Culinary Institute of America–all incredible institutions, all unique, and all unable to participate in the full U.S. News "game" because of the nature of their academic programs.
For some categories, I suppose this makes sense. How would you holistically compare any of the schools above with Williams or Harvard, which more easily fit the mold of a "typical" college? However, for other categories—categories that focus on specific data that make comparing even the most unique schools possible, U.S. News still leaves the 8% off these lists. Princeton, for example, tops their "Colleges Where the Most Alumni Donate" list with a 55% annual alumni giving rate, even though Webb's annual alumni giving rate is over 70%. Under "Best Value Schools," Webb is also excluded even though Webb provides full-tuition scholarships to all of its students, has one of the lowest student debt averages, has a 100% job placement rate, and has one of the highest early career salary figures in the country. Other lists like the "Top 100-Lowest Acceptance Rates" or "Most Students Receiving Merit Aid" are others on which Webb should be included, but is not. Similarly, a number of the other 131 unranked colleges would also rank well on many of these lists.
Now U.S. News does have a few categories, or "specialty lists," in which these unique institutions are ranked, yet their methodology still finds a way to penalize the unique and less well-known. In the Best Undergraduate Engineering Program category, for example, instead of the "17 indicators of academic quality" used in US News' main rankings, which provides at least one multi-faceted means of comparison, this specialty list uses just one–"academic reputation," determined not by job placement rate, starting salary, internship program, industry feedback, or student feedback, but instead by the perception of the program by other college administrators—an old fashioned popularity contest. So if you compare Webb's one degree in Naval Architecture and Marine Engineering to larger engineering programs with more degrees within better-known institutions from the perspective of other college administrators, it's no surprise that Webb can't compete.
…And U.S. News is not the only ranking agency that strategically limits unique schools. In 2014, Webb was ranked #2 in Money Magazine's Best Colleges for Your Money, beating out MIT, Princeton, Stanford, and Harvard. However, shortly after, Money Magazine decided to change their ranking criteria so that only colleges with student populations of over 500 would be included, thus removing Webb from the list entirely. We have not been included in their rankings since.
I believe that Webb's statistics speak for themselves as with many of the other unranked colleges, and there is no doubt that the unranked deserve a place on many of these lists—often at the top. So why, then, are great schools so often omitted from these lists based on seemingly random limiting factors, e.g., student body size, created by ranking agencies? Good question. Would not having an Ivy at the top of their lists threaten their credibility in the eyes of their readers? Or are they, perhaps, concerned that the colleges that support these rankings by filling out surveys or purchasing advertisements will stop doing so if the historically better-known institutions do not continue to be represented at the tops of the lists? Could a tiny, 100-person college truly pose a risk to these ranking agencies? Whatever the reason, their readership continues to grow, and prospective students continue to be guided by these lists regardless of how incomplete they are.
Up until recently, the release of each ranking list and the designation of "unranked" would immediately trigger disappointment and frustration. Yet, perhaps we at Webb have been looking at this "unranked" category the wrong way. Colleges are always looking for ways to boast how unique they are…and yet, the "unranked" are oftentimes unranked because they truly are unique. For Webb, this uniqueness is what has led us to outperform our peer institutions across many of the ranking categories. So instead of staying hidden within the "unranked" designation that ranking agencies give us this year, we are going to wear the "unranked" badge proudly and redefine what a "best college" is. Webb is proud to be unranked. And for all of the students, parents, and college counselors out there, we encourage you to take the time to look into the rest of the 8%; there may be an exceptional and "unranked" institution hiding in plain sight just for you!
Webb Institute is one of the nation's best colleges for students seeking a great education with excellent career preparation and at a relatively affordable price, according to The Princeton Review®.
The education services company named Webb Institute as one of its Best Value Colleges for 2022 on April 26. The full list of The Princeton Review's Best Value Colleges for 2022 and the project's seven categories of ranking lists, as well as the company's profiles of the schools, is accessible for free with registration at https://www.princetonreview.com/college-rankings/best-value-colleges/.
The Princeton Review chose 209 schools for the 2022 list based on data from its surveys of administrators at more than 650 colleges in 2021-22. Topics covered everything from academics, cost, and financial aid to graduation rates, student debt.
The company also factored in data from its surveys of students attending the schools as well as data from PayScale.com's surveys of alumni of the schools about their starting and mid-career salaries and job satisfaction.
In all, The Princeton Review crunched more than 40 data points to tally ROI (Return on Investment) ratings of the colleges that were the bases for the Best Value Colleges school selections.
"The schools we chose as our Best Value Colleges for 2022 are a select group: they comprise only about 7% of the nation's four-year undergraduate institutions," said Rob Franek, editor-in-chief of The Princeton Review. "We commend their administrators, faculties, staff, and alumni for all they are doing to educate their students and guide them to success in their careers. These colleges are also exceptional for the generous amount of financial aid they award to students with need and/or for their comparatively low cost of attendance."
The Princeton Review does not rank the Best Value Colleges hierarchically on a single list, from 1 to 209.
The Princeton Review is also known for its other college rankings in dozens of categories, many of which are reported in its annual book, The Best Colleges, published in August.
Other Princeton Review rankings and lists that Webb Institute is on:
The Best 386 Colleges
Best Northeastern
Best Value Colleges
Tuition-Free Schools
---
About Webb Institute
Founded in 1889 by New York-based shipbuilder William H. Webb, Webb Institute is a top-ranked undergraduate institution specializing in Naval Architecture and Marine Engineering. Webb is the only full-tuition scholarship, private undergraduate engineering program of its kind in the United States. Webb Institute's beautiful, waterfront campus is located in Glen Cove, NY, on the North Shore of Long Island.
---
About The Princeton Review
The Princeton Review® is a leading tutoring, test prep, and college admissions services company. Every year, it helps millions of college- and graduate school–bound students achieve their education and career goals through its: online and in-person courses delivered by a network of more than 4,000 teachers and tutors; online resources; more than 150 print and digital books published by Penguin Random House; and dozens of categories of school rankings. Founded in 1981, The Princeton Review is now in its 41st year. The company's Tutor.com brand, now in its 21st year, is one of the largest online tutoring services in the U.S. It comprises a community of thousands of tutors who have delivered more than 21 million one-to-one tutoring sessions. The Princeton Review is headquartered in New York, NY. The Princeton Review is not affiliated with Princeton University. For more information, visit PrincetonReview.com and the company's Media Center. Follow the company on Twitter (@ThePrincetonRev) and Instagram (@theprincetonreview).
Webb Institute is proud to announce Jonathan Roussin, a member of the class of 2016, as the second Dr. and Mrs. Alfred Zeien '52 scholar. Dr. and Mrs. Alfred M. Zeien have generously established the "Dr. and Mrs. Alfred M. Zeien '52 Student Scholar" fund that enables Webb to provide a full-tuition scholarship and a $2,500 stipend to cover a portion of the student's room and board expenses. Read more…
 Glen Cove, N.Y. November 4, 2014 – Seventy-seven of the nation's most innovative, young engineering educators have been selected to take part in the National Academy of Engineering's (NAE) sixth  (FOEE) symposium. Matthew Werner, the American Bureau of Shipping Chair of Naval Architecture and Marine Engineering, was selected to represent Webb Institute. The focus of Professor Werner's work was "Professionalism in Engineering Education." Read more…
Before there was Batman, there was "Gotham." "Gotham" is an original story about the great DC Comics super-villains and vigilantes, revealing an entirely new chapter that has never been told – and Webb Institute is once again starring as the backdrop for Wayne Manor.
Filming took place on campus in March, and the production company has recently returned to shoot additional exterior shots.  While filming took place in the student dining room, meals were provided for the campus community in the Alumni Gymnasium. Read more…
There's so many poorly chosen words in that sentence. As you may or may not know, Lindsay and I have hit a bit of a rough patch. As you may or may not know, Lindsay and I have hit a bit of a rough
A small Long Island college was named to Money Magazine's list of the best colleges for your money.
The Webb Institute was ranked second on the magazine's list. The magazine graded 600 four-year schools based on factors like quality of education, alumni earnings and affordability. Read more…
MONEY RANKS THE BEST COLLEGES IN AMERICA FOR YOUR MONEY
New Analysis Finds Babson College in Massachusetts Is Best Value Education in The Country; Webb Institute, MIT, Princeton, and Stanford in Top 5. 
(Monday, July 28, 2014) – Today, Money reveals its list of Money's Best Colleges, a new approach to ranking colleges that uses unique measures of educational quality, affordability, and career outcomes to help families find the right school at the right price. Read more…
The Webb Alumni Association is proud to announce its newest Honorary Members; Ms. Jocelyn Wilson and Mr. Mike Henry Read more…