During Winter Work term, our students spread out across the globe to gain real-life working experience.
Freshmen work alongside ship fitters and welders in shipyards. Sophomores serve as student observers aboard ocean-going ships to gain hands-on understanding and appreciation for the relationships between the marine environment, the shipping industry, the ship's operators, and the ship's design. Juniors and seniors network and apply themselves in design and engineering offices around the world.
Many thanks to the Webb alumni who reached out and offered jobs for Webb's upcoming Winter Work Term. The upperclassmen were able to secure either remote or on site work, and all of the freshmen were placed in shipyards. The sophomores will not be sailing until the summer of 2021, but a good number of them were able to find work this winter in the maritime community. Thank you Jake Genauer '10 and Vicky Dlugokecki '88 for all your efforts.
---
See where our Webbies are this Winter Work Term!
---
Winter Work Blogs: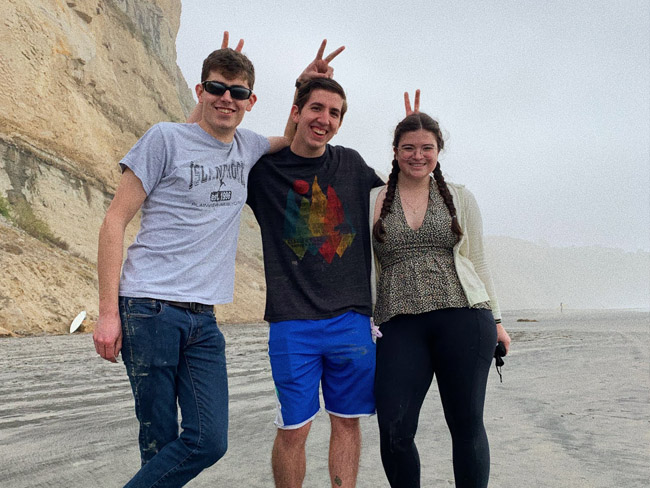 Stuck in San Diego: COVID Edition '21
The following blog describes the not-so-spontaneous adventures and learning experiences of Dillon Esposito-Kelley '21, Daniel Desio '21, and Ioana Mirica '22 while they intern at General Dynamics NASSCO in the winter of 2021.
---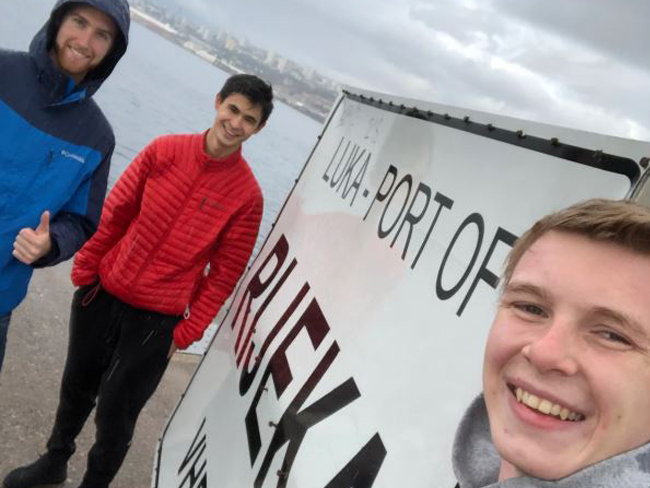 Follow Jacob Dillistin '23, Luke Kiely '22, and Nathaniel Philips '23 as they set out overseas to spend Winter Work term at Metal Shark in Croatia.
---
Winter Work Term Companies:
Class of 2021
| | |
| --- | --- |
| BMT Designers & Planners, Inc. | Arlington, VA |
| Boksa Marine Design | Tampa, FL |
| Bruce S. Rosenblatt & Associates LLC | Newport News, VA |
| Colonna's Shipyard | Norfolk, VA |
| Eagle Bulk Shipping | Stamford, CT |
| Excelerate Energy | The Woodlands, TX |
| GD NASSCO | San Diego, CA |
| Gilbert & Associates | Lenox, MA |
| Glosten | Seattle, WA |
| Herbert Engineering | Alameda, CA |
| HII Newport News Shipbuilding | Newport News, VA |
| Hinckley Yachts | Portsmouth, RI |
| International Seaways, Inc. | New York, NY |
| Martin Defense Group | Honolulu, HI |
| Northstar Midstream | Houston, TX |
| Oceaneering International, Inc. | Hanover, MD |
| University of Maine | Orono, ME |
| Vigor | Seattle, WA |
Class of 2022
| | |
| --- | --- |
| American Bureau of Shipping | Houston, TX |
| Aurora Marine Design | San Diego, CA |
| Bristol Harbor Group | Bristol, RI |
| DLBA Naval Architects | Chesapeake, VA |
| Elliott Bay Design Group | Seattle, WA |
| GD NASSCO | San Diego, CA |
| Gibbs & Cox | Arlington, VA |
| Great Lakes Shipyard | Cleveland, OH |
| Gulf Marine Repair | Tampa, FL |
| Hockema Whalen Myers Associates | Seattle, WA |
| Hydrocomp, Inc. | Durham, NH |
| Mercury Marine | Fond Du Loc, WI |
| Metal Shark Boats | Jeanerette, LA |
| Metal Shark Boats | Rijeka, Croatia |
| Murray and Associates, Inc. | Fort Lauderdale, FL |
| Northstar Midstream | Houston, TX |
| SERCO | Arlington, VA |
| Stolt-Nielson Limited | Houston, TX |
| ThayerMahan | Mystic, CT |
| Universite de Pau et Pays d'Atours | Anglet, France |
| U.S. Marine Inc. | Gulfport, MS |
Class of 2023
| | |
| --- | --- |
| Aurora Marine Design | San Diego, CA |
| Bruce S. Rosenblatt & Associates LLC | Newport News, VA |
| Bruce S. Rosenblatt & Associates LLC | Newport News, VA |
| Global Secure Shipping | Old Town, ME |
| Matson | San Francisco, CA |
| Metal Shark Boats | Rijeka, Croatia |
| NEEC | Glen Cove, NY |
| NETSCo | Tampa, Florida |
| Persak & Wurmfeld | Brooklyn, NY |
| Quantum Marine Stabilizers | Ft. Lauderdale, FL |
| Shipwright LLC | Ft. Lauderdale, FL |
Class of 2024
| | |
| --- | --- |
| Austal, USA | Mobile, AL |
| Brookin Boatyard | Brooklin, ME |
| Caddells Shipyard | Staten Island, NY |
| Colonna's Shipyard | Norfolk VA |
| GD NASSCO | San Diego, CA |
| Gulf Island Shipyard | Houma, LA |
| M. Rybovich & Sons | Palm Beach Gardens, FL |
| Marine Group Boatworks | San Diego, CA |
| Metal Shark Boats | Jeanerette, LA |
| Safe Harbor New England Boatworks | Portsmouth, RI |
| St. Johns Shipbuilding | Palatka, FL |
| Steigercraft | Bellport, NY |
| U.S. Marine, Inc. | Gulfport, MS |