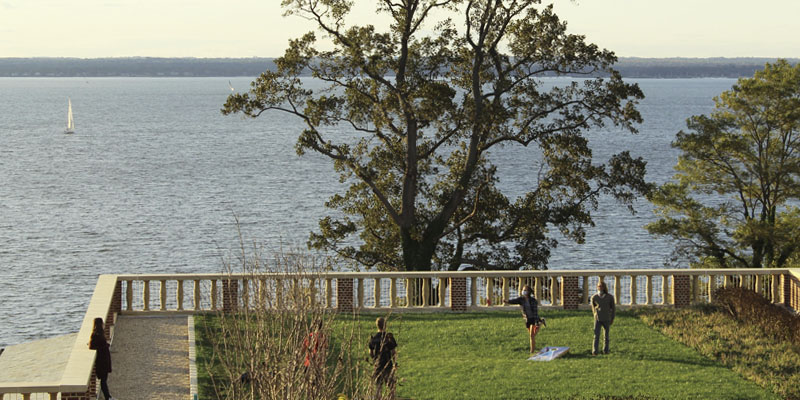 Undergraduate students are required to live on Webb's campus, a 26-acre estate with its own private beach, and eat at the college dining facilities.
Men's dormitory rooms are on the second and third floors of Stevenson Taylor Hall in comfortable rooms with amazing views of the grounds or the Long Island Sound. The women live on the second floor of the Robinson Model Basin (women only) with some spectacular views of the grounds and in James G. Motley Hall (co-ed dorm), which overlooks the athletic field and the Long Island Sound. Rooms are furnished with beds, bureaus, clothes lockers, desks, and chairs.
Students eat in Stevenson Taylor Hall – three meals daily Monday through Friday. Brunch – a student favorite with eggs, quesadillas, and burritos cooked to order – and dinner are served on Saturday and Sunday. A student kitchen is available for the preparation of snacks by the students.
Students are permitted to have an automobile on campus although parking space is limited. To take advantage of the nearby trails and neighborhood, students oftentimes bring bicycles.
Maintenance and upkeep of the several laboratories, shops, library, computer center, and other Webb facilities are accomplished in part by student labor under the "Beaver Day'' work program.