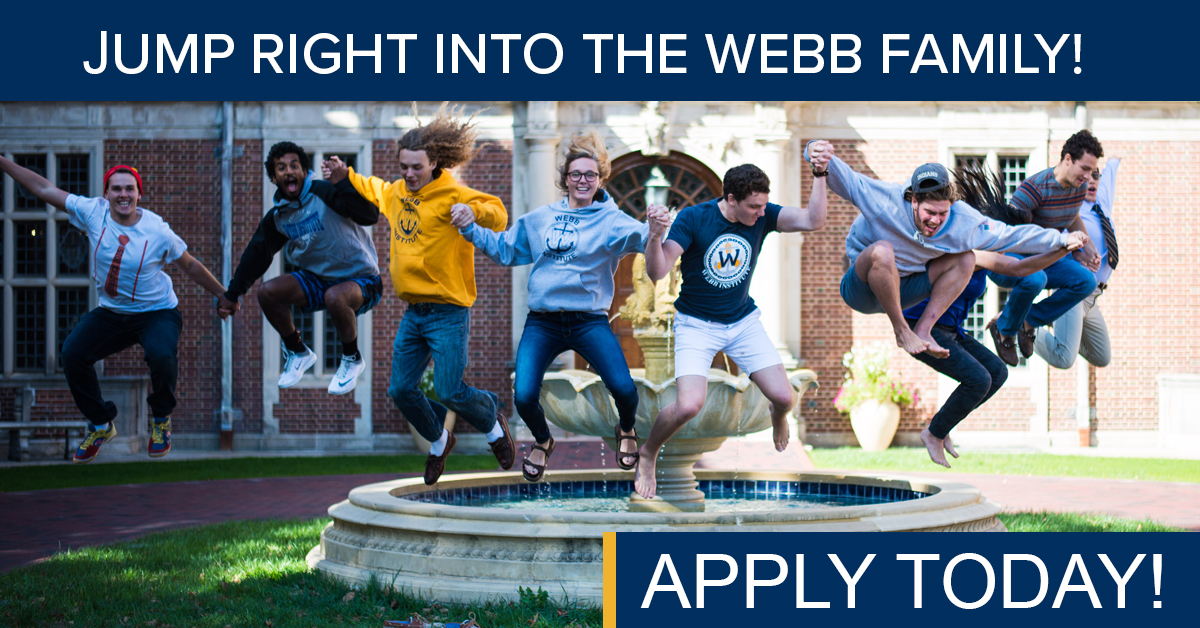 Here at Webb, student safety is our main concern! Due to coronavirus concerns all prospective freshman visits and overnight stays are cancelled starting March 16th, 2020. We apologize for the inconvenience. Please check back for updates or contact the Office of Admissions at admissions@webb.edu.
---
Webb Institute is a unique school with a unique admissions process. 
This process allows you, the applicant, the opportunity to learn more about us while we learn more about you!
APPLICATION: 
Registration is now closed. Applications will open again in August 2020.
Deadlines:
Early Decision – October 15
Regular Decision – January 15
Each year, Webb's goal is to fill the incoming class with 28 intellectually curious, tenacious, and service-oriented students who are passionate about what we do and who will contribute to our dynamic learning environment. To apply to Webb, students are required to submit the Common Application, including the Webb-specific member questions, and all admissions requirements. The Common Application becomes available on August 1 and must be submitted by the Early Decision or Regular Decision deadlines by 11:59 pm in the applicant's local time zone on that date.
Webb Application Process
Admissions Process during COVID-19
The admissions process at Webb Institute is a holistic one. Every aspect of a student's application is considered within context and helps to inform the Admissions Committee's decision. For those of you whose college search process has been impacted by the current COVID-19 crisis, we hope this information helps to address any of your concerns. If you have any additional questions, please do not hesitate to reach out to admissions@webb.edu.
Read updates to the Admissions Process
Visiting Webb
Webb Institute is currently not hosting visits to campus; however, we would love to bring Webb to you. We invite you to explore the Webb campus with our 360° Virtual Tour and/or to reach out to admissions@webb.edu to schedule a chat with an admissions counselor, faculty member or current student, or to sit in on a virtual Monday Lecture or class.  Furthermore, keep an eye on our website for upcoming virtual information sessions.
High School Academic Experience
Webb Institute fully supports the pedagogical and administrative decisions your school has made in order to assist your community through this crisis. If your school has adopted alternative grading methods (i.e., pass/fail) in lieu of a letter or numerical grade for this spring, please be assured that you will not be disadvantaged for this accommodation in Webb's application review process.
Extracurricular Activities and Summer Experiences
We understand that disruptions due to this crisis may alter the trajectory of your extracurricular pursuits. Summer programs and experiences this year may also be impacted. Resumes may therefore look different than they have in the past. Please understand that we will review the activities portion of your application within this context.
Testing
We understand that standardized testing options around the world have been affected by this crisis and Webb continues to monitor the situation. In Webb's admissions process, an SAT or ACT score is currently required. Please know that results from the September and October ACT and the August and October SAT can still be used in Webb's Early Decision process. Webb does not require SAT Subject Tests or Advanced Placement exams and please be assured that students are at no disadvantage in our process if they do not submit scores from these tests.  If the situation does not improve and students are unable to take an SAT or ACT, Webb will revisit this requirement. Check back on our website for updates.
Financial Aid
Due to the generosity of the Robert D. L. Gardiner Foundation and Webb alumni and friends, Webb has been able to meet the full demonstrated financial need of all students with minimal loans over the past two years. We are in the process of raising funds to hopefully be able to continue with this initiative for future years.
Application Requirements & Finalist Visit
Application Requirements:
Regular emails will be sent to you at the email address provided on your application regarding missing application requirements.  Please note that the application must be submitted by 11:59 pm your local time on the deadline. Furthermore all application requirements must be submitted within two weeks of the admissions deadline for your application to be reviewed.
Required Overnight Visit:
If you are selected as a finalist, you are also required to take part in an overnight experience, during which you will be interviewed by our president and a faculty member, and be asked to take a short math assessment and respond to a writing prompt.  This overnight visit will allow us to get to know you better, while also allowing you to get to know the Webb Community better!
Academic Preparation Requirements
To qualify for admission to Webb, you must have either completed the following courses or be enrolled in them at the time of your application.  Students who have not completed these courses will not be properly prepared for Webb's curriculum.
4 years of math (including calculus)
3 years of lab sciences, including at least 1 year of physics and chemistry
4 years of English
It is also recommended that students take advanced coursework (APs, IBs, etc.) wherever possible, but especially in math and the science, and/or coursework in mechanical drawing, engineering, or CAD if available.
Please note that Webb does not grant credit for AP, IB, or college courses taken prior to enrollment. Regardless of educational coursework, all students begin their college experience as first semester freshmen. To strengthen the foundational skills necessary to be successful at Webb, students are also required to take part in a Summer Learning Program completed online in both math and grammar.
Physical Requirements
All students must be physically and mentally capable of performing all work required in the academic courses and in the annual practical winter work terms. All students will be issued a United States Coast Guard Merchant Mariner Credential with Student Observer classification. To meet the document's requirement, an applicant must have the agility, strength, and flexibility to climb steep or vertical ladders; maintain balance on a moving deck; pull heavy objects, up to 50 lbs. in weight, distances of up to 400 feet; rapidly don an exposure suit; step over doorsills of 24 inches in height and open or close watertight doors that may weigh up to 56 pounds. Any condition that poses an inordinate risk of sudden incapacitation or debilitating complication, and any condition requiring medication that impairs judgment or reaction time are potentially disqualifying.
Students with disabilities should contact the Office of Admissions to determine if they can complete the academic and practical aspects of the program with reasonable accommodation. Webb reserves the right to exclude from continued class attendance or enrollment any student who, in the judgment of the administration, is not physically or mentally qualified to follow the regular curricular program.
Admissions Review Process
Each year, Webb's goal is to fill the incoming class with 28 intellectually curious, tenacious, and service-oriented students who are passionate about what we do and who will contribute to our dynamic learning environment. All applications for Admission to Webb Institute are reviewed initially by the Office of Admissions and Student Affairs and then again by the Admissions Committee. The Admissions Committee consists of:
President Keith Michel
Director of Admissions, Lauren Carballo
Dean Matthew Werner
Professor Elena Goloubeva
Professor Richard Harris
Professor Adrian Onas
Professor Ben Scott
The Admissions Committee comprehensively review of all information—academic, extracurricular, and personal—presented in the application to determine who may be the best fits for Webb's unique experience. Approximately 60 finalists are selected and invited to campus for an overnight visit, during which they are interviewed by President Keith Michel and a faculty member of the Admissions Committee and asked to take a math assessment and respond to a writing prompt. This experience also allows the finalists to get a better sense of the Webb experience, as they are given the opportunity to meet current students, sit in on classes and at times, club meetings and athletic practices, and eat meals with the Webb community. The interviews and assessments then assist the Admissions Committee in selecting the final members of the incoming class. All students are notified of their admissions decision by April 1.
Other Admissions Policies