There is nothing like the Webb experience!
For more information, contact Admissions at: 516-671-8355 or admissions@webb.edu.
The Office of Admissions and Student Affairs is open Monday through Friday from 8:30 am until 4:00 pm throughout the year.
Due to the increase in COVID cases in the local area and across the country, Webb is currently not offering  in-person tours or campus. You may take a virtual tour of campus. You may also schedule an in-person tour for a later date; however, please make sure you receive a confirmation from the Office of Admissions and Student Affairs prior to traveling to campus. We hope to offer tours of campus again in the near future.
Let us bring Webb to you! View our 360° video.
Click and roam around throughout the video to experience the beauty Webb has to offer.
Plan Your Webb Experience
If you are not able to visit campus, don't worry. Here are some suggestions for how you can learn more about Webb from home:
Admissions Phone Call or Video Conference:
Live far from campus?  No worries!  You can reach out to our Office of Admissions and Student Affairs to schedule a phone call or remote video conference.  Phone calls provide students direct access to a member of our admissions staff to answer any questions, while a video conference includes a short information session, and the opportunity for further discussion regarding the Webb experience or your candidacy at Webb.
 To schedule a phone call or video conference, either call 516-671-8355 or email admissions@webb.edu.
Virtual College Tour: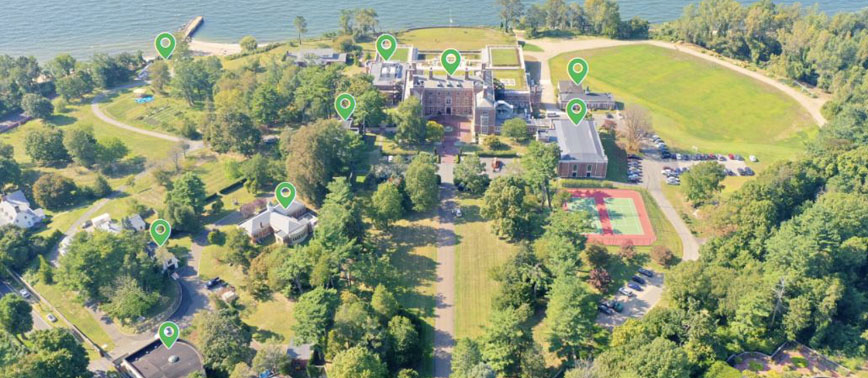 TripAdvisor provides a listing of hotels near Webb Institute – read reviews before you book!
East Norwich Inn (72 rooms)
516-922-1500 or 800-334-4798
Route 25A at Route 106, East Norwich
(63-21 Northern Boulevard)
Mention Webb Institute for their corporate rate.
Comfort Inn Syosset (82 rooms)
516-921-1111 or 800-228-2800
24 Oak Drive at Jericho Turnpike, Syosset
The Inn at Fox Hollow (145 rooms)
800-291-8090
7755 Jericho Turnpike, Woodbury
Holiday Inn Westbury (153 rooms)
516-997-5000 or 800-HOLIDAY
369 Old Country Road, Carle Place
Roslyn Hotel (76 rooms)
516-625-2700 or 800-626-9005
1221 Old Northern Boulevard, Roslyn