There is nothing like the Webb experience!
For more information, contact Admissions at: 516-671-8355 or ude.bbew@snoissimda.
The Office of Admissions and Student Affairs is open Monday through Friday from 8:30 am until 4:00 pm throughout the year.
Experience the beauty of our campus first-hand by taking an in-person tour of campus! Personal tours are conducted Mondays through Fridays between 9 am and 3 pm. Prospective students and their families can request a tour by filling out Webb's Tour Request Form below. Tours last approximately 1 hour and 15 minutes. Webb also will provide a tour on select Saturdays at 10 am. To request a Saturday tour, please email ude.bbew@snoissimda.
The Office of Admissions will respond to all tour requests within two business days. Note that the tour date and time are not confirmed until a confirmation email is received from a Webb admissions representative. If you are requesting a tour within 48 hours of the requested date, please call 516.403.5900 to schedule the tour.
Let us bring Webb to you! View our 360° video.
Click and roam around throughout the video to experience the beauty Webb has to offer.
Plan Your Webb Experience
If you are not able to visit campus, don't worry. Here are some suggestions for how you can learn more about Webb from home:
Admissions Phone Call or Video Conference:
Live far from campus?  No worries!  You can reach out to our Office of Admissions and Student Affairs to schedule a phone call or remote video conference.  Phone calls provide students direct access to a member of our admissions staff to answer any questions, while a video conference includes a short information session, and the opportunity for further discussion regarding the Webb experience or your candidacy at Webb.
 To schedule a phone call or video conference, either call 516-671-8355 or email ude.bbew@snoissimda.
Virtual College Tour: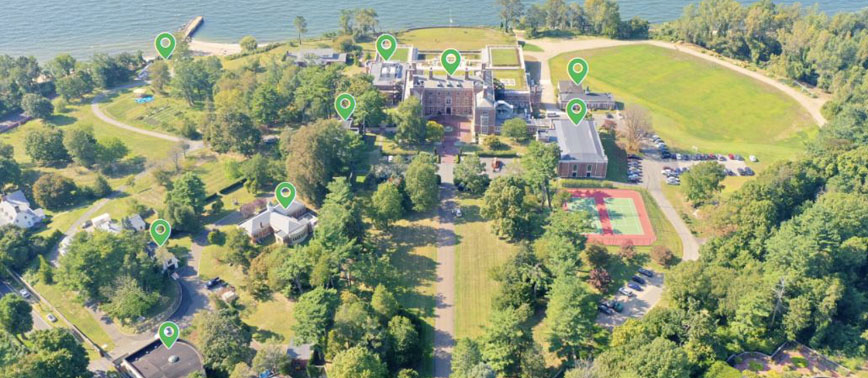 TripAdvisor provides a listing of hotels near Webb Institute – read reviews before you book!