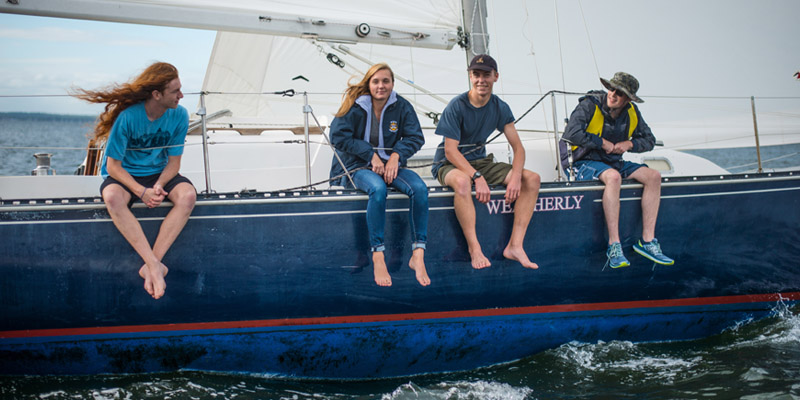 Webb Institute provides all US students and permanent residents who enroll at Webb with a full-tuition scholarship. This scholarship is valued at over $200,000 per student over the four years. Webb Institute also offers need-based aid to help cover additional costs of attending. All students in need of financial assistance must submit a Free Application for Federal Student Aid (FAFSA), which can be found at 
www.fafsa.ed.gov
. The 
Webb Institute Federal Code: 002900

For instructions how to fill out a FAFSA using a mobile device, watch the video below from NASFAA (the National Association of Student Financial Aid Administrators) that covers the steps a student must go through to complete and submit a FAFSA through the myStudentAid mobile app. 
Proper documentation is critical to the financial aid application process. Please note that your financial aid eligibility is based on your current enrollment status and may be subject to change based on final verification of your information. A student's financial aid package is contingent upon federal, state, and institutional appropriations and regulations. If you are selected for a process called verification, you are required to provide Webb Institute all documents requested. Any changes made to the award as a result of verification will be stated in a revised award letter.
Any change of circumstance, change of address, or receipt of external funding, must be reported to the Office of Financial Aid. Webb Institute reserves the right to revoke any aid offer if there is any evidence that the conditions of enrollment status, financial need, or merit are not met. Changes in enrollment, including non-attendance or withdrawals, may reduce or cancel this aid offer. Canceled awards will not be replaced with other aid.
There is up to a 2.0% origination fee that may be deducted from your loan proceeds. Federal regulation mandates that all first-time borrowers at Webb Institute complete loan entrance counseling to sign your Master Promissory Note (MPN) online, prior to receipt of Federal Direct Loan Funds at www.studentloans.gov. You will be asked to use your four-digit pin number.
Cost of Attendance 2023-24
| | | |
| --- | --- | --- |
| |  International Students | US Citizens & Permanent Residents |
| Tuition* | $57,830 | $0 (full-tuition scholarship) |
| Living Expenses | $14,690 | $14,690 |
| Fees | $ 3,230 | $ 3,230 |
| Books & Supplies  | $ 995 | $ 995 |
| Travel | $ 1,500 | $ 1,500 |
| Laptop Fee**  | $ 3,900 | $ 3,900 |
| | | |
| Total Cost of Attendance | $ 82,145 | $ 24,315 |
For your budgeting purposes, this is our estimate of what you can expect to spend in a school year. Travel expenses vary depending on the students' distance from Glen Cove. Note that all students at Webb are also required to have Affordable Care Act-compliant health insurance that gives students access to providers near campus. Those who do not have insurance that meet these requirements are automatically enrolled in Webb's Student Health Insurance Plan (SHIP). The fee for the 2023-24 Academic Year is $2,619.
*Webb Institute provides full-tuition scholarships to enrolled U.S. Citizens and Permanent Residents.
**The Laptop Fee is inclusive of NY State Sales Tax and is billed in two equal installments during a student's 1st year at Webb. Note that during the second year at Webb, students are enrolled in an STCW certification course, which costs $1,500.  
The $1000 enrollment deposit first year students pay will be applied against Webb's Living Expenses.
---
Maximum Annual Loan Amounts
Dependent Student
| | | | |
| --- | --- | --- | --- |
| Level | Subsidized | Unsubsidized | Total |
| 1st Year Students | $3,500 | $2,000 | $5,500 |
| 2nd Year Students | $4,500 | $2,000 | $6,500 |
| 3rd/4th Year Students | $5,500 | $2,000 | $7,500 |
Independent Student (24 years of age or older)
| | | | |
| --- | --- | --- | --- |
| Level | Subsidized | Unsubsidized | Total |
| 1st Year Students | $3,500 | $6,000 | $9,500 |
| 2nd Year Students | $4,500 | $6,000 | $10,500 |
| 3rd/4th Year Students | $5,500 | $7,000 | $12,500 |
Types of Financial Aid Offered