Webb Institute is one of the nation's best colleges for students seeking a great education with excellent career preparation and at a relatively affordable price, according to The Princeton Review®.
The education services company named Webb Institute as one of its Best Value Colleges for 2022 on April 26. The full list of The Princeton Review's Best Value Colleges for 2022 and the project's seven categories of ranking lists, as well as the company's profiles of the schools, is accessible for free with registration at https://www.princetonreview.com/college-rankings/best-value-colleges/.
The Princeton Review chose 209 schools for the 2022 list based on data from its surveys of administrators at more than 650 colleges in 2021-22. Topics covered everything from academics, cost, and financial aid to graduation rates, student debt.
The company also factored in data from its surveys of students attending the schools as well as data from PayScale.com's surveys of alumni of the schools about their starting and mid-career salaries and job satisfaction.
In all, The Princeton Review crunched more than 40 data points to tally ROI (Return on Investment) ratings of the colleges that were the bases for the Best Value Colleges school selections.
"The schools we chose as our Best Value Colleges for 2022 are a select group: they comprise only about 7% of the nation's four-year undergraduate institutions," said Rob Franek, editor-in-chief of The Princeton Review. "We commend their administrators, faculties, staff, and alumni for all they are doing to educate their students and guide them to success in their careers. These colleges are also exceptional for the generous amount of financial aid they award to students with need and/or for their comparatively low cost of attendance."
The Princeton Review does not rank the Best Value Colleges hierarchically on a single list, from 1 to 209.
The Princeton Review is also known for its other college rankings in dozens of categories, many of which are reported in its annual book, The Best Colleges, published in August.
Other Princeton Review rankings and lists that Webb Institute is on:
The Best 386 Colleges
Best Northeastern
Best Value Colleges
Tuition-Free Schools
---
About Webb Institute
Founded in 1889 by New York-based shipbuilder William H. Webb, Webb Institute is a top-ranked undergraduate institution specializing in Naval Architecture and Marine Engineering. Webb is the only full-tuition scholarship, private undergraduate engineering program of its kind in the United States. Webb Institute's beautiful, waterfront campus is located in Glen Cove, NY, on the North Shore of Long Island.
---
About The Princeton Review
The Princeton Review® is a leading tutoring, test prep, and college admissions services company. Every year, it helps millions of college- and graduate school–bound students achieve their education and career goals through its: online and in-person courses delivered by a network of more than 4,000 teachers and tutors; online resources; more than 150 print and digital books published by Penguin Random House; and dozens of categories of school rankings. Founded in 1981, The Princeton Review is now in its 41st year. The company's Tutor.com brand, now in its 21st year, is one of the largest online tutoring services in the U.S. It comprises a community of thousands of tutors who have delivered more than 21 million one-to-one tutoring sessions. The Princeton Review is headquartered in New York, NY. The Princeton Review is not affiliated with Princeton University. For more information, visit PrincetonReview.com and the company's Media Center. Follow the company on Twitter (@ThePrincetonRev) and Instagram (@theprincetonreview).
by Craig Jallal, read on Riviera
Stolt Tankers managing director Mark Martecchini's lifetime of service to the tanker industry will be recognised in April at Riviera Maritime Media's Chemical & Product Tanker Conference in London.
Mr Martecchini will collect the Chemical & Product Tanker Lifetime Achievement Award in person and make a keynote speech on day two (29 April) of the conference.
During a 38-year career with Stolt-Nielsen, Mr Martecchini has served in a variety of technical, commercial and executive roles. Most recently, he has been the managing director of Stolt Tankers, operating the world's largest global fleet of parcel tankers. His chemical carrier sector expertise has benefited the boards of the International Chamber of Shipping, INTERTANKO and the International Tanker Owners Pollution Federation. He is also a director of the Liberian Shipowners' Council.
A graduate of the famous Webb Institute, Mr. Martecchini will take up the post of president there following his retirement from Stolt Tankers in March.
Riviera's Chemical & Product Tanker Conference takes place 28-29 April in London and enjoys the official support of the International Parcel Tankers Association, INTERTANKO and Maritime London, among others.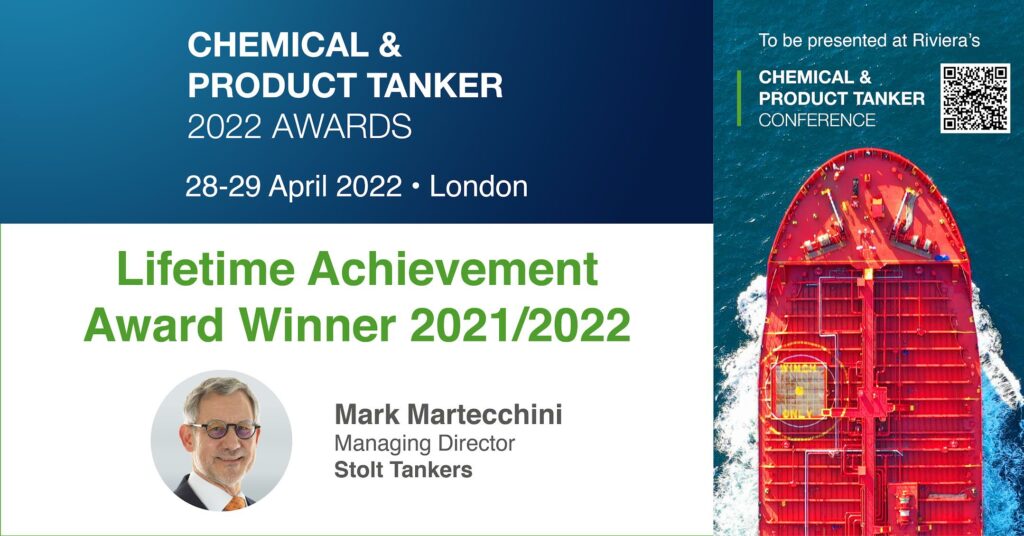 ---
The Chemical & Product Tanker Conference, London will be held 28 April 2022. Register your interest and access more information on Riviera.
by Anthony R. Zic, Director of Development
I remember meetings with Gailmarie Sujecki (Hon.), where we strategized and charted the best route for Webb visitors, especially those who are elderly or disabled, to traverse our newly renovated campus for Homecoming and other events. No solution was optimal, each with its unique challenges.
With the completion of the Couch Academic Center (CAC) in 2020, Webb created an exciting new environment to support its collaborative learning model. Webb has also completed the second phase of its major infrastructure improvements, including repurposing the old classrooms to dormitory rooms, constructing new bathroom facilities, and making significant residential and safety upgrades to Stevenson Taylor Hall (STH). The final portion of these major infrastructure improvements was to make Webb fully accessible and ADA-compliant for all students, faculty, staff, alumni, and visitors, including persons with disabilities.
We presented Webb's conundrum to Ms. Kathryn Curran, Executive Director of the Robert D.L. Gardiner Foundation. The Gardiner Foundation had already proven to be an extraordinary supporter of Webb, having funded a 3-year grant of $250,000 in 2018 to provide for the full demonstrated need of all Webb students, including room and board expenses.
The solution was to install a new vertical platform lift linking the CAC to the historic STH and a new service elevator on the east side of the building. As you might have already guessed, Ms. Curran and the Trustees of the Gardiner Foundation once again deemed Webb's initiative to be worthy of their investment: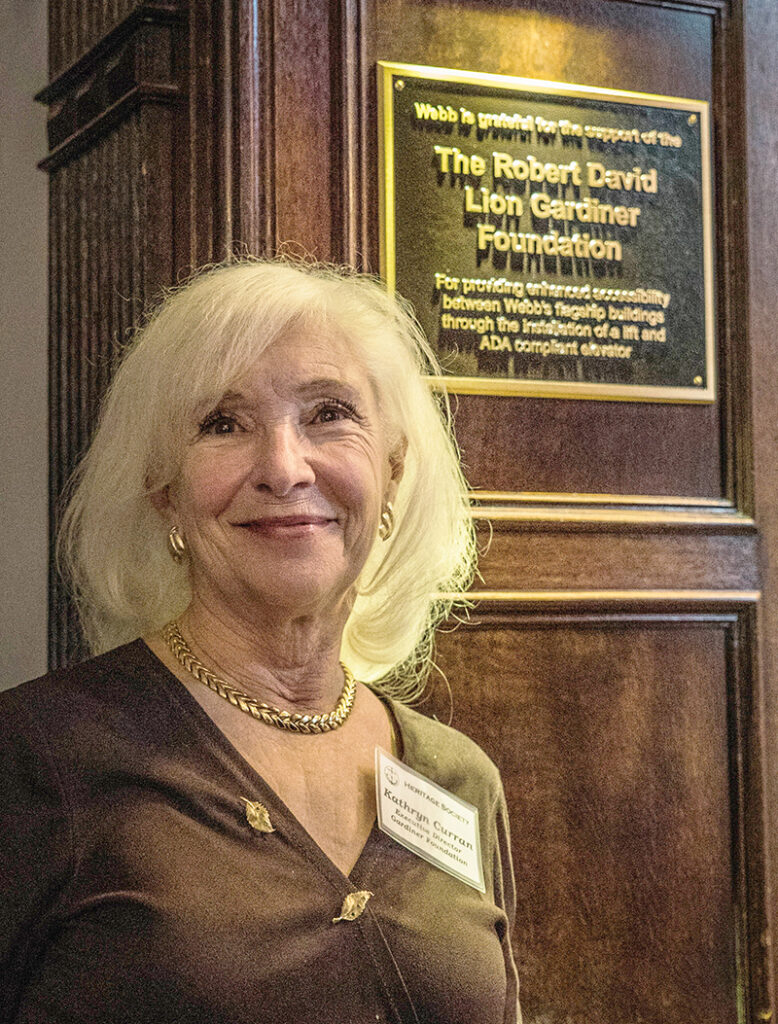 "I was thrilled to award Webb a matching grant of $299,250 on behalf of the Trustees of the Robert D.L. Gardiner Foundation to enhance accessibility throughout Webb's historic campus. The Foundation is pleased to support Webb's tradition of maritime heritage and academic excellence and to provide all visitors with a seamless and ADA-compliant passage linking the state-of-the art academic facility to and throughout the historic Stevenson Taylor Hall. It is truly a model for other historic sites to emulate," said Kathryn Curran, Executive Director of the Robert D.L. Gardiner Foundation.
The Gardiner Foundation has made an extraordinary impact on Webb's scholarship program and infrastructure, and in a matter of three short years, the Foundation has provided grants elevating them to the sixth most generous institutional supporter in Webb's history.
On October 22, 2021, during Webb's Homecoming Weekend, we could not help but briefly pause to celebrate this momentous occasion. Webb's Board of Trustees and members of the administration hosted members of the Robert D. L. Gardiner Foundation and their guests, including Ms. Curran and Gardiner Trustee, The Honorable Peter Fox Cohalan, for a celebration of our partnership. After a tour of the building, including the commemorative plaque, our special guests were joined by 16 of Webb's Gardiner Scholarship recipients on the STH Patio. We were thrilled that our guests also joined us for the Webb Heritage Society Reception and Dinner, where Ms. Curran, acting on behalf of Gardiner Foundation Trustees, spontaneously announced an additional matching grant of $5,000 to the Keith Michel Scholarship Fund! An incredible ending to a most memorable weekend. We are so very grateful for our new friends and their continued support of Webb!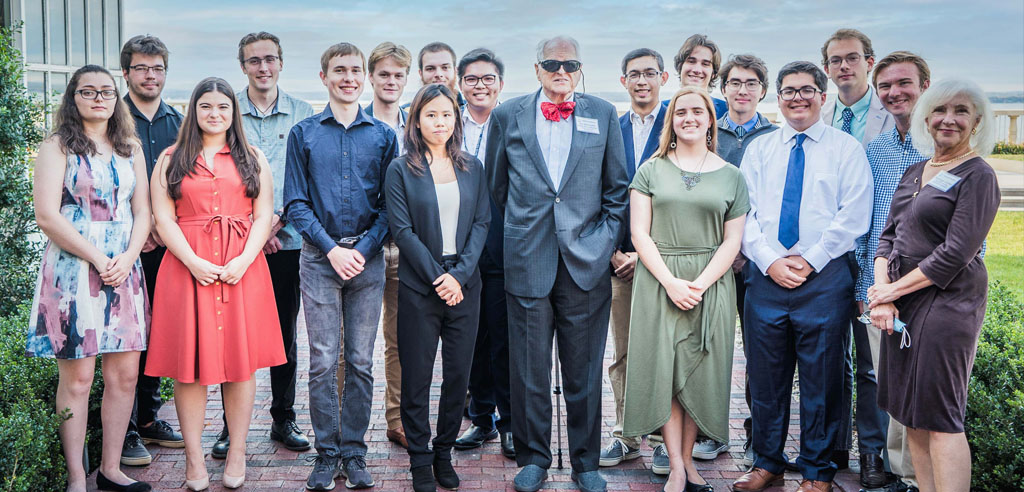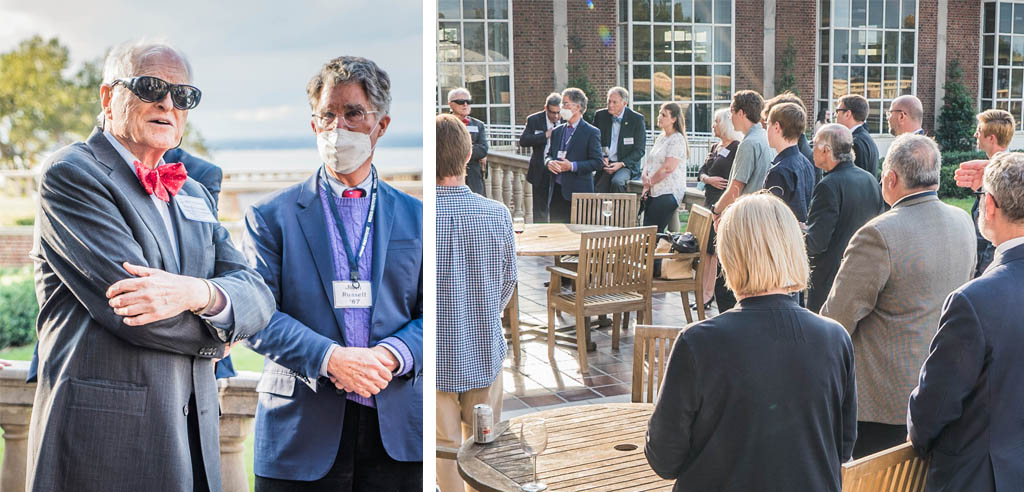 Please join us in welcoming Alyssa Caliguri and Kayla Green to the Webb Admissions Department!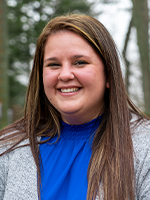 Alyssa Caliguri – Assistant Director of Admissions and Student Affairs
Alyssa brings with her nine years of student affairs experience from her tenure at Western New England University, where she received her Bachelor of Arts Degree in Psychology. She also received her Master of Education in Student Personnel Administration while working full time. Her experiences lie in new student programming, student success, leadership development, and event planning.
Alyssa has held multiple roles during her time at WNE from the Coordinator of Sophomore Year Experience to Assistant Director of First Year Student Success and most recently the Associate Director of New Student Programs and Leadership Development. She loves to help assist students in having the best possible collegiate experience and is very excited to begin working with the students at Webb.
Alyssa likes to go to the beach, see musicals in the city, binge watch friends/reality tv, play sports (volleyball/softball/basketball are her strengths) and she likes to root on her favorite teams the Islanders/Mets/& Patriots when not at work.
---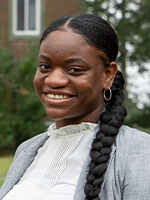 Kayla Green – Assistant Director of Admissions and Student Affairs
Kayla, considers herself a student of life, valuing education both in the classroom and beyond. Graduating with a Bachelor of Science in Human Development and a minor in Africana Studies from Binghamton University. Kayla has achieved a solid foundation in the theories and research defining the field of human development.
Kayla constantly seeks opportunities to contribute to the new approaches of advancing human well-being. For optimal well-being, Kayla encourages engaging in activities that develop a person's capabilities and potential, build human capital, facilitate employability, and enhance quality of life and the realization of dreams and aspirations. Kayla is passionate about sharing this insight with anyone who is open minded to new ideas.
Throughout her professional career, Kayla has gained a varied skill set, having experience in different sectors including but not limited to, residential life, project management abroad, the aviation sector, and elementary education. Each experience broadens her perspective in a critical exploration of social, cultural, economic, historical and political frameworks and the ways in which individuals, families and communities are situated within them, developing the understanding and skills needed to enhance and promote diversity, equity and social justice.
Using skills and strengths acquired as a student and employee, Kayla continues her pursuit of positively impacting individuals, families, communities, and organizations from a interdisciplinary and global perspective, here at Webb Institute.
Pictured above, Jenna Ferrieri '11 and William Markuske '10 on their Wedding Day.
Love is in the air at Webb! Read our alumni stories about how they met their significant other at Webb!
---
Caitlin (Andre-Colton) '05 and Vince Jarecki '05
Caitlin met Vince during freshman orientation and started to date during Winter Work Term in their sophomore year. They were married in April 2008 in Alexandria, Virginia.
Currently they are still in Alexandria with their daughter Alexa and son Colton. Both U.S. Navy civilians, Caitlin works in shipbuilding program management and Vince is a salvage engineer.
---
Daniela (Hanson) '04 and Brendan Abbott '04
"Brendan and I were in the same class at Webb, and presumably met during orientation… But, I don't actually remember us talking until a little further into freshman year in the pub! During winter work that year, we ended up in Pascagoula, MS with a large group of classmates and that is when we really got to know each other. We were married in Little Compton, Rhode Island in 2007 and had many of our Webb classmates and professors in attendance.
The rest is history – 20 years together, two beautiful children, two wonderful dogs, three apartments, one house and many vacations have been shared!
We currently live in Portsmouth, Rhode Island with our two children, Bianca (11) and Myles (9). Brendan is Chief Designer at Sparkman & Stephens and Daniela is a Project Manager at Foth Infrastructure & Environment – both with offices in Newport, Rhode Island. We enjoy boating, sailing, and all sorts of water activities as a family!"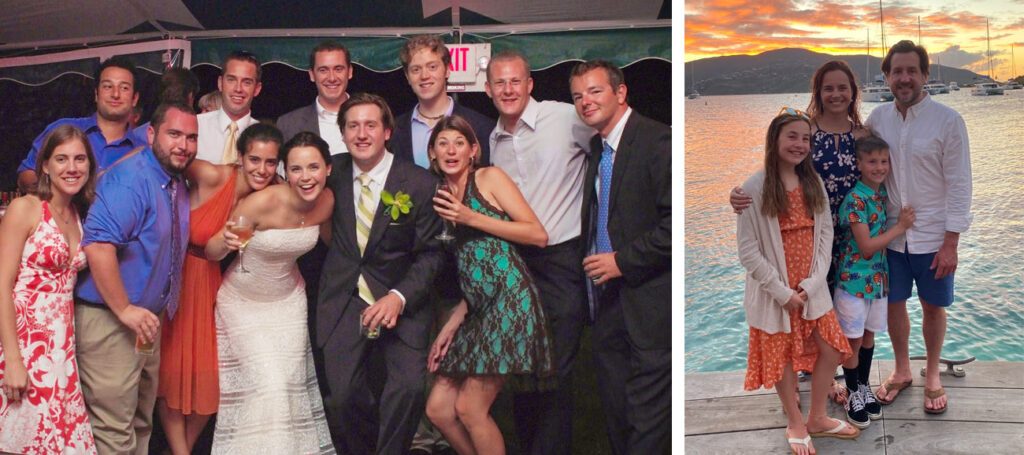 ---
Douglas '79 and Kathleen (Callahan) '80 Henn
"We obviously knew each another just being at Webb but didn't get together until Doug's senior year when he lived in the Model Tank apartment across the hall from the women's apartment. We were married at Webb August 9, 1981 and currently living in Lawrenceville NJ with three grown children scattered across the country. I am a public school science and math supervisor while Doug works in atmospheric modelling."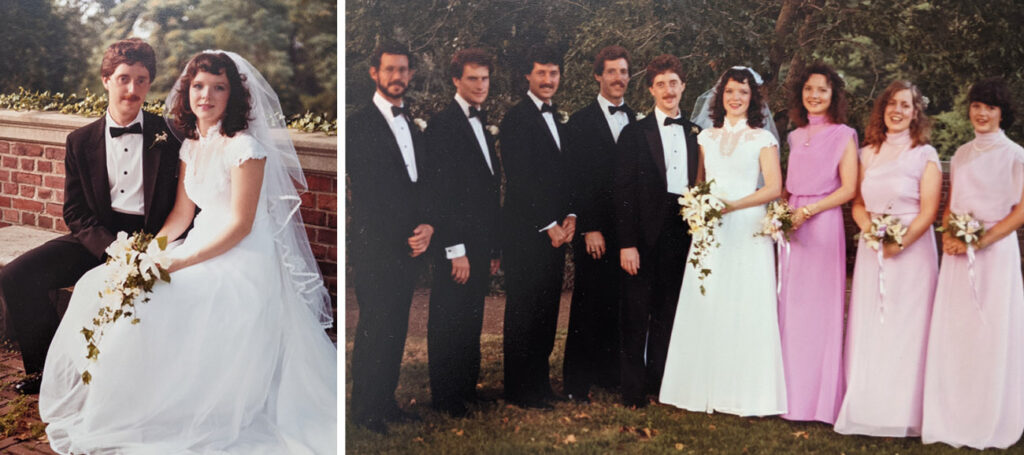 ---
Ron '63 and June (Hon.) Kiss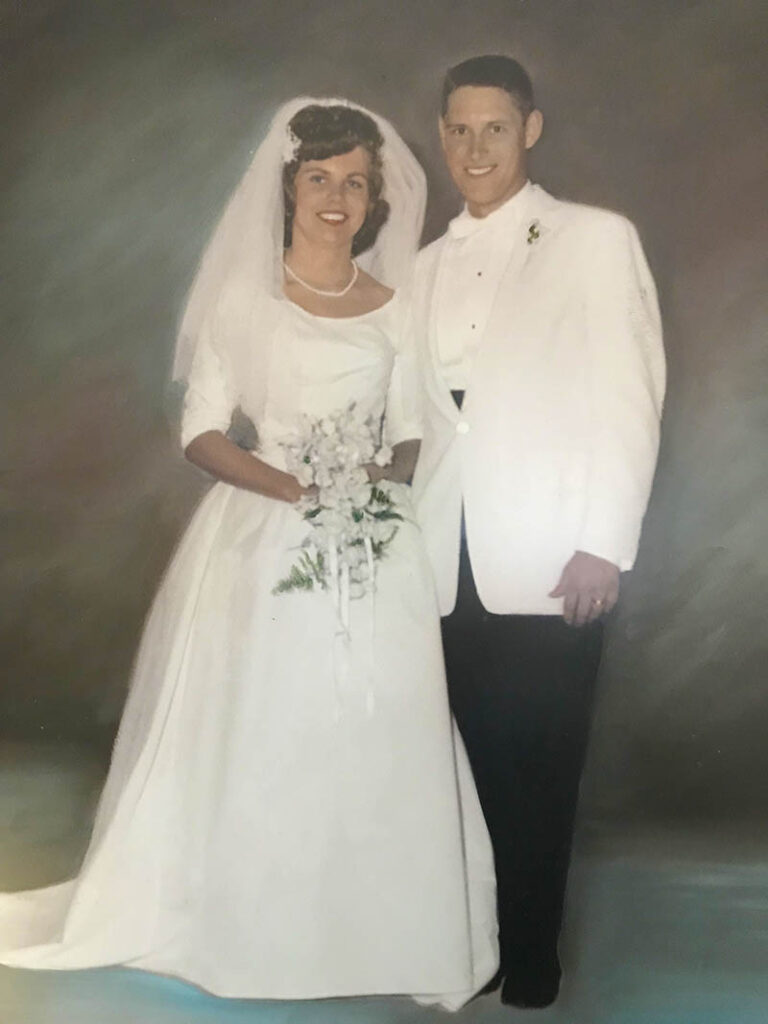 "Even though we began dating in high school, we were together since day one on Webb's campus beginning in August 1959.

We were married in our hometown of Union, New Jersey, the day after Webb graduation June 29, 1963."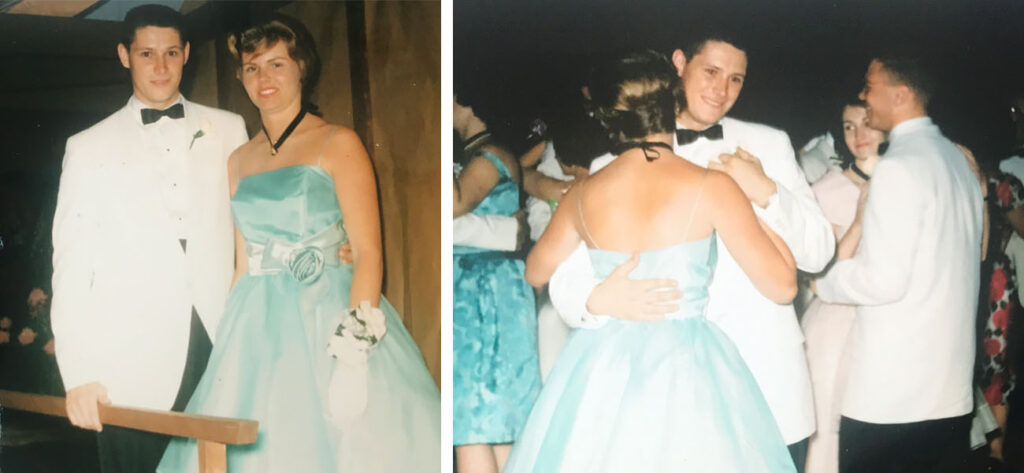 ---
Erin Hub '16 and Jonathan Roussin '17
"We met at Webb. I was a junior and he was a sophomore. We were in Jazz band together and would go running together. We are currently living in Groton, Connecticut. Jon works at Electric Boat and I work at APS. We both work in hydrodynamic departments. We have a cat named Digit."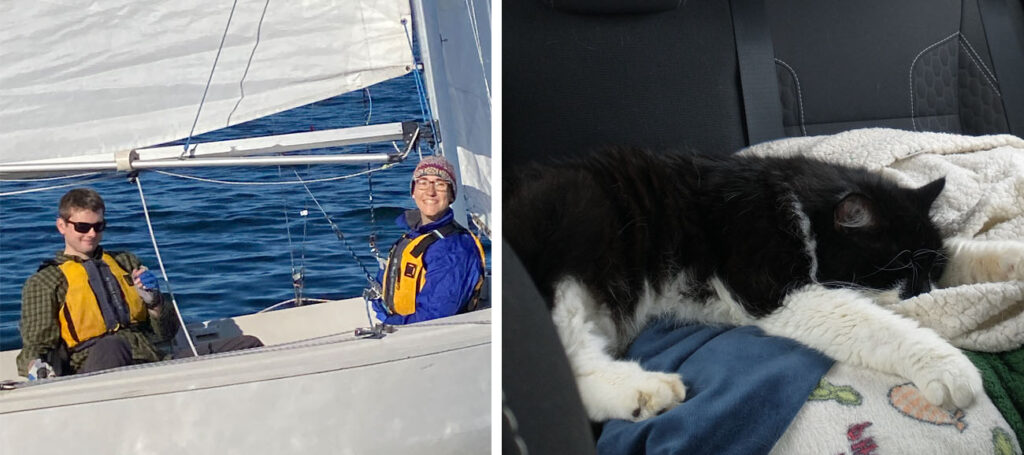 ---
Kathleen (Cain) '07 and Stephen '08 Minnich
"Stephen and I met at Webb, but reconnected when Steve moved to DC to work for NAVSEA after graduate school. We were married on October 5, 2014 at Mount Snow in Vermont. Every member of the classes of 2007 and 2008 were invited; and four members of our bridal party were also Webbies.
We both work for NAVSEA in the DC area and live in Alexandria, Virginia, with our two boys David (5) and John (2).
Webb and the relationships we formed there shaped our lives for the better!"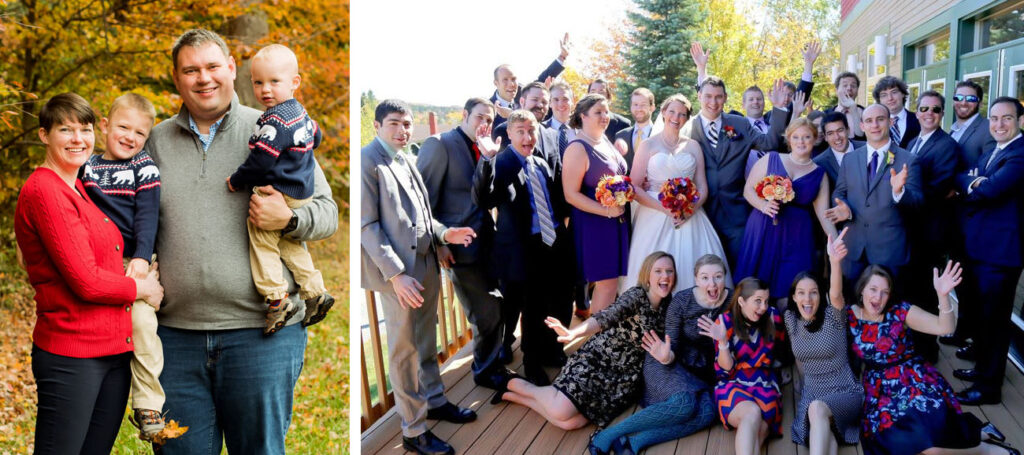 ---
Kierstin (Del Valle) '13 and Andy '11 Lachtman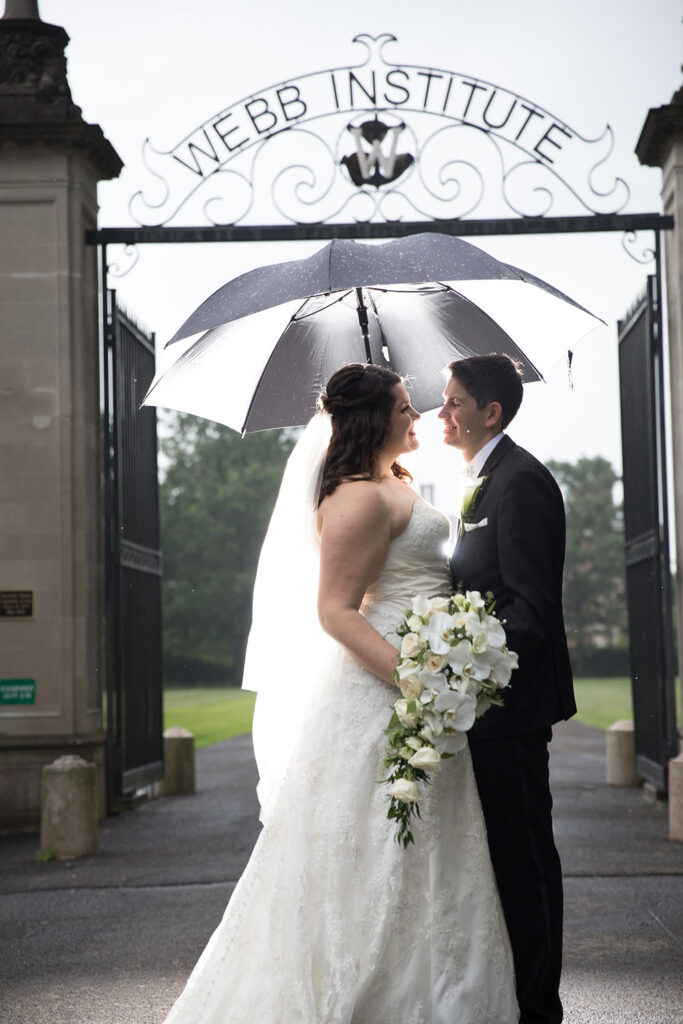 "We met while students at Webb and were married in Glen Cove, New York at St. Patrick's Church in August 2018. The reception was held at Glen Cove Mansion. We live in the Washington D.C. area. I work for the Liberian Shipowners' Council and Andy works for the United States Coast Guard."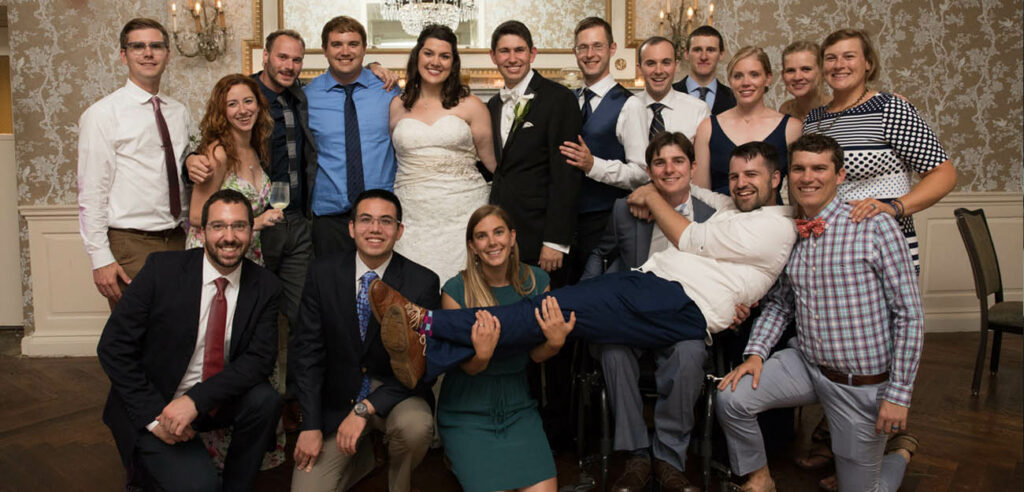 ---
Lidia (Mouravieff) '11 and Schuyler '12 Needham
They met at Webb Institute's 2008 Orientation Week. Lidia was Schuyler's orientation leader, and she actually wrote him a letter the summer before to introduce herself and to welcome him to Webb. It could be that they actually met when Schuyler visited Webb as a prospective freshman. Schuyler apparently sat at Lidia's desk chatting with her classmates during his visit!
The were married 5 October 2014 at Novo Diveevo Russian Orthodox Convent in Nanuet, New York, followed by a reception is the New York Country Club.
Schuyler and Lidia are living on Shelter Island in New York, with their two boys Jonah (2 years old) and Kiprian (5 months old). Schuyler is helping run his family's business, Coecles Harbor Marina & Boatyard.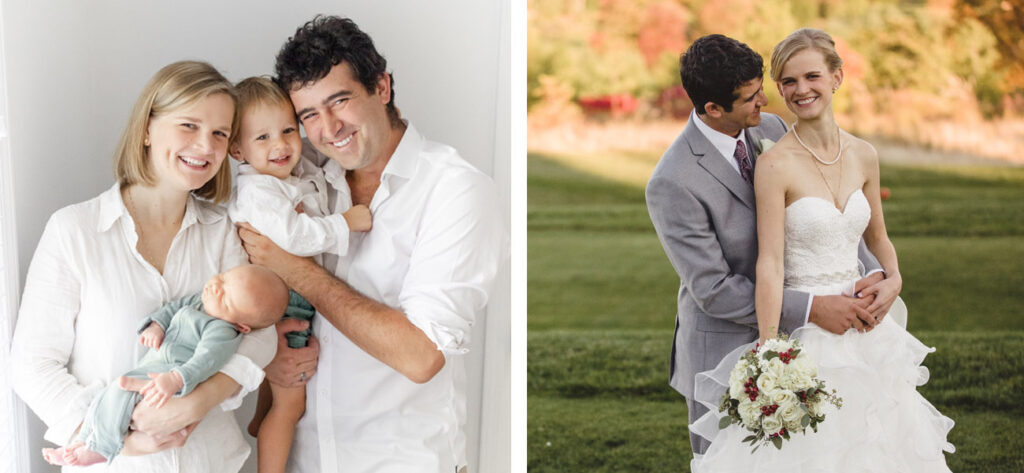 ---
Paul B. '64 and Joan Mentz
"We attended most of the social events at Webb during my four years from 1960 to1964. Joan became my life partner …62 years and counting. We have special memories of Grace Ward and Ethel Bond…so kind to Joan. I shared all of this with June Kiss and Bridget Lisnyk Washlack (both 1963H).

As Webb AD in 1962…Joan kept the clock during Varsity basketball home game. The referees were very concerned…"a girl was keeping the clock," but she did great.
We were married on September 1965 in Queens, New York. We are currently retired with three children and seven grandchildren.