Webb Institute is pleased to announce the appointment of Bradley Golden, Class of 1999, as an Assistant Professor of Naval Architecture.
Golden has served as an adjunct professor of naval architecture at the U.S. Merchant Marine Academy at Kings Point since 2017.  He also provides technical consulting to commercial marine and offshore clients.
Golden began his professional career as a naval architect at Tritec Marine Consultants in the United Kingdom.  In this position he provided design and engineering services for owners and operators of commercial and offshore vessels. As the company expanded, Golden took on larger projects, subsequently becoming Senior Leader of the naval architecture group. In 2005, Golden returned to the United States to open a Tritec Marine Consultants office in New York.
Golden obtained a Bachelor of Science Degree in Naval Architecture and Marine Engineering from Webb Institute and a Master of Science in Marine Technology from the University of Newcastle upon Tyne.
Golden is a licensed Professional Engineer in multiple states and a Chartered Engineer through the UK's Engineering Council. He is a member of the Institute of Marine Engineering, Science & Technology (IMarEST), the Society of Naval Architects and Marine Engineers (SNAME), and the Royal Institution of Naval Architects (RINA). He also served on the Executive Committee of the IMarEST's Eastern USA Branch since 2006 and as a branch officer since 2014.
Webb Institute welcomes Golden to its faculty.
Webb Institute is sorry to report the passing of Webb's oldest living alumni, Harrison T. Loeser '43. He passed away in Waterford, CT at the age of 98, on Wednesday, January 17, 2018.
Loeser wrote a book about his life and career as a naval architect and marine engineer in a book entitled, Tales of an Engineer. The book is available free online, thanks to Webb Institute. The 60-page soft cover, perfect bound book can be obtained by sending a check for $10.00 plus $2.50 shipping and handling to The Proper Exposure at P.O. Box 1070, New London, CT 06320.
About Harrison T. Loeser '43: 
He graduated from Bayside High School and then attended Webb Institute of Naval Architecture. He married Grace (Molwitz) Loeser upon graduation, then after a brief stint at the Portsmouth Naval Shipyard, he shipped out to Pearl Harbor where he was involved in the repair of ships damaged in the Pacific theater. He served as a lieutenant in the U.S. Navy Reserve from 1943-46.
After the war, he joined Bethlehem Steel Corporation where he worked on the design of Naval and Merchant ships, including supertankers, the C-4 Mariner Class cargo vessels, passenger liners, the SS Independence and SS Constitution, as well as dry docks and drill platforms.
In 1953, he joined the Electric Boat (EB) Division of General Dynamics. The company gave him the opportunity to earn his master's in Naval Architecture and Marine Engineering at MIT. There he received training in nuclear engineering which he used on the design of the power plant on the first nuclear-powered submarine – the USS Nautilus. Next, he was made an engineer on several nuclear projects, including the USS Skate (the first watercraft to surface at the North Pole), the USS Triton and the USS Seawolf.
He became a supervisor in the new research and development department where his projects included the submarine – test and research (STAR) series of one-man submarines, as well as work on the General Dynamics-deep submergence research vessel (GD-DSRV) project. He went on to a position as director of marine systems at the General Dynamics corporate office in New York. Before leaving EB, he became the chief Naval architect of advance engineering and program development at Bethlehem Steel Shipyard in Quincy,Mass. While working at EB, he was awarded several patents involving arrays and radiation processing.
In 1968, he accepted a position at the Naval Underwater Systems Center in New London (now the Naval Undersea Warfare Center in Newport, R.I.). While employed there, he helped select and locate acoustic arrays on the Trident class submarines. He also attended the Naval War College in Newport and was appointed science advisor to the U.S. Navy's Second Fleet operating in the North Atlantic and Norwegian Sea. He worked again on the USS Nautilus, this time heading up the installation of the marine acoustic communications sonar (MACS) arrays that tested long distance sonar transmission. He was also responsible for installing research equipment on submarines for polar research.He retired in 1984, but continued his acoustics work, writing the Sonar Engineering Handbook (1992) and the Fundamentals of Ship Acoustics (1996) .In his senior years, he penned short stories of events that occurred to him over the course of his career which were published this fall as The Tales of an Engineer.In his retirement he thoroughly enjoyed sailing the waters off southeastern Connecticut.
He volunteered in the community as a deacon, Sunday school teacher, Boy Scout commissioner, treasurer of the West Farms Land Trust,ethics commissioner, charter revision commissioner, and as a Friend of Harkness Memorial Park.His wife Grace died in 2015. He is survived by a sister; children, Christopher Loeser (Christine), Jane Loeser Clukay (Robert) of Groton, and Douglas Loeser(Amy Horne); three grandchildren, five great-grandchildren, two nieces and a nephew. A celebration of his life will be held at a later date.
Donations in his name can be made to the Friends of Harkness Memorial State Park, Box 10, Waterford, CT 06385 or Webb Institute, 298 Crescent Beach Road, Glen Cove, NY 11542.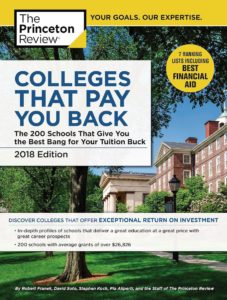 Webb Institute is one of the nation's best colleges for students seeking a superb education with great career preparation and at an affordable price according to The Princeton Review.
The education services company profiles Webb Institute in the just-published 2018 edition of its annual guide, Colleges That Pay You Back: The 200 Schools That Give You the Best Bang for Your Tuition Buck (Penguin Random House / Princeton Review Books, $22.99, January 16, 2018).
Information on the book, its school profiles, and its seven categories of ranking lists are accessible for free on The Princeton Review's website at https://www.princetonreview.com/colleges-pay-you-back.
The Princeton Review chose the schools based data it collected in 2016-17 from its surveys of administrators at more than 650 colleges. The company also factored in data from its surveys of students attending the schools and surveys of school alumni that PayScale.com conducted through April 2017.
In all, The Princeton Review crunched more than 40 data points to tally ROI (return on investment) ratings of the colleges that determined its selection of the 200 schools for the book. Topics covered everything from academics, cost, and financial aid to graduation rates, student debt, alumni salaries, and job satisfaction.
"We salute Webb Institute and all of our Colleges That Pay You Back schools.  They stand out for their outstanding academics and their affordability via generous financial aid to students with need and/or comparatively low sticker prices," said Robert Franek, The Princeton Review's Editor-in-Chief and lead author of the book. "Students at these colleges also have access to extraordinary career services from their freshman year on, plus a lifetime of valuable alumni support."
In the book's profile of Webb Institute, The Princeton Review editors praise the school for its phenomenal job prospects, unrivaled reputation in the marine industry, and real-world experience. A quote from a Webb student the company surveyed described Webb as, "THE college for Naval Architecture, and job offers are basically guaranteed after graduating."  PayScale.com figures report Webb Institute graduates with at least a bachelor's degree have a median starting salary of $70,800 and median mid-career salary of $138,200.
Webb Institute was also featured in Princeton Review's 2018 edition of "The Best 382 Colleges," which was published in August.
Read Student First-Hand Experiences
Lina Tenenbaum '21, Maggie Maguire '21 & Ioana Mirica '21
Lina, Maggie, and Ioana are documenting their journey traveling to and working for Westport Yachts, LLC, in Washington.
Matthew Migliozzi '20 & Grant Dixon '20
Matt and Grant are documenting their experiences aboard the Stolt Sincerity.
Mara DuVernois '20 & Nicholas Yarka '20
Read about Mara and Nick's Winter Work term experiences as they travel aboard the Maersk PEARY to Antarctica.
Jonathan Hale '18
Jonathan Hale '18 is documenting his last winter work experience working for Gibbs & Cox in Arlington, VA.
Benjamin Hunt '21
Ben is documenting '21 is documenting his experience living on campus and working for Brewers Marine.
Our Winter Work term is a mandatory program for all students that takes place every January and February where our students spread out across the globe to gain real life working experience.
Freshmen work alongside ship fitters and welders in shipyards. Sophomores serve as student observers aboard ocean going ships to gain hands-on understanding and appreciation for the relationships between the marine environment, the shipping industry, the ship's operators, and the ship's design. Juniors and seniors network and apply themselves in design and engineering offices around the world.
Student blogs will be available soon!
See where our Webbies are this Winter Work Term! 
Please note the class of 2020 are on ships and can be tracked below.
List of Winter Work term companies and their locations:
Class of 2018
Class of 2019
Class of 2020 (On ocean-bound ships)
Class of 2021