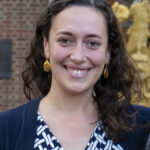 By Lauren Carballo
Director of Admissions and Student Affairs at Webb Institute
In September, U.S. News and World Report released their 38th annual ranking of colleges and universities…and once again, Webb Institute, the college for which I serve as Director of Admissions and Student Affairs, was labeled "unranked" in all but one category. As we've always known, a "tuition-free" undergraduate college with one unique degree and a student body size of just over 100 was never meant to fit neatly into any category. If that weren't enough, per U.S. News' ranking criteria, it was simply our specialized program and student body size that automatically relegated Webb to this status.  
We are not alone. In total, 131 (or 8%) of the 1,631 schools considered by U.S. News are also labeled "unranked" in most categories. They include schools like Olin College of Engineering, Babson College, The Juilliard School, and the Culinary Institute of America–all incredible institutions, all unique, and all unable to participate in the full U.S. News "game" because of the nature of their academic programs.
For some categories, I suppose this makes sense. How would you holistically compare any of the schools above with Williams or Harvard, which more easily fit the mold of a "typical" college? However, for other categories—categories that focus on specific data that make comparing even the most unique schools possible, U.S. News still leaves the 8% off these lists. Princeton, for example, tops their "Colleges Where the Most Alumni Donate" list with a 55% annual alumni giving rate, even though Webb's annual alumni giving rate is over 70%. Under "Best Value Schools," Webb is also excluded even though Webb provides full-tuition scholarships to all of its students, has one of the lowest student debt averages, has a 100% job placement rate, and has one of the highest early career salary figures in the country. Other lists like the "Top 100-Lowest Acceptance Rates" or "Most Students Receiving Merit Aid" are others on which Webb should be included, but is not. Similarly, a number of the other 131 unranked colleges would also rank well on many of these lists.
Now U.S. News does have a few categories, or "specialty lists," in which these unique institutions are ranked, yet their methodology still finds a way to penalize the unique and less well-known. In the Best Undergraduate Engineering Program category, for example, instead of the "17 indicators of academic quality" used in US News' main rankings, which provides at least one multi-faceted means of comparison, this specialty list uses just one–"academic reputation," determined not by job placement rate, starting salary, internship program, industry feedback, or student feedback, but instead by the perception of the program by other college administrators—an old fashioned popularity contest. So if you compare Webb's one degree in Naval Architecture and Marine Engineering to larger engineering programs with more degrees within better-known institutions from the perspective of other college administrators, it's no surprise that Webb can't compete.
…And U.S. News is not the only ranking agency that strategically limits unique schools. In 2014, Webb was ranked #2 in Money Magazine's Best Colleges for Your Money, beating out MIT, Princeton, Stanford, and Harvard. However, shortly after, Money Magazine decided to change their ranking criteria so that only colleges with student populations of over 500 would be included, thus removing Webb from the list entirely. We have not been included in their rankings since.
I believe that Webb's statistics speak for themselves as with many of the other unranked colleges, and there is no doubt that the unranked deserve a place on many of these lists—often at the top. So why, then, are great schools so often omitted from these lists based on seemingly random limiting factors, e.g., student body size, created by ranking agencies? Good question. Would not having an Ivy at the top of their lists threaten their credibility in the eyes of their readers? Or are they, perhaps, concerned that the colleges that support these rankings by filling out surveys or purchasing advertisements will stop doing so if the historically better-known institutions do not continue to be represented at the tops of the lists? Could a tiny, 100-person college truly pose a risk to these ranking agencies? Whatever the reason, their readership continues to grow, and prospective students continue to be guided by these lists regardless of how incomplete they are.
Up until recently, the release of each ranking list and the designation of "unranked" would immediately trigger disappointment and frustration. Yet, perhaps we at Webb have been looking at this "unranked" category the wrong way. Colleges are always looking for ways to boast how unique they are…and yet, the "unranked" are oftentimes unranked because they truly are unique. For Webb, this uniqueness is what has led us to outperform our peer institutions across many of the ranking categories. So instead of staying hidden within the "unranked" designation that ranking agencies give us this year, we are going to wear the "unranked" badge proudly and redefine what a "best college" is. Webb is proud to be unranked. And for all of the students, parents, and college counselors out there, we encourage you to take the time to look into the rest of the 8%; there may be an exceptional and "unranked" institution hiding in plain sight just for you!
by John Ferrante
Over the course of the last academic year, the Facilities Department completed the repurposing of the four Stevenson Taylor Hall classrooms into 20 new dorm rooms. We renovated two Stevenson Taylor Hall west- side bathrooms; created a new mail room, added carbon monoxide detectors to the Stevenson Taylor Hall fire alarm system; renovated the patio tile; installed 435 interior "storm" windows; replaced the carpet in seven offices in the Luckenbach Building; installed two EV charging stations; completed the renovation to the pier and added new fencing and railings (many thanks to MetalShark).
In addition, we also replaced the two steam boilers in Stevenson Taylor Hall along with associated piping, supply tank and controls, and added a stainless-steel liner to the chimney.
We also repaired the stucco and waterproofed the gym. New lighting was installed in the Cuneo Courtyard and the student parking lot.
The design for renovations to the second floor of Robinson Model Basin has been finished and plans submitted to the local building department for the required permits. Currently there are nine dorm rooms on the second floor which we will be changing to three apartments. The design was done by Kirk Lehman P'22.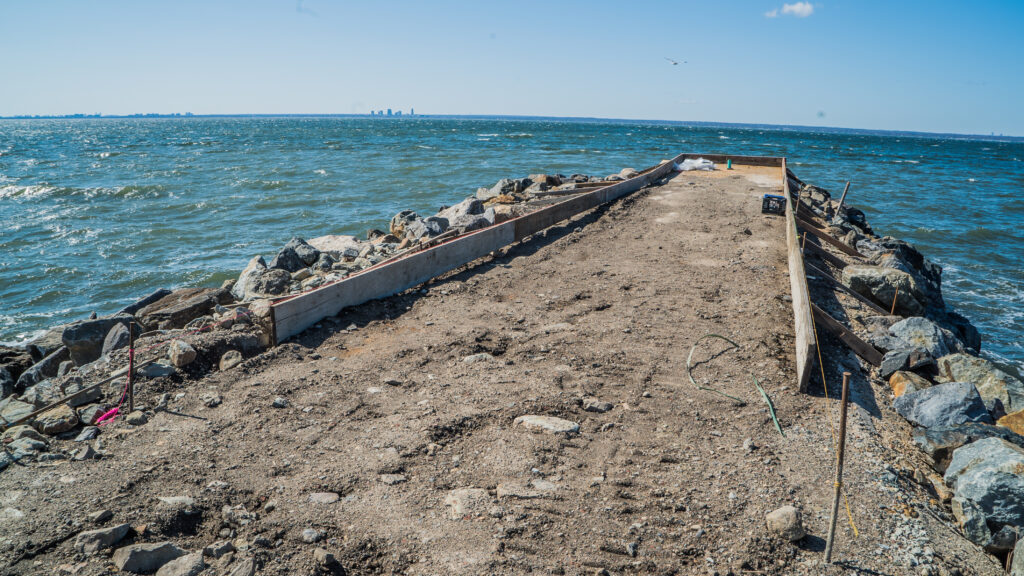 by Bruce S. Rosenblatt (Hon.)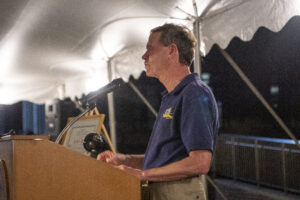 On May 21, 2022, Webb hosted retiring President Keith Michel's Retirement Reception & Dinner. This sendoff was a fitting tribute for a great Webb President who served the Institute with distinction for nine years. 270 guests in all, including current students, alumni, members of our faculty, administration, and staff, Board of Trustees, friends of Webb, and members of the Michel family, honored our retiring President by attending this memorable occasion. Speakers included current students, the Webb Alumni Association President, our Dean, a Vice Chair and three current and past Board of Trustee Chairmen, all of whom offered fittingly high praises for the former President.
It is still hard to believe that it was almost 9 years since Peggy & Keith Michel came to Glen Cove, and Webb is in a much better place today because of their tireless devotion and dedication. The accomplishments Webb realized during Keith's tenure were many. To mention only a few, he drove Webb's most successful fundraising campaign ever; architected the inspirational Couch Academic Center; and reimagined Stevenson Taylor Hall by retrofitting the old classroom as dormitory rooms. Keith will be the first to point out that these accomplishments were only possible because of the efforts of Webb's Board of Trustees, faculty, administration, and staff, and a host of incredibly generous benefactors, among others.
After the speakers expressed their appreciation for Keith, Keith addressed everyone with a brief, humble and powerful message. This was undoubtedly the highlight of the evening. In his remarks, Keith focused on the achievements of others and expressed his deepest appreciation to every part of the Webb family.
In Joe Cuneo's remarks, he described Keith as "one of a kind." More fitting words could not have been spoken. Keith has forever raised the bar in what one should expect from a college President. I am grateful to have been given the opportunity to serve as the Chairman of Webb's Board of Trustees during his tenure.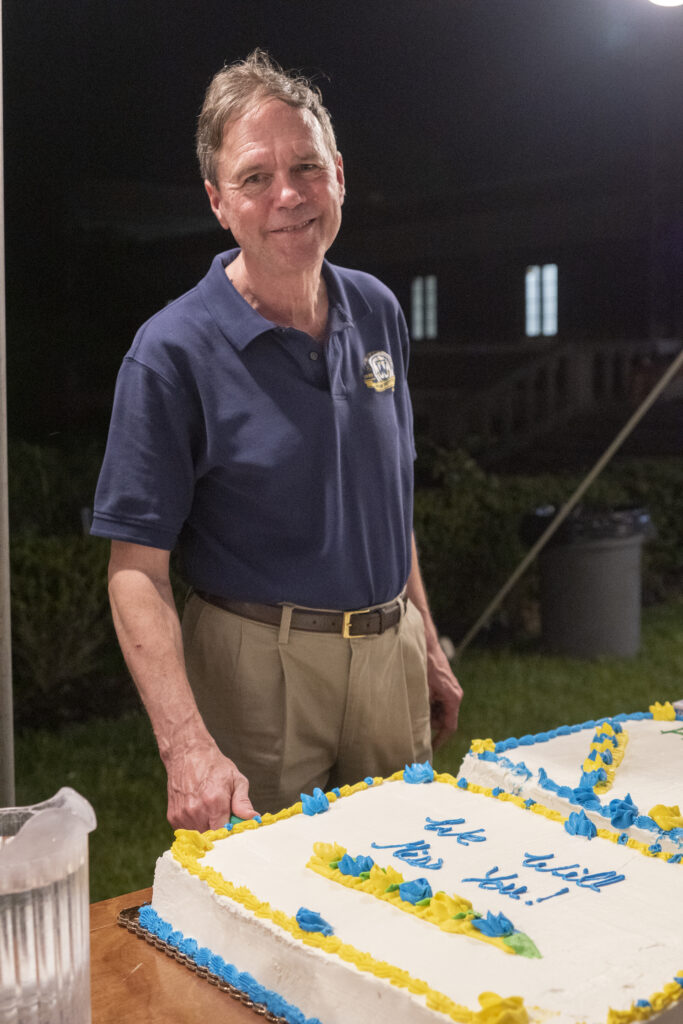 by Dean Matthew R. Werner '95, PG'97
After a two-year hiatus resulting from the COVID-19 pandemic, Webb's Summer Engineering Academy (SEA) restarted for the summer 2022. This year's single two-week session hosted a full complement of twenty-four high school age participants and immersed them in engineering through lectures, design-build projects, competitions, and more. Professor Golden took the lead on this year's program which included a variety of new design-build-test exercises and a field trip to visit FDNY fireboats at the Brooklyn Navy Yard and a walk over the Brooklyn Bridge. As is tradition, the program ended with participant teams competing in the Long Island Sound with boats that they designed and built as family members watched and cheered them on. The overall program was a great success despite the hot and humid weather conditions and a few sunk boats.
Registration for the SEA 2023 will begin after the new year. Information and registration materials will be posted on webb.edu. The limited number of spots are sure to fill up fast, so spread the word to any potential participants.
Aboard the Desperado by Abner Mills '24
My Experience on Desperado for the Newport to Bermuda Race was very different from Zach's on Groupe 5. We sailed with 12 people with a set of 3 watch groups and a Navigator that was separate from the watch system.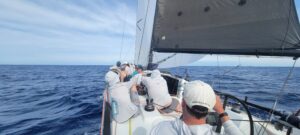 On a distance race like N2B, it's very common that you will spend time in every role at one point or another. I am usually a bowman, and I very much did take part in the majority of the sail changes but I also spent a lot of time trimming sails and driving the boat. The first day of the race was miserable weather, it was very lumpy seas and loads of rain which tested my stomach for sure. The following day leading up to the gulf stream had high winds and decent waves for surfing. We were seeing boat speeds in the high teens very often and I believe our max boat speed was 23kts. We had to gybe out before the gulf stream to avoid the adverse current but after a few hours, we were heading to Bermuda again.

On the morning of our last day, the breeze started to die down and the rest of our race was a bit slower. We finally got in after an elapsed time of 73 hours 51 minutes and 22 seconds. Zach may have a better telling of the conditions than I, he is better at remembering those details, also they were in relatively close proximity for a good majority of the race.
We ended up coming 2nd in the Gibbs Hill Professional Division and 1st in Class 18 for this Race, quite the showing for a student-filled boat.
Sailing Background
• Offshore Team Co-Captain along with Zach Doerr.
• I first learned to sail by taking the small boat sailing merit badge at boy scout summer camp.
• In order to continue sailing and learn more, I found a group called the Cayuga Lake Cruising Fleet. I would have to travel an hour and a half one way to be able to sail every weekend. I sailed a Tanzer 25 usually in a mixed fleet of around 5 to 8 other boats. My boat did okay usually.
• Since starting at Webb I have logged over 3500nm.
• Most of my Webb sailing has been on Figaro 2's with my 2nd semester of sophomore year including much more sailing on Desperado for races such as Vineyard (Fall semester), AYC Spring Race Series, EDLU, Block Island Race, Newport – Bermuda Race.
• Over the summer between freshman and sophomore year, I stayed on campus with a few others and raced in the Block Island Race Week, Around Long Island Race, and many other races on the Long Island Sound.
Aboard the Figaro 2 by Zachary Doerr '24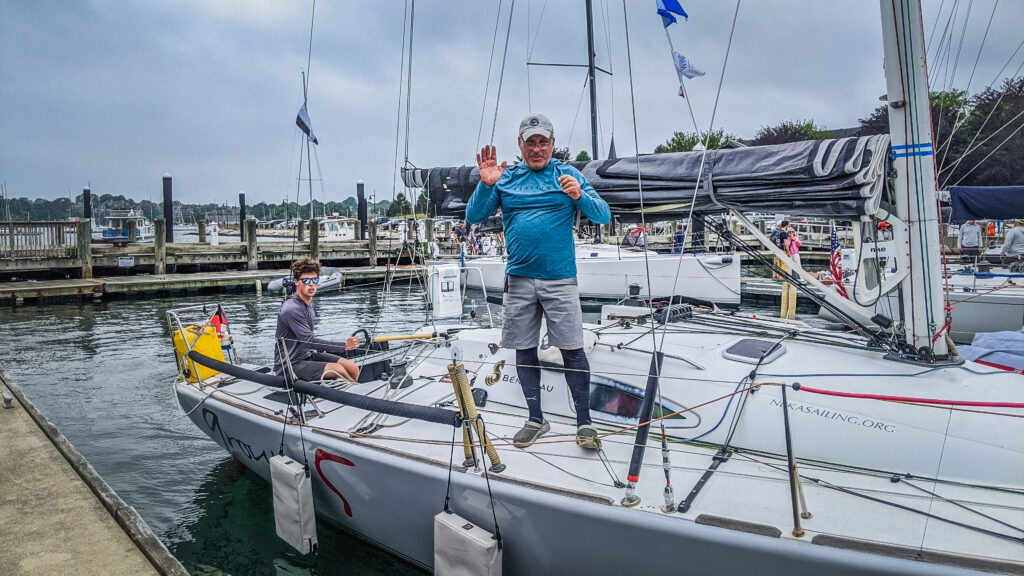 I sailed on a modified Figaro 2 in the Double Handed Division with my coach Vlad Shablinsky. The start for us was amazing conditions. We had a small upwind portion while leaving Newport before it became a tight jib reach in around 18-20 knots of wind from the southwest.

Within two or three hours, however, the wind shut off. At this point, we had fairly large leftover swells making the boat quite miserable to be on. These conditions lasted the rest of the first day. We did a lot of sail changes in the light and fluky conditions as a cold front passed over us.

After the front passed in the middle of the first night, the wind began to fill in beautifully from the northwest at 20 knots. We put up our running spinnaker, which we carried for the rest of the race. The waves built and there was a lot of good surfing opportunities. The top boat speeds going down waves was typically 16-20 knots, with a top speed for the race of 21 knots. Throughout the second day, it increased in strength as we approached the Gulf Stream. At the Gulf Stream, we gybed into a southeast moving eddy and stayed with it for most of the second night. We had some serious squalls with winds into the low 30 knot range. We carried our big spinnaker the entire time, and Vlad and I both worked hard that night to keep the boat upright.

As morning approached, the wind steadied at around 25 knots, and after exiting the Gulf Stream we gybed onto starboard tack again, and decided to sail low, keeping east of the Rhumb line. As the third day went on, the wind began to shift right and eventually to slowly die during the third night. We were lifted nicely to Bermuda and had to throw in just a few gybes within sight of the island. We finished on our fourth day at sea in about 10-12 knots of wind with an elapsed time of 77 hours, 41 minutes, and 22 seconds. We ended up correcting five hours ahead of our nearest competitor in the double handed division and nearly eleven hours ahead of the next boat in our class, taking first place in both class and division.
Sailing Background
• Offshore Team Co-Captain along with Abner Mills
• From Butler, PA
• Learned to sail first on my dad's Capri 22, he sold that and bought a Cal 24 which I continued to learn on. I then started sailing sunfish and eventually Hobie 16s as well. I also had some experience with J80s and Flying Scots before Webb. Most sailing was done on a small lake in PA with a little bit of Great Lakes sailing and Chesapeake Bay sailing as well.
• I have done several regattas on the Figaro 2s, and have done Around Long Island Race 2021, Vineyard Race 2021, Block Island Race 2022, Newport Bermuda Race 2022, and Bermuda Short Handed Return 2022 on Groupe 5.
• Like AJ, I also stayed on campus last summer.