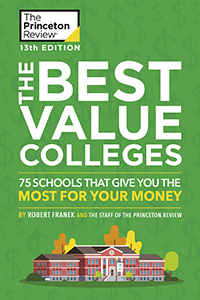 Webb Institute is one of the nation's top colleges for students seeking a superb education with great career preparation and at an affordable price, according to The Princeton Review®.
The education services company named Webb Institute as a Best Value College for 2020 in a feature the company posted on its website on February 4 at https://www.princetonreview.com/college-rankings/best-value-colleges/. The feature profiles 200 schools that The Princeton Review selected out of 656 institutions the company considered and surveyed for this year's project.
Seventy-five of the selected schools are additionally profiled in The Princeton Review's companion book for this project, The Best Value Colleges (Penguin Random House / Princeton Review Books, 13th Edition, $12.99, February 4, 2020).
Information on the Best Value Colleges for 2020 project, its seven categories of ranking lists, school profiles and companion book is accessible for free with registration on The Princeton Review's website.
The Princeton Review chose its Best Value Colleges for 2020 based on data the company collected from its surveys of administrators at 656 colleges in 2018-19. The company also factored in data from its surveys of students attending the schools as well as PayScale.com com surveys of alumni of the schools about their starting and mid-career salaries and job satisfaction figures.
In all, The Princeton Review crunched more than 40 data points to tally ROI (Return on Investment) ratings of the colleges that determined its selection of the 200 schools for the 2020 project. Topics covered everything from academics, cost, and financial aid to graduation rates, student debt, alumni salaries, and job satisfaction.
"The schools we name as our Best Value Colleges for 2020 comprise only 7% of the nation's four-year colleges," noted Robert Franek, The Princeton Review's editor-in-chief. "They are truly distinctive and diverse in their programs, size, region, and type, yet they are similar in three areas. Every school we selected offers outstanding academics, generous financial aid and/or a relative low cost of attendance, and stellar career services. We salute Webb Institute for these exceptional offerings and recommend it highly to college applicants and parents."
In the company's profile of Webb Institute, The Princeton Review editors praise the school as "the only school of its kind in the country, Webb enjoys an unrivaled reputation within the marine industry," and quote from Webb students who described the college as "THE college for Naval Architecture, and a job offer is basically guaranteed after graduating."
The Princeton Review does not rank the colleges hierarchically on a single list, from 1 to 200.
The Princeton Review is also widely known for its college rankings in dozens of other categories, many of which are reported in its annual book, The Best 385 Colleges, published in August.
About The Princeton Review
The Princeton Review is a leading tutoring, test prep, and college admission services company. Every year, it helps millions of college- and graduate school–bound students achieve their education and career goals through online and in-person courses delivered by a network of more than 4,000 teachers and tutors, online resources, and its more than 150 print and digital books published by Penguin Random House. Its Tutor.com brand is the largest online tutoring service in the U.S. It comprises a community of thousands of tutors who have delivered more than 18 million one-to-one tutoring sessions. The Princeton Review is headquartered in New York, NY. The Princeton Review is not affiliated with Princeton University. For more information, visit PrincetonReview.com. Follow the company on Twitter @ThePrincetonRev and Instagram @theprincetonreview
During Winter Work term, our students spread out across the globe to gain real-life working experience.
Freshmen work alongside ship fitters and welders in shipyards. Sophomores serve as student observers aboard ocean-going ships to gain hands-on understanding and appreciation for the relationships between the marine environment, the shipping industry, the ship's operators, and the ship's design. Juniors and seniors network and apply themselves in design and engineering offices around the world.
See where our Webbies are this Winter Work Term!
Please note the class of 2022 are on ships and not included on this map.

---
Read student first-hand experiences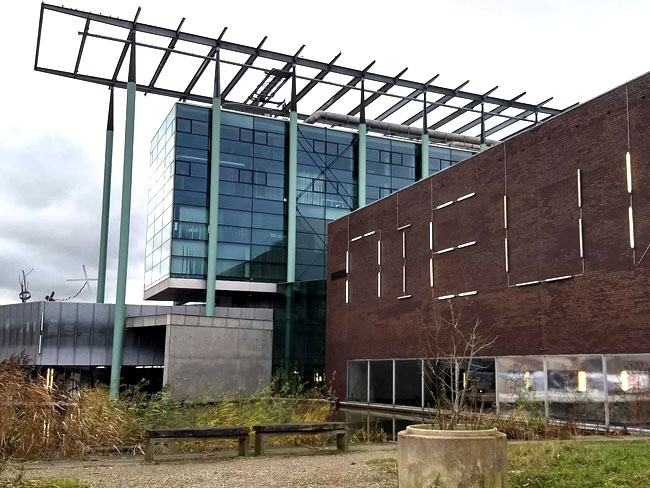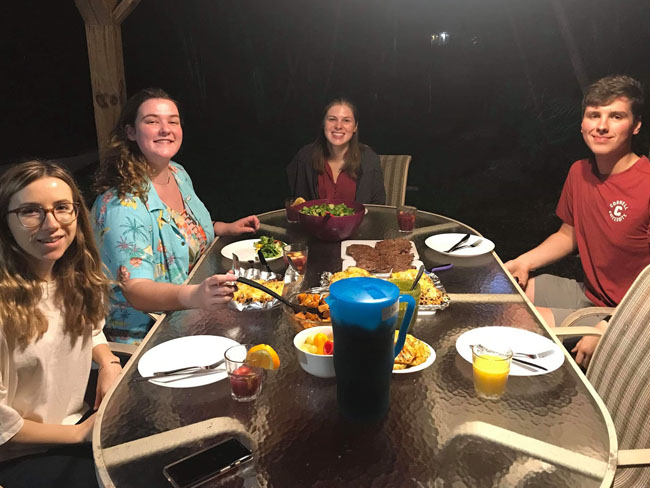 ---
Winter Work term companies:
Class of 2020
| | | |
| --- | --- | --- |
| American Bureau of Shipping | Houston | TX |
| BLOM Maritime | Davie | FL |
| BMT Designers & Planners, Inc. | Arlington | VA |
| Bristol Harbor Group | Bristol | RI |
| Bruce S. Rosenblatt & Associates LLC | Newport News | VA |
| Carnival Cruise Line | Miami | FL |
| Cruise Lines International Association (CLIA) | Washington | DC |
| Donjon-SMIT | St. Simons Sound | GA |
| General Dynamics Electric Boat | Groton | CT |
| Great Lakes Shipyard | Cleveland | OH |
| Herbert Engineering | Alameda | CA |
| Hyde Marine | Coraopolis | PA |
| Incat Crowther | Lafayette | LA |
| Maritime Research Institute Netherlands-MARIN | Wageningen | The Netherlands |
| Murray & Associates, Inc. | Ft. Lauderdale | FL |
| Navatek, Ltd. | S. Kingstown | RI |
| Navatek, Ltd. | Honolulu | HI |
| NSWC Combatant Craft Division | Virginia Beach | VA |
| Seabury Maritime LLC | Edison | NJ |
| Stolt Tankers | Rotterdam | The Netherlands |
| Vigor | Seattle | WA |
Class of 2021
| | | |
| --- | --- | --- |
| BLOM Maritime | Davie | FL |
| C-Job Naval Architects | Amsterdam | The Netherlands |
| Donald L. Blount Associates | Chesapeake | VA |
| Excelerate Energy | The Woodlands | TX |
| General Dynamics Bath Iron Works | Bath | ME |
| General Dynamics NASSCO | San Diego | CA |
| Gibbs & Cox | Arlington | VA |
| Gilbert Associates, Inc. | Braintree | MA |
| Green Sea Systems, Inc. | Richmond | VT |
| Mercury Marine | Fond du Lac | WI |
| Metal Shark Croatia | Kastav | Croatia |
| Navatek, Ltd. | S. Kingstown | RI |
| Navatek, Ltd. | Portland | ME |
| Navatek, Ltd. | Honolulu | HI |
| NSWCCD | Bethesda | MD |
| Shipwright LLC | Ft. Lauderdale | FL |
| Stolt Tankers | Rotterdam | The Netherlands |
Class of 2022
| | |
| --- | --- |
| Company Name | Ship Name |
| Cape May-Lewes Ferry | |
| Chevron | Polaris Voyager |
| Holland America | |
| Matson | Cape Horn |
| Matson | Cape Henry |
| MUR Shipping | African Kite |
| Pasha | Marjorie C |
| Resolve | |
| Stolt Tankers | Stolt Excellence |
| Stolt Tankers | Stolt Effort |
| University of Washington | |
Class of 2023
| | | |
| --- | --- | --- |
| Austal USA | Mobile | AL |
| Colonna's Shipyard | Norfolk | VA |
| Derecktor Dania | Derecktor | FL |
| Detyens Shipyards, Inc. | North Charleston | SC |
| General Dynamics NASSCO | San Diego | CA |
| Metal Shark Aluminum Boats | Bayou La Batre | AL |
| Metal Shark Aluminum Boats | Franklin | LA |
| Metal Shark Aluminum Boats | Jeanerette | LA |
| Resolve Marine | Dutch Harbor | AK |
| Resolve Marine | Mobile | AL |
| Safe Harbor New England Boatworks | Portsmouth | RI |
| St. John's Ship Building, Inc. | Palatka | FL |
| Vigor | Seattle | WA |
| Westport Yachts | Port Angeles | WA |
Three paintings done by Webb students for the Western Culture II art project are currently on display at the North Shore Historical Museum in Glen Cove as part of an exhibit titled "Child and Young Adult Reading in the Last 100 Years."  The paintings—by Declan Gaylo '19, Brandon Wui '20, and Shannon Liu '21—have drawn a great deal of attention and many compliments from museum visitors. 
Each year, Professor Richard Harris' Western Culture II class participates in this art project that requires them to recreate a painting or illustration. The goal of this assignment is for the student to learn to look closely at and really see a work of art, as well as acquire a better sense of the roles of composition and color.
ABOUT THE NORTH SHORE HISTORICAL MUSEUM
The North Shore Historical Museum's mission is to preserve the history of the North Shore of Long Island through the stewardship of its collections and historic structure — the 1907 Justices Courthouse — to engage the public, and to interpret the history of the North Shore, in particular, the area once known as the "Gold Coast", through exhibitions, lectures, and programs. The North Shore Historical Museum has been chartered by the New York State Department of Education to collect and exhibit artifacts and archives of Long Island's North Shore.
Please visit https://northshorehistoricalmuseum.org for more information.
The student projects that were features are below!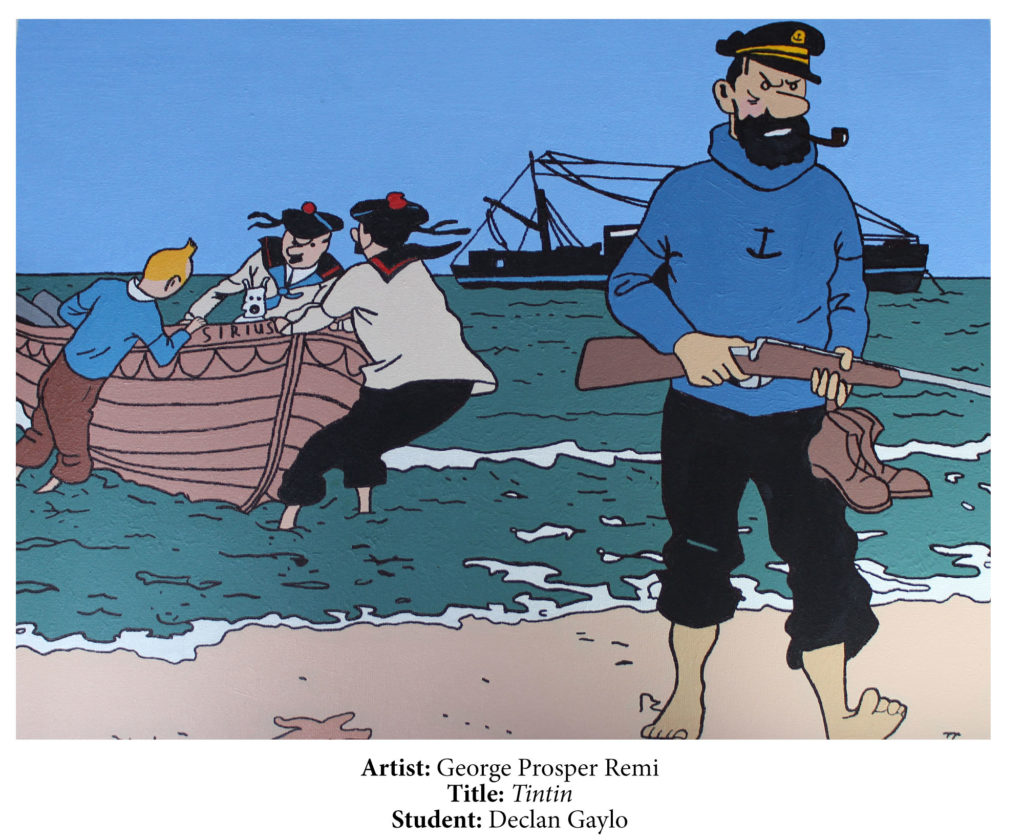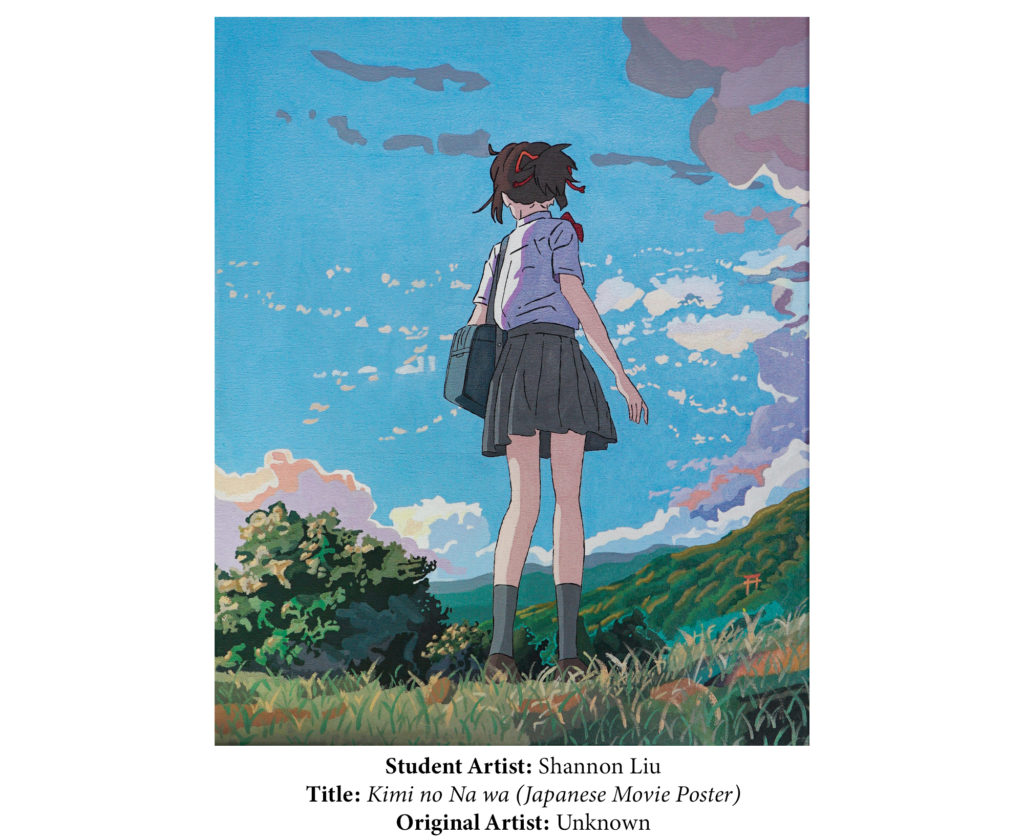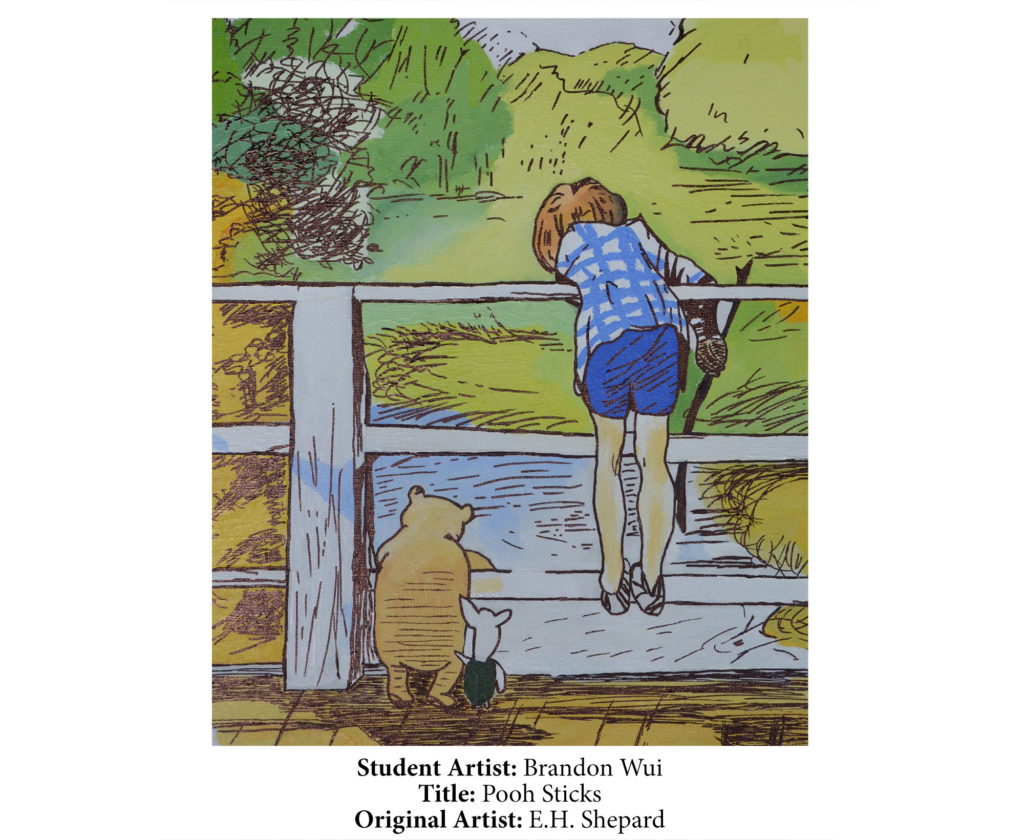 Professor Emeritus Alan L. Rowen passed away in the early morning hours on Wednesday, October 9, 2019, after a battle with aplastic anemia.
Alan taught at Webb Institute for twenty-five years before retiring in 2001 with the title of Professor Emeritus. He was the first Rosenblatt Professor of Marine Engineering at the school, a title he held for ten years.
Alan was a 1965 graduate of SUNY Maritime. Following graduation, he sailed on merchant ships as a watch-standing engineer, later returning to the Maritime College as an Engineering Watch Officer and Instructor. He then joined the Naess Shipping Group as Manager of New Construction and moved to London. He returned to New York in 1977 to teach at Webb Institute. While at Webb, he worked as a research associate and as an independent consultant. Alan wrote a textbook on marine engineering and contributed to a number of publications that are widely used in the industry and by students at Webb and other schools.
Upon his retirement, Alan assumed the position of Technical Director at SNAME. He was named a Life Fellow of SNAME and chaired the Society's Ships' Machinery Committee. He was also a Fellow of the Institute of Marine Engineers and an officer of the Institute's Eastern USA Branch.
He is survived by his wife, Alice, and two sons.
Comments made by the Webb community:
"Knowledgeable and dedicated to his profession. He worked us hard & we appreciated it. A huge loss for the community. Best wishes to the Rowen family & friends." – Michael Birmann '86
"So sorry to hear this. He was an excellent professor" – Scott Roodvoets '86
"Al Rowen was truly the best professor I ever had. And the hardest, for sure. He knew his stuff and worked the students quite aggressively so that he could know that they knew their stuff, too. It wasn't easy in his class. "Work assigned today was due yesterday" was a typical joke. But he had a great way of explaining things … especially one-on-one. And, boy, could he write on the chalkboard! Reams and reams of thermodynamic equations. (I'll confess that I've forgotten much, 35+ years later). But if there's one thing that Rowen taught me that HAS stuck with me, it's this: the process of how to learn, and how to apply yourself. That has stuck with me, and it's served me well throughout my professional and personal life. Rowen gets the gold star for that. From me, and dozens and dozens of other Webbies, I'm sure. He will most certainly be missed. But his legacy lives on in us all. And I am ever thankful for that." – T.J. Perrotti '85
"Rowen was the best. He really knew how to cram a lot of information into an hour, and even a thick-headed guy like me could get it. I'm deeply saddened at this news, Al a Rowan was a good man and a great teacher and role model." – Douglas Goldhirsch '85
"The man who showed the most personal concern for my well-being when I was disenrolled at the end of my junior year. I will always be grateful." – Ivan Kirschner '81X
"A fantastic teacher and colleague. Alan was knowledgeable, energetic, and intense. Offices next to each other, we spoke daily and often closed the door to laugh about something. His sense of humor might come as a surprise to some, but he was fun to discuss things with, and always honest." – Richard Neilson '70
by Shannon Liu '21
In May of last year, Professor Harris asked our class, the class of 2021, what humanities electives we would like for the following semester. Our class eventually decided on three, with only five students choosing the third choice, a music composition class. After several discussions with the students, Professor Harris had a good idea of the class we were looking for, and he started searching for a teacher. Luckily, he found Dr. Hristina Blagoeva, an accomplished flutist currently instructing at the Long Island Conservatory of Music. We met her in early June and were eager to start the class.
The class we decided on was a Music Theory and Composition class. The first half of the semester focused on music theory. We covered the basics from major and minor keys to chordal structures and harmonic progressions. In the second half of the semester, we discussed different composition structures as well as different species of counterpoint, a more traditional and regimented choral-based form of composition. During this portion of the class, all five students wrote and developed several original compositions. We also had two workshops with Dr. Miles Massicotte, a pianist with amazing improvisational skills, who worked with us to harmonize our compositions.
During the last couple of weeks of the semester, we worked on composing and practicing our final compositions to be presented at the Webb Holiday Party. At the recital, the students performed their own compositions with accompaniment by Dr. Blagoeva and Dr. Massicotte. The performers where:
Dan Desio – bass guitar
Luke Herbermann – guitar
Ben Hunt – bass clarinet
Shannon Liu – flute
Hank Rouland – piano