If you have an unsinkable love of engineering and a passion for the water, Webb Institute may be the place for you! 
Located in Glen Cove, New York on the Long Island Sound, Webb Institute is a small, highly selective college that awards one degree–a dual Bachelor of Science in Naval Architecture and Marine Engineering, rated as one of the most valuable majors by Bankrate.  As a "Webbie" you will collaborate and problem solve, all while developing the skills, knowledge, and networks necessary to design what you love and make your mark on the world! Even more exciting, is that Webb is able to provide this while awarding all students who are US citizens or Permanent Residents with a full-tuition scholarship!

Fast Facts
A full-tuition scholarship is awarded to every enrolled student who is a US citizen or Permanent Resident
Paid internships for all students every academic year during Webb's Winter Work Term
100% job/graduate school placement rate within 6 months of graduation
One of the highest early career salaries in the country (average = $82,000)
All students live on Webb's 26-acre campus, which includes a private beach and incredible lab facilities
Students are governed by an Honor Code
9:1 Student-to-Faculty ratio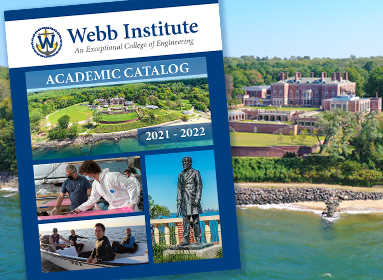 ---
For more in-depth information about admissions and academics, please view our catalog.