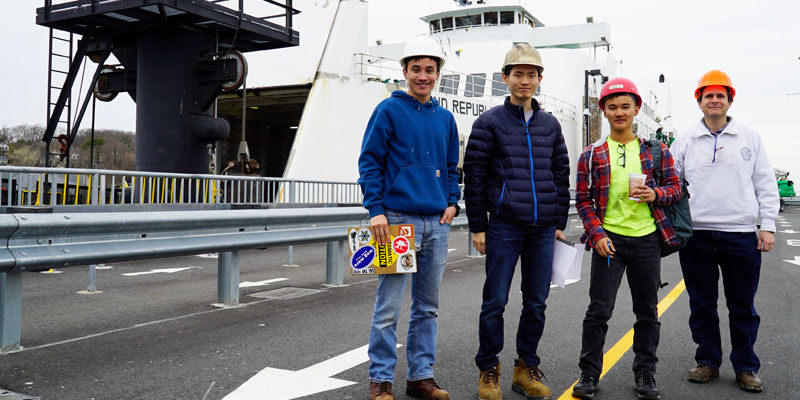 All students at Webb graduate with a dual BS in Naval Architecture and Marine Engineering. While most of our graduates pursue careers in the maritime industry, many branch out into other fields, both technical and non-technical. Learn more about our Webb alumni and what is a naval architect and marine engineer.
At Webb you start on your major from the first day of classes. You'll be gaining real life, hands-on experience in engineering before your first month of college is over.
---
The Curriculum
The Webb curriculum is based on a systems approach to engineering and is designed to be of such quality and depth that all graduates are prepared to enter the profession and "hit the ground running," or to continue their education in premier graduate programs.  The curriculum and course descriptions are carefully designed and arranged to achieve the mission of Webb Institute by focusing on the art and science of ship design.
The 146 credit curriculum provides each student with rich design experiences and is built on a strong foundation of mathematics and basic and engineering sciences. Every semester includes at least one course in naval architecture or marine engineering that serve to tie the program together from the first to the final semester.  The general education component of the curriculum strives to educate the "whole person" through offerings in the humanities and social sciences.  Finally, all students are required to complete a senior thesis with an oral report on the thesis project presented to the entire Webb community and invited guests.
Winter Work Term
A practical work period between the first and second semesters of each of the four years is an integral part of the academic program. These eight week long "winter work" terms provide students with first-hand experience in the industry and encourage attitudes and work habits that contribute to a sense of professional excellence.
Lecture Series
In addition to the formal courses, all students attend the Monday Lecture Series where speakers discuss a wide variety of topics from technical to historic to current events topics.  This weekly lecture series is designed to expand Webb students' education in both technical and non-technical subject areas.
Once or twice a year the Webb community and invited guests congregate for a special evening presentation as part of the Zeien Lecture Series.  The Zeien Lecture Series brings noted individuals from industry, academia, the arts, and government to Webb's campus to share their stories, experiences, insights, and knowledge.
Undergraduate Curriculum Matrix