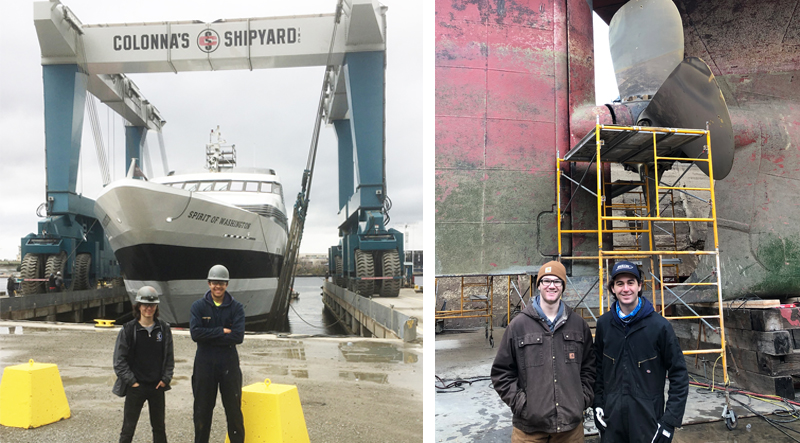 Webb Students gaining real life experience working across the U.S. and around the world!
Do you really know what is involved in the design and construction of a ship? To name a few things, you need to think about stability, resistance, propulsion, structures, cargo systems, electrical generation and distribution, heating, cooling, sewage, refrigeration, crew accommodations, government regulations, plus it needs to float!
We believe in a hands-on approach in order to gain the significant experience necessary to succeed in the field of naval architecture and marine engineering.
Our Winter Work internship allows you to have four unique learning opportunities to add to your resume by the time you graduate. This is one of the major reason why our students graduate with 100% job placement! This will be an experience you will never forget!
Learn the Ins and Outs of the Marine Industry
Why does Webb Institute require all students to perform internships?
We want you to go out into the marine industry to apply what you have learned in the classroom.  We want you interact, from a number of perspectives, with the ships, equipment, processes, and people of the industry to give you an insight in to how designs are developed and how what you will design will ultimately be constructed and operated.
When does my internship take place?
You will take a break from the classroom during the months of January and February. Perhaps spend the cold New York winter months in a shipyard in San Diego, a yacht design office in Florida, or aboard a ship on its way to Hawaii. If you really love the cold weather, enjoy your internship on an ice-breaker heading to Antarctica or a ship operations firm in Denmark.
Where will my internship be located?
Design Your Own Internship at Home or Abroad. You decide! You can work in offices of companies that design ships, work with the Navy testing ship models in the world's most advance model basins, or work at a major cruise ship company. You are not just limited to the United States, you can work all over the world.
Freshman Year
During Freshman year students work alongside ship fitters and welders in shipyards. 
Companies Freshman Worked For:
Freshman Job Duties:
Welding
Sanding
Painting
Grinding
Shipfitting
Pipefitting
Component and System Testing
Sophomore Year
Sophomores serve as student observers aboard ocean going ships to gain an understanding and appreciation for the relationships between the marine environment, the shipping industry, the ship's operators, and the ship's design. 
Companies Sophomores Worked For:
Types of Ships:
Container ships
Roll-on/Roll-off
Tankers
Military supply ships
General Cargo ships
Sophomore Job Duties:
Work in the engine room maintaining and repairing machinery
Serve watch on the bridge
Participate in cargo handling exercises
Support underway replenishment activities
Assist shipboard helicopter landings
Junior and Senior Year
Juniors and seniors network and apply themselves in design and engineering offices around the world.
Companies Juniors and Seniors Worked For:
One student worked with the company that salvaged the Costa Concordia, a cruise ship that had grounded, flooded, and rolled over on to its side off the coast of Italy.  He can proudly state that he was the last person on the ship before it was completely raised. You cannot compare this type of real world experience.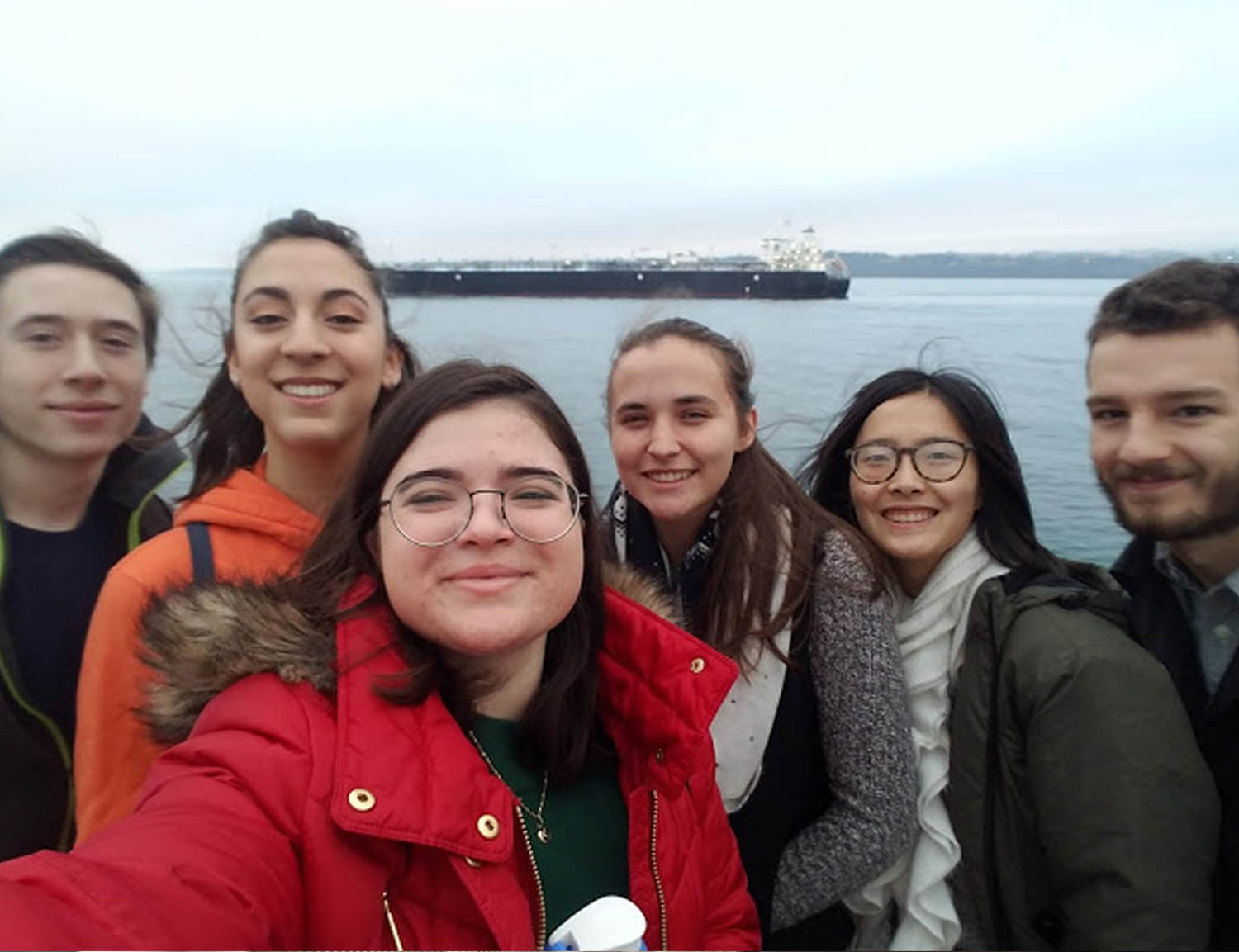 Read Student First-Hand Experiences
The following blog describes the not-so-spontaneous adventures and learning experiences of Dillon Esposito-Kelley '21, Daniel Desio '21, and Ioana Mirica '22 while they intern at General Dynamics NASSCO in the winter of 2021.
Follow Jacob Dillistin '23, Luke Kiely '22, and Nathaniel Philips '23 as they set out overseas to spend their Winter Work term at Metal Shark in Croatia.
This blog documents the experience of eight freshmen who will be working in two shipyards, Marine Group and General Dynamics NASSCO, in San Diego. Kohta Erdos, Kadi Zheng, Margo Bourn, Miguel Sanchez, Zach Doerr, and AJ Mills will be working at NASSCO, assigned to different departments. Tim Lazouski and Payne Donaldson, are interning at Marine Group, a smaller shipyard that focuses on vessel repair.
Read about Alex Koziol '21, Ben Hunt '21, and Juliette Lehman's '22 Winter Work Term in Seattle, Washington. Ben and Alex will be working in the marine engineering and marine construction departments at Glosten, a marine consulting firm. Juliette will be working at Elliott Bay Design Group, which specializes in marine transportation.