Photo caption: Webb's idyllic campus, with the Couch Academic Center in the foreground and Stevenson Taylor Hall in the background
Glen Cove, NY – On November 20, 2020, the Robert David Lion Gardiner (RDLG) Foundation awarded Webb Institute a $299,250 grant to support the construction and installation of an ADA compliant elevator in Webb's flagship building, Stevenson Taylor Hall (STH, formerly a Pratt family vacation retreat), and an ADA compliant vertical platform lift linking the college's newly constructed Couch Academic Center (CAC) to the historic STH. This grant was provided as a 1:1 match, whereby Webb Institute is responsible for the remaining funds to complete the project. Construction is scheduled to be completed by March 1, 2021.
Webb Institute is a small, top-ranked undergraduate engineering college located in Glen Cove, New York. Webb provides a full-tuition scholarship for all its students for all four years as they earn a BS degree in naval architecture and marine engineering. While the full-tuition scholarship assists students tremendously in affording a Webb education, many students and their families are challenged to pay for room and board and other expenses. This unmet need has been typically covered through student and parent loans. The RDLG Foundation previously (2018) provided Webb with a generous grant, that when combined with Webb's existing scholarships, enabled Webb to meet the demonstrated financial need of all current and incoming Webb students. This successful scholarship program removed barriers of entry to Webb for underrepresented minority students and diversified Webb's student body. Through this partnership, Webb also joined a list of approximately 70 colleges and universities in the United States that meet full demonstrated need.
"We are thrilled to extend our partnership with the Robert David Lion Gardiner Foundation through this important infrastructure enhancement," said Webb President R. Keith Michel. "While both the Couch Academic Center and Stevenson Taylor Hall (STH) can be accessed from outside entrances separately, the current layout did not present a path for persons with disabilities to seamlessly maneuver between the college's main buildings, and STH lacked an ADA compliant elevator. Thanks to our partnership with the RDLG Foundation and the vision of Webb's Board of Trustees, we will enhance connectivity and seamless passage through two key buildings on Webb's campus while we preserve the historical character of the Pratt mansion.
About Robert David Lion Gardiner Foundation:
The Robert David Lion Gardiner Foundation, established in 1987 primarily supports the study of New York State history, with an emphasis on Suffolk County. Robert David Lion Gardiner was, until his death in August 2004, the 16th Lord of the Manor of Gardiner's Island. The Gardiner Family and their descendants have owned Gardiner's Island since 1639, obtained as part of a royal grant from King Charles I of England. The Foundation is inspired by Robert David Lion Gardiner's personal passion for New York history.
About Webb Institute:
Founded in 1889 by New York-based ship builder William H. Webb, Webb Institute is a top-ranked undergraduate institution specializing in Naval Architecture and Marine Engineering. Webb is the only full-tuition scholarship, private undergraduate program of its kind in the United States, with a maximum of 28 students being accepted into the program each year. Webb Institute's beautiful, waterfront campus is located in Glen Cove, NY, on the North Shore of Long Island.
For additional information regarding this partnership, contact:
Anthony R. Zic
Director of Development
azic@webb.edu
516-641-6372
For general media inquiries, contact:
Kerri Allegretta
Director of Communications
kallegretta@webb.edu
516-403-5392
###
by Ian Cosic '21
On November 19, Webb seniors Ian Cosic and Cross Weeks had the unique opportunity to conduct an inclining experiment aboard the USCG Lilac. Constructed in 1933, the Lilac is the last steam-powered lighthouse tender in the United States. For the last 17 years, she has been maintained and exhibited to the public as a museum ship by the Lilac Preservation Project, a group of dedicated volunteers working to restore the vessel and preserve her rich history.
The experiment, conducted as part of their senior thesis, consisted of a calculated series of weight shifts across the deck of the vessel to induce an angle of heel. This was then measured with three different pendulums. Before the actual shifting of the weights, Ian and Cross explored every space on the Lilac to catalogue the weight and center of gravity of every moveable object aboard the vessel. Using the data from the experiment, the students will be able to determine the vessel's current vertical center of gravity and assess her intact stability. They hope to assist the vessel's owners in developing a plan to modify the Lilac for eventually carrying passengers. Their thesis advisor, Professor Bradley D.M. Golden '99, was present to assist and to provide guidance on the experiments. 
During Winter Work term, our students spread out across the globe to gain real-life working experience.
Freshmen work alongside ship fitters and welders in shipyards. Sophomores serve as student observers aboard ocean-going ships to gain hands-on understanding and appreciation for the relationships between the marine environment, the shipping industry, the ship's operators, and the ship's design. Juniors and seniors network and apply themselves in design and engineering offices around the world.
Many thanks to the Webb alumni who reached out and offered jobs for Webb's upcoming Winter Work Term. The upperclassmen were able to secure either remote or on site work, and all of the freshmen were placed in shipyards. The sophomores will not be sailing until the summer of 2021, but a good number of them were able to find work this winter in the maritime community. Thank you Jake Genauer '10 and Vicky Dlugokecki '88 for all your efforts.
---
See where our Webbies are this Winter Work Term!
---
Winter Work Blogs: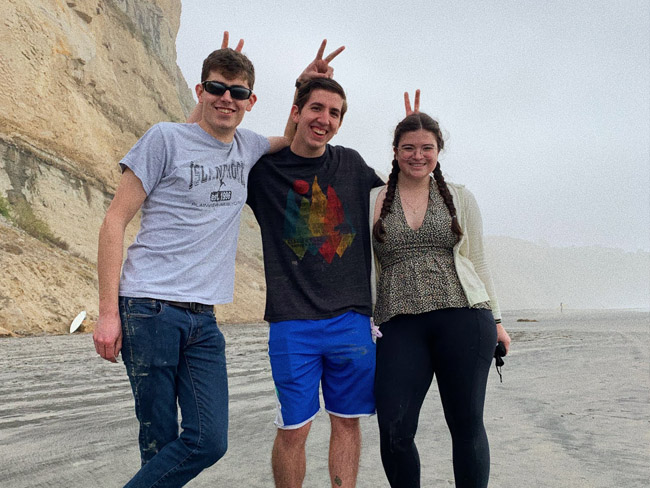 Stuck in San Diego: COVID Edition '21
The following blog describes the not-so-spontaneous adventures and learning experiences of Dillon Esposito-Kelley '21, Daniel Desio '21, and Ioana Mirica '22 while they intern at General Dynamics NASSCO in the winter of 2021.
---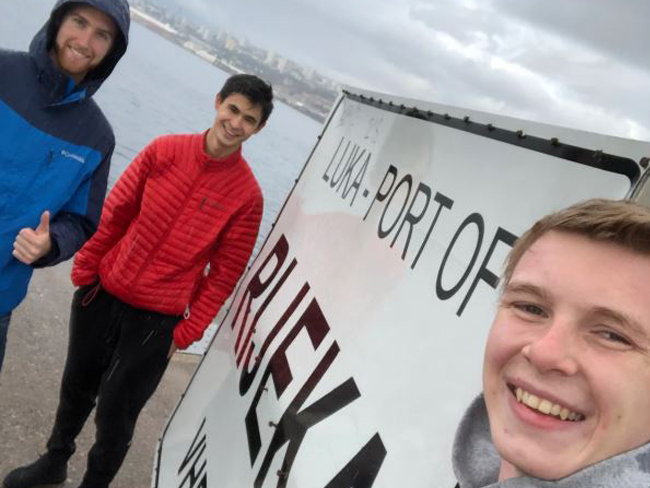 Follow Jacob Dillistin '23, Luke Kiely '22, and Nathaniel Philips '23 as they set out overseas to spend their Winter Work term at Metal Shark in Croatia.
---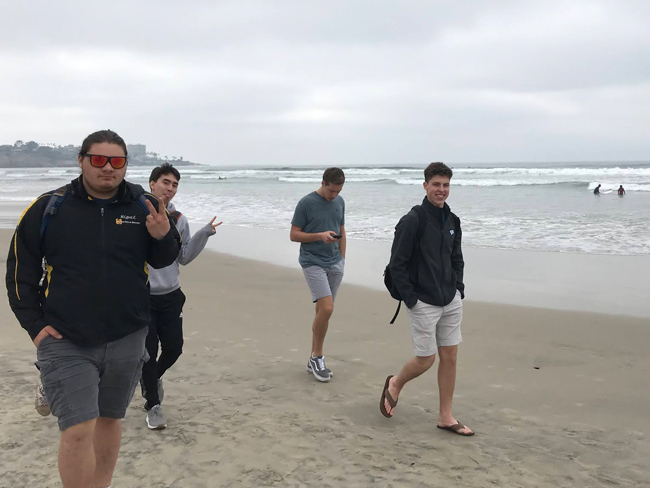 This blog documents the experience of eight freshmen who will be working in two shipyards, Marine Group and General Dynamics NASSCO, in San Diego. Kohta Erdos, Kadi Zheng, Margo Bourn, Miguel Sanchez, Zach Doerr, and AJ Mills will be working at NASSCO, assigned to different departments. Tim Lazouski and Payne Donaldson are interning at Marine Group, a smaller shipyard that focuses on vessel repair.
---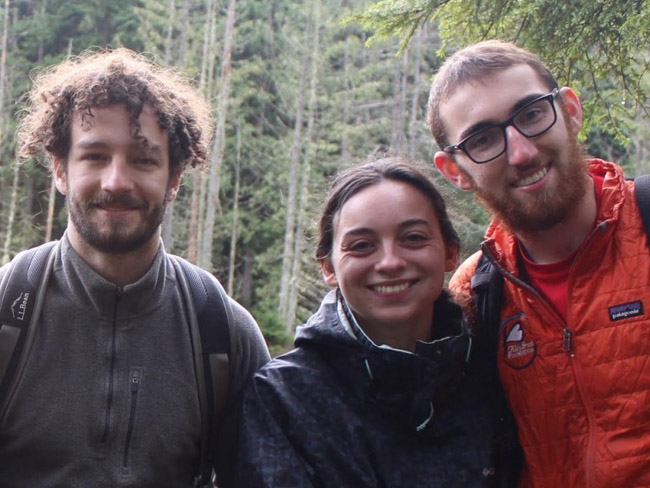 Read about Alex Koziol '21, Ben Hunt '21, and Juliette Lehman's '22 Winter Work Term in Seattle, Washington. Ben and Alex will be working in the marine engineering and marine construction departments at Glosten, a marine consulting firm. Juliette will be working at Elliott Bay Design Group, which specializes in marine transportation.
---
Winter Work Term Companies:
Class of 2021
| | |
| --- | --- |
| BMT Designers & Planners, Inc. | Arlington, VA |
| Boksa Marine Design | Tampa, FL |
| Bruce S. Rosenblatt & Associates LLC | Newport News, VA |
| Colonna's Shipyard | Norfolk, VA |
| Eagle Bulk Shipping | Stamford, CT |
| Excelerate Energy | The Woodlands, TX |
| GD NASSCO | San Diego, CA |
| Gilbert & Associates | Lenox, MA |
| Glosten | Seattle, WA |
| Herbert Engineering | Alameda, CA |
| HII Newport News Shipbuilding | Newport News, VA |
| Hinckley Yachts | Portsmouth, RI |
| International Seaways, Inc. | New York, NY |
| Martin Defense Group | Honolulu, HI |
| Northstar Midstream | Houston, TX |
| Oceaneering International, Inc. | Hanover, MD |
| University of Maine | Orono, ME |
| Vigor | Seattle, WA |
Class of 2022
| | |
| --- | --- |
| American Bureau of Shipping | Houston, TX |
| Aurora Marine Design | San Diego, CA |
| Bristol Harbor Group | Bristol, RI |
| DLBA Naval Architects | Chesapeake, VA |
| Elliott Bay Design Group | Seattle, WA |
| GD NASSCO | San Diego, CA |
| Gibbs & Cox | Arlington, VA |
| Great Lakes Shipyard | Cleveland, OH |
| Gulf Marine Repair | Tampa, FL |
| Hockema Whalen Myers Associates | Seattle, WA |
| Hydrocomp, Inc. | Durham, NH |
| Mercury Marine | Fond Du Loc, WI |
| Metal Shark Boats | Jeanerette, LA |
| Metal Shark Boats | Rijeka, Croatia |
| Murray and Associates, Inc. | Fort Lauderdale, FL |
| Northstar Midstream | Houston, TX |
| SERCO | Arlington, VA |
| Stolt-Nielson Limited | Houston, TX |
| ThayerMahan | Mystic, CT |
| Universite de Pau et Pays d'Atours | Anglet, France |
| U.S. Marine Inc. | Gulfport, MS |
Class of 2023
| | |
| --- | --- |
| Aurora Marine Design | San Diego, CA |
| Bruce S. Rosenblatt & Associates LLC | Newport News, VA |
| Bruce S. Rosenblatt & Associates LLC | Newport News, VA |
| Global Secure Shipping | Old Town, ME |
| Matson | San Francisco, CA |
| Metal Shark Boats | Rijeka, Croatia |
| NEEC | Glen Cove, NY |
| NETSCo | Tampa, Florida |
| Persak & Wurmfeld | Brooklyn, NY |
| Quantum Marine Stabilizers | Ft. Lauderdale, FL |
| Shipwright LLC | Ft. Lauderdale, FL |
Class of 2024
| | |
| --- | --- |
| Austal, USA | Mobile, AL |
| Brookin Boatyard | Brooklin, ME |
| Caddells Shipyard | Staten Island, NY |
| Colonna's Shipyard | Norfolk VA |
| GD NASSCO | San Diego, CA |
| Gulf Island Shipyard | Houma, LA |
| M. Rybovich & Sons | Palm Beach Gardens, FL |
| Marine Group Boatworks | San Diego, CA |
| Metal Shark Boats | Jeanerette, LA |
| Safe Harbor New England Boatworks | Portsmouth, RI |
| St. Johns Shipbuilding | Palatka, FL |
| Steigercraft | Bellport, NY |
| U.S. Marine, Inc. | Gulfport, MS |
In no particular order.
The Effect of Shape Change on the Added Mass Generated by an Axisymmetric Body
Jack Becker and Maggie Maguire
Added mass is the added inertia produced in a system when an accelerating body displaces the surrounding fluid particles as it moves through the fluid. In general, to achieve the added mass effect, the fluid or the object must accelerate, or the object must change shape. Cephalopods, such as octopi, can quickly and efficiently escape predators by expelling water through a cavity. This expulsion of water changes the shape of the body; moreover, it allows the creature to recover some of the generated added mass energy otherwise lost to the flow. The objective of this thesis is to analyze how shape change affects the added mass generated by an axisymmetric, deformable body to understand the performance capabilities of cephalopods.
---
An Investigation of Transom Stern Flow: An Evaluation of the Impact of Transom Radius
Alec Bidwell and Oscar Como
In the small-craft industry, a commonplace design standard has been to emphasize making the trailing edge of the running surface as fine and as hard-edged as possible. While it is time and cost intensive to laminate hulls with hard-edged running surfaces, it is understood that this characteristic greatly improves the handling of the vessel. On the contrary, rounding the trailing edge of the running surface has been understood to reduce performance characteristics of small-craft planing hulls. While these design characteristics are relatively known and understood within the industry, there has been no systematic testing on the topic. Additionally, the relationship between the transom radius and vessel performance has not been investigated in the context of larger, commercial vessels. We will be conducting a systematic series of experimental testing that will look at three different transom edge conditions in the application of a transom stern vessel. The three transoms include one with a 3/16" radius, one with a 1/8" radius, and finally one with a straight-edged transom. The stern wave profile and ventilation Froude Number will be determined for each transom plate, so that the effects of the various transom edge configurations can be accurately compared.
---
USCG LILAC Renovation: Developing a Plan to Carry Passengers on a Historic Lighthouse Tender
Ian Cosic and Cross Weeks
The USCG LILAC is a steam-powered lighthouse tender built in 1933. She is currently under the ownership of the LILAC Preservation Project which has shown interest in returning this historic vessel to service, utilizing her original equipment, to carry paying passengers on day trips up and down the east coast. Our task is to evaluate the vessel's current intact and damaged stability and make recommendations on the least intrusive means of bringing her up to modern passenger vessel requirements for stability. This process will involve a full inclining experiment to be conducted on the LILAC. We will also evaluate the potential updates to the structure, firefighting, and lifesaving systems on board the vessel.
---
Airport Ferries: Feasibility Study and Concept Design of a New York Airport Ferry
Dan Desio and Lina Tenenbaum
As a hub of commerce and traffic in the United States, the New York metropolitan area sees a large population that commutes in and out of the city. Timely and inexpensive transportation to airports is a necessity for commuters, and in New York City and the tri-state area, the travel to airports such as John F. Kennedy, LaGuardia, and Newark can be long and tedious. At the same time, the US market has become more favorable to ferry transportation. Given the higher demand for ferry transportation and the overall inefficiency of airport transportation, New York City could benefit from the inclusion of a streamlined and direct ferry service to the airports. Furthermore, our design can potentially incorporate onboard check-in and security before reaching the airport, which would provide timesaving benefits. This thesis will determine whether a ferry from New York City to one or more of the region's airports is viable, both in terms of its cost and its timesaving capabilities. The results of the feasibility study will become requirements for a concept design.
---
Simulated Optimization and Feasibility of a Thermoacoustic Engine in the Marine Environment
Dillon Esposito-Kelly and Bret Sharman
Energy recovery systems have been attracting more and more attention over the past couple of decades. As technology has advanced, different methods, have been thrust into the spotlight. However, in recent years, focus has begun to shift towards the ecological footprint that these systems leave. With this focus in mind, a push towards a clean alternative of waste heat recovery has been in the forefront of future innovation. Thermoacoustic systems are one such method to achieve an environmental waste heat recovery system. We will be developing a computer-simulated thermoacoustic engine that will be applied to shipboard use to measure the efficiencies and compare the thermoacoustic engine with other waste-heat recovery systems.
---
The Design and Validation of the Equations of Motion of a Point-Wave Energy Converter Buoy
Ryan Flanagan and Inga Johansson
The demand for energy has been steadily increasing as global trade and the economy grow. Global interest in alternative methods of generating energy has been exponential in the 21st century. The next form of alternative energy generation to gain traction, as is apparent by the prototypes being launched in the United States today, are wave energy converters (WEC). According to the US Energy Information Administration, the approximate upper limit of energy potential in wave energy in our waters is 2.64 trillion kW-hr. The principal objective of this thesis is to validate the methodology developed in the thesis titled An Improved Methodology for PWEC Control System Design (Danilczyk and Petersen, 2007) This will be done by building and testing a linearly scaled buoy model in the Robinson Model Basin, using the wavemakers.
---
Design and Testing of Navigation Software for a Small Autonomous Surface Vessel
Max Haland
Autonomous Surface Vessels (ASVs) conduct missions with little to no direct human guidance. This is currently a very important field of development in naval architecture and marine engineering and will completely change the industry over the next several decades. One particular area of focus is the development of surveying and data-collecting ASVs. Small ASVs are ideally suited for many missions of this type. Using them can lead to huge reductions in cost and staffing, and swarms of ASVs coordinated by a staffed mothership are currently being developed and tested by several different groups. Webb Institute has a very small ASV built by Isaac Kremers for his 2017 thesis. So far, the Webb ASV has not been developed sufficiently to use as equipment for other theses. The objective of this thesis is to develop navigation software for the Webb ASV so that it can be used for future theses.
---
The Viability of Compressed Natural Gas as Fuel: The Installation and Emissions Testing of a Dual-Fuel System for an Electronically-Timed High-Speed Diesel
Sean Healy and Luke Herbermann
In recent years, strict emissions regulations have created a challenge for the shipping industry. One of the ways to help ships abide by these regulations is to convert an existing engine to run on dual fuel. Running on dual fuel in our case means running on a mixture of about 30% diesel and 70% compressed natural gas. Our thesis is a continuation of several theses that attempted to convert an existing diesel engine to run on dual-fuel. The objective of this thesis is to use this engine and run emissions testing on it to see how well the dual-fuel system works.
---
Metaheuristic Algorithms in Concept Design: Optimization of Marine Electrical Systems
Ben Hunt and Alex Koziol
Ship designers have long used experience and standards to guide their solutions to problems. Automation and modern optimization software, despite their limited exposure in the maritime industry, could significantly reduce this effort, as well as help designers make trade-offs between new technologies. We are developing software that will transform an Electrical Plant Load Analysis table into a fully-defined One-Line Diagram with distribution components. From this base, algorithms are developed to optimize system layout and power production techniques for fuel use and emissions with respect to various operating conditions. This design tool will prove valuable for the Concept Phase of ship design, allowing engineers to draft and evaluate options quickly and easily.
---
Ride the Wind: A Seakeeping Study of the Gyroscopic Effect of the Wind Turbine Rotor on a Moored Tension Leg Platform
Jackson Juska and Addie Lindyberg
A Tension Leg Platform is a floating platform that provides stability using tensioned tendons anchored to the ocean floor. Offshore wind turbines use these because they are considered very stable; however, the gyroscopic effect of the turbine rotor introduces a new inertial element on the platform, which is not yet fully understood. The objective of this thesis is to study the inertial effect that the rotating blades of a wind turbine will have on the motion of a Tension Leg Platform in incident waves. To do this, we will design, build, moor, and test a turbine in the Robinson Model Basin.
---
A Preliminary Design of a Low-Budget Hospital Ship for Epidemic/Pandemic Rapid Response
Shannon Liu
In the fight against COVID-19, the US government employed as many techniques as possible, including the deployment of the Navy's two hospital ships to each coast. These ships were designed decades ago to provide tactical medical support, but since have been used more often for humanitarian aid and disaster response missions. The Navy has been working on replacements for these vessels, and such a design should reflect the new types of missions that Navy hospital ships have been completing. This thesis will include a design that supports rapid response for infectious disease control and treatment.
---
An Experimental Analysis of the Effect of Moonpool Recess Geometry on Added Resistance
Robert Maes and Henry Rouland
Moonpools are openings in ship structures that provide access to water from inside the ship. Added resistance from a moonpool is generated when a ship has forward velocity. In 2012, Samsung Heavy Industries (SHI) received a patent describing four different geometries for aft moonpool recesses designed to reduce the added resistance in a 96,000 DWT deep-water drillship. In 2019, Will Harris used a series of numerical simulations on a Series 60 hull fitted with a moonpool to derive values for the resistance reduction of each SHI moonpool geometry over a range of Froude Numbers. The objectives of this thesis are to investigate the effects of moonpool recess geometry on added resistance and to validate Harris's analyses. Using Harris's test matrix, experimental values for the resistance reduction will be derived through model testing in Robinson Model Basin. In addition to providing experimental data, the results of the experiments will be compared to Harris's numerical results, providing insight into relationships between numerical and experimental evaluations of moonpool resistance and behavior.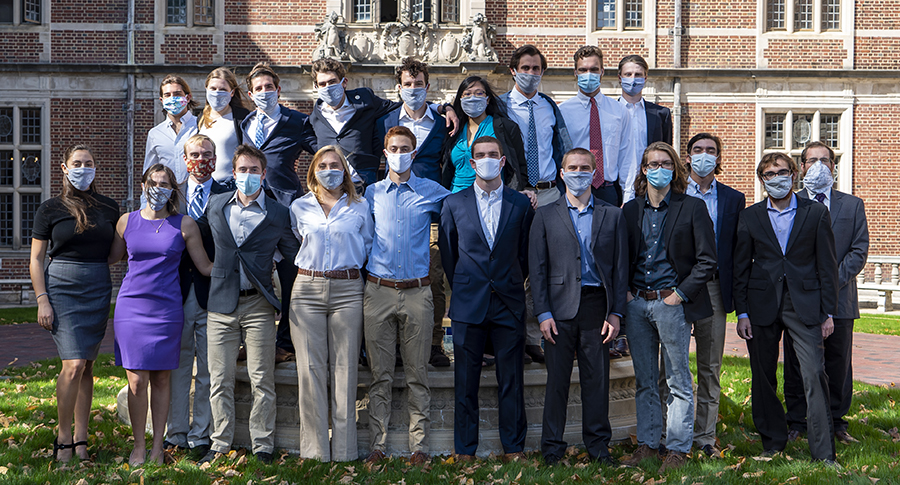 by Reed Stevenson '24
The 2020 Webb Institute Casino Night was filled with big winners and high rollers. Despite the restrictions in place due to COVID-19, the Student Social Committee (SOCO) was able to once again turn Stevenson Taylor Hall into a roaring casino, filled with plenty of games. Many students made thousands off their original 500 Webb bucks, a currency inspired by our wonderful faculty members, in games such as blackjack, poker, horse racing, roulette, and Plinko.
The evening made its way outside to the Webb tennis courts where the annual three-person horse race took place. Each class put forth a team to hopefully take home first place. With all bettings closed, the horse race began. Immediately out of the gate, the sophomore class took the lead, followed shortly by the juniors and seniors with the freshmen bringing up the rear. Each team but the sophomores had troubles keeping their horses intact, allowing for the sophomores to keep up their lead. They ended up blowing away the competition with the seniors coming in a distant second and the freshmen not far behind them. The juniors stumbled across the finish line well after the other teams had finished.
The next event was run by the seniors, where they attached a spring and handle to an oil drum to create a makeshift mechanical bull. Many tried and were flung away by the bucking oil drum. Luke Sullivan '23 used a unique tactic of holding on to the rear of the "bull" to secure the longest time.
The next event of the night was the arm-wrestling competition. Many competitors lined up to show off their physical prowess and prove their might in the tournament. David Ockers '22 secured the title of Webb arm-wrestling champion in a stunning display of strength.
Overall, casino night was a great success. Many students were able to win big and spend their winnings on the silent auction held throughout the night which would not have been possible without SOCO.