by Bruce S. Rosenblatt (Hon.)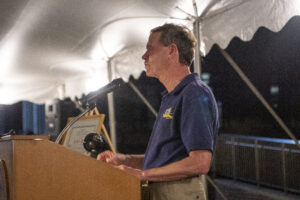 On May 21, 2022, Webb hosted retiring President Keith Michel's Retirement Reception & Dinner. This sendoff was a fitting tribute for a great Webb President who served the Institute with distinction for nine years. 270 guests in all, including current students, alumni, members of our faculty, administration, and staff, Board of Trustees, friends of Webb, and members of the Michel family, honored our retiring President by attending this memorable occasion. Speakers included current students, the Webb Alumni Association President, our Dean, a Vice Chair and three current and past Board of Trustee Chairmen, all of whom offered fittingly high praises for the former President.
It is still hard to believe that it was almost 9 years since Peggy & Keith Michel came to Glen Cove, and Webb is in a much better place today because of their tireless devotion and dedication. The accomplishments Webb realized during Keith's tenure were many. To mention only a few, he drove Webb's most successful fundraising campaign ever; architected the inspirational Couch Academic Center; and reimagined Stevenson Taylor Hall by retrofitting the old classroom as dormitory rooms. Keith will be the first to point out that these accomplishments were only possible because of the efforts of Webb's Board of Trustees, faculty, administration, and staff, and a host of incredibly generous benefactors, among others.
After the speakers expressed their appreciation for Keith, Keith addressed everyone with a brief, humble and powerful message. This was undoubtedly the highlight of the evening. In his remarks, Keith focused on the achievements of others and expressed his deepest appreciation to every part of the Webb family.
In Joe Cuneo's remarks, he described Keith as "one of a kind." More fitting words could not have been spoken. Keith has forever raised the bar in what one should expect from a college President. I am grateful to have been given the opportunity to serve as the Chairman of Webb's Board of Trustees during his tenure.