In a ceremony launching "The Harlem Hellfighters: Citizens, Soldiers, Patriots Project," on Saturday, November 16, 2019, Assistant Dean Richard Harris was honored with a Certificate of Special Congressional Recognition for his efforts in preserving and making known the story of the World War I U.S. Army 369th Infantry Regiment, which became known as the "Harlem Hellfighters."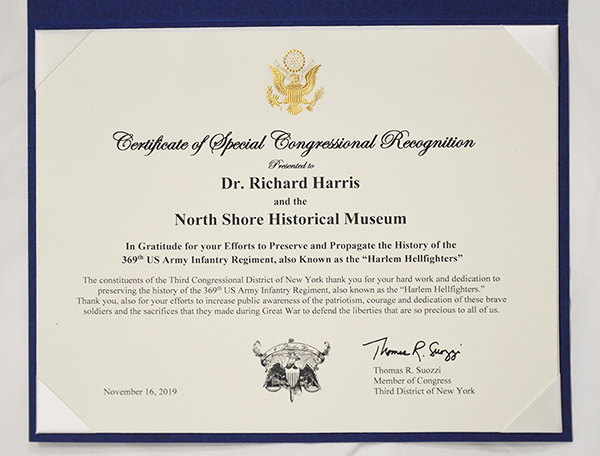 This African American unit achieved a remarkable record of courage, determination, and dignity in the face of unconscionable prejudice and discrimination on the part of many in the country they served. Forty-four men from Glen Cove and nearby towns were members of the unit, whose training officer was Richardson Pratt, son of Herbert L. Pratt. Four members of the regiment from Glen Cove—Sgts. Joseph Carmen, Richard Fowler, Jeremiah Reid, and Lt. Richardson Pratt, were awarded the French Croix de Guerre for bravery in battle.
The highlight of the event was Congressman Tom Suozzi's awarding the Purple Heart to the daughter of Leander V. Willett of Oyster Bay, 101 years after her father was wounded in battle in World War I.