by Anthony R. Zic, Director of Development
I remember meetings with Gailmarie Sujecki (Hon.), where we strategized and charted the best route for Webb visitors, especially those who are elderly or disabled, to traverse our newly renovated campus for Homecoming and other events. No solution was optimal, each with its unique challenges.
With the completion of the Couch Academic Center (CAC) in 2020, Webb created an exciting new environment to support its collaborative learning model. Webb has also completed the second phase of its major infrastructure improvements, including repurposing the old classrooms to dormitory rooms, constructing new bathroom facilities, and making significant residential and safety upgrades to Stevenson Taylor Hall (STH). The final portion of these major infrastructure improvements was to make Webb fully accessible and ADA-compliant for all students, faculty, staff, alumni, and visitors, including persons with disabilities.
We presented Webb's conundrum to Ms. Kathryn Curran, Executive Director of the Robert D.L. Gardiner Foundation. The Gardiner Foundation had already proven to be an extraordinary supporter of Webb, having funded a 3-year grant of $250,000 in 2018 to provide for the full demonstrated need of all Webb students, including room and board expenses.
The solution was to install a new vertical platform lift linking the CAC to the historic STH and a new service elevator on the east side of the building. As you might have already guessed, Ms. Curran and the Trustees of the Gardiner Foundation once again deemed Webb's initiative to be worthy of their investment: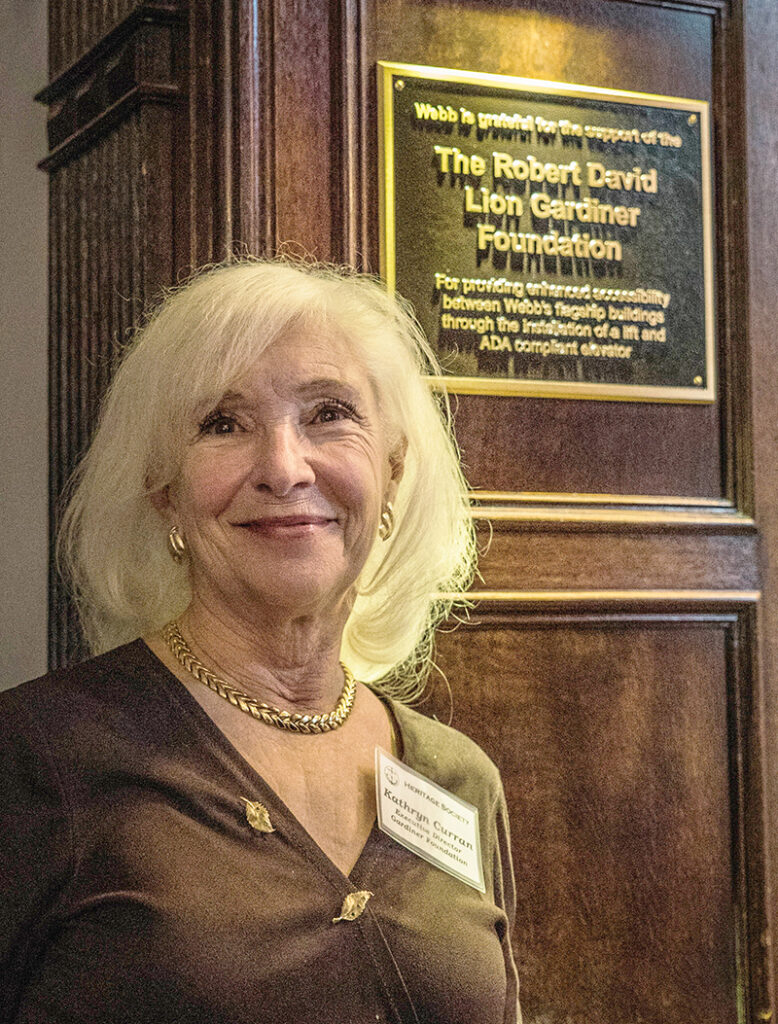 "I was thrilled to award Webb a matching grant of $299,250 on behalf of the Trustees of the Robert D.L. Gardiner Foundation to enhance accessibility throughout Webb's historic campus. The Foundation is pleased to support Webb's tradition of maritime heritage and academic excellence and to provide all visitors with a seamless and ADA-compliant passage linking the state-of-the art academic facility to and throughout the historic Stevenson Taylor Hall. It is truly a model for other historic sites to emulate," said Kathryn Curran, Executive Director of the Robert D.L. Gardiner Foundation.
The Gardiner Foundation has made an extraordinary impact on Webb's scholarship program and infrastructure, and in a matter of three short years, the Foundation has provided grants elevating them to the sixth most generous institutional supporter in Webb's history.
On October 22, 2021, during Webb's Homecoming Weekend, we could not help but briefly pause to celebrate this momentous occasion. Webb's Board of Trustees and members of the administration hosted members of the Robert D. L. Gardiner Foundation and their guests, including Ms. Curran and Gardiner Trustee, The Honorable Peter Fox Cohalan, for a celebration of our partnership. After a tour of the building, including the commemorative plaque, our special guests were joined by 16 of Webb's Gardiner Scholarship recipients on the STH Patio. We were thrilled that our guests also joined us for the Webb Heritage Society Reception and Dinner, where Ms. Curran, acting on behalf of Gardiner Foundation Trustees, spontaneously announced an additional matching grant of $5,000 to the Keith Michel Scholarship Fund! An incredible ending to a most memorable weekend. We are so very grateful for our new friends and their continued support of Webb!