Please join us in welcoming Alyssa Caliguri and Kayla Green to the Webb Admissions Department!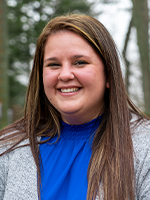 Alyssa Caliguri – Assistant Director of Admissions and Student Affairs
Alyssa brings with her nine years of student affairs experience from her tenure at Western New England University, where she received her Bachelor of Arts Degree in Psychology. She also received her Master of Education in Student Personnel Administration while working full time. Her experiences lie in new student programming, student success, leadership development, and event planning.
Alyssa has held multiple roles during her time at WNE from the Coordinator of Sophomore Year Experience to Assistant Director of First Year Student Success and most recently the Associate Director of New Student Programs and Leadership Development. She loves to help assist students in having the best possible collegiate experience and is very excited to begin working with the students at Webb.
Alyssa likes to go to the beach, see musicals in the city, binge watch friends/reality tv, play sports (volleyball/softball/basketball are her strengths) and she likes to root on her favorite teams the Islanders/Mets/& Patriots when not at work.
---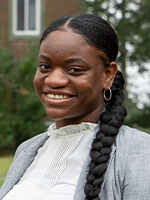 Kayla Green – Assistant Director of Admissions and Student Affairs
Kayla, considers herself a student of life, valuing education both in the classroom and beyond. Graduating with a Bachelor of Science in Human Development and a minor in Africana Studies from Binghamton University. Kayla has achieved a solid foundation in the theories and research defining the field of human development.
Kayla constantly seeks opportunities to contribute to the new approaches of advancing human well-being. For optimal well-being, Kayla encourages engaging in activities that develop a person's capabilities and potential, build human capital, facilitate employability, and enhance quality of life and the realization of dreams and aspirations. Kayla is passionate about sharing this insight with anyone who is open minded to new ideas.
Throughout her professional career, Kayla has gained a varied skill set, having experience in different sectors including but not limited to, residential life, project management abroad, the aviation sector, and elementary education. Each experience broadens her perspective in a critical exploration of social, cultural, economic, historical and political frameworks and the ways in which individuals, families and communities are situated within them, developing the understanding and skills needed to enhance and promote diversity, equity and social justice.
Using skills and strengths acquired as a student and employee, Kayla continues her pursuit of positively impacting individuals, families, communities, and organizations from a interdisciplinary and global perspective, here at Webb Institute.