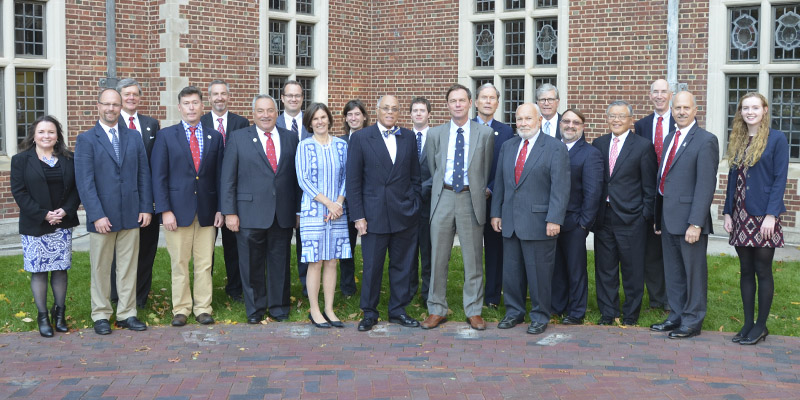 Our Board of Trustees is made up of a diverse group of individuals who are passionate about Webb.  Membership of the Board covers a wide array of backgrounds and expertise, and includes industry leaders, alumni, the Dean, a Faculty Representative and a Student Representative. The Board functions as the governing body of Webb, and is responsible for making strategic and fiduciary decisions with our institutions' best interest in mind.  Board members work collaboratively with Webb's many stakeholders to fulfill Webb Institute's mission, vision, strategic goals and objectives.
Joseph H.  Pyne
Executive Chairman
Kirby Corporation
Wombi Rose '09
President
lovepop, Inc.
Bruce S. Rosenblatt (Hon.)
President
Bruce S. Rosenblatt & Associates, LLC
VADM Paul Sullivan, USN (Ret.)
Director, Applied Research Laboratory
The Pennsylvania State University
Applied Research Laboratory
Luther Tai, Ph.D.
Chairman/CEO
Roberts Bay Marina, LLC
Michael W. Toner
Executive Vice President, Marine Systems (Ret.)
General Dynamics Corp.
Jennifer K. Waters, Ph.D. '91
Assoc. Dean for Academic Affairs
U.S. Naval Academy
Christopher Wiernicki
Chairman, President & C.E.O.
American Bureau of Shipping
Chairman Emeritus
Charles G. Visconti '55
Chairman & President
International Cargo Gear Bureau, Inc.
President Emeritus
Ronald K. Kiss  '63
Trustee Emeriti
Patrick J. Gilmartin, Esq. (Hon.)
Gilmartin, Poster & Shafto
Robert D. Goldbach '58
President
MARINEX International
William O. Gray (Hon.)
President
Gray Maritime Company
David H. Klinges (Hon.)
President, Marine Construction Div. (Ret.)
Bethlehem Steel Corp.
John Russell '67
President
Russell Development
Peter Van Dyke '60, Ph.D.
Managing Director (Ret.)
T. Rowe Price
Honorary Trustees
Charles R. Cushing, Ph.D.
President
C.R. Cushing & Co., Inc.
Jerrier A. Haddad (Hon.)
Vice President (Ret.)
IBM
Charles Kurz II (Hon.)
President Emeritus
Keystone Shipping Co.
Richard T. Soper (Hon.)
President & Chairman (Ret.)
American Bureau of Shipping
Ex-officio members
Matthew R. Werner '95, PG'97
Dean and ABS Chair of Naval Architecture and Marine Engineering
Webb Institute
Richard A. Royce, Ph.D.
James J. Henry Professor of Naval Architecture and Director of Research
Webb Institute
Christopher Johnson '18
Student Representative
Webb Institute