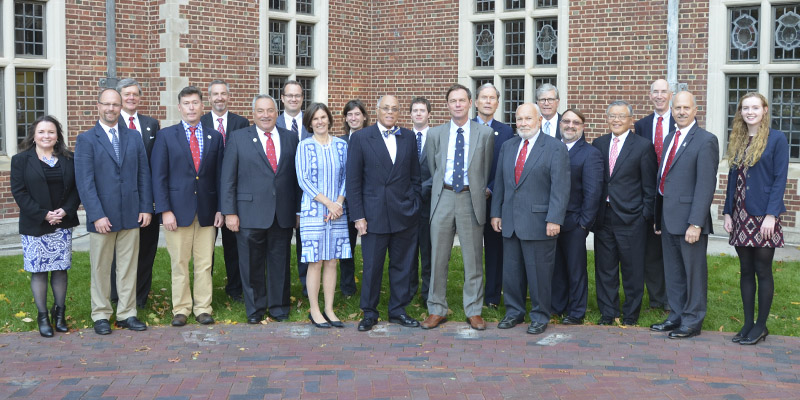 OFFICERS
Chairman
George Campbell Jr., Ph.D.
President Emeritus
Cooper Union
Vice Chairman & Treasurer
Jon J. LaBerge '76
Vice Chairman
Gregory M. Matzat '89
Senior Advisor Offshore Wind Technologies
U.S. Department of Energy
President
R. Keith Michel '73
Webb Institute
Secretary
John N. Costello '89
Managing Counsel, Intellectual
Property & Technology
Global Products & Services
Laureate Education, Inc.
OTHER MEMBERS
Christopher D. Allard '04
President
Metal Shark Aluminum Boats
Benjamin G. Bordelon
President & C.E.O.
Bollinger Shipyards LLC
David M. Bovet '70
Managing Partner
New Harbor Consultants
Jack Buono
President & CEO
SeaRiver Maritime Inc.
CDR Richard C. Celotto, USN (Ret.) '73
Vice President, Engineering
BMT Designers & Planners, Inc.
Joseph N. Corvelli '93
Senior Vice President
Vigor Industrial, LLC
John C. Couch
Vice Chairman
C.M. Capital Corp.
Joseph J. Cuneo '57
Chairman
MARINEX International
Hampton Dixon '11
Project Manager
Carnival Cruise Line
John L.R. Edgar '87
President
The Glosten Assoc., Inc.
Dr. Fernando Frimm
President
Gusto MSC USA
Alison D. Granger P'14
Chief Investment Officer
Hartford Foundation for Public Giving
Peggy Harris
Jennifer E. Kollmer '91
Chief Naval Architect
Rolls Royce Marine North America Inc.
John A. Malone '71
Malone Consulting Services
Mark F. Martecchini '79
President
Stolt Tankers
Greggory Mendenhall
Sheppard Mullin Richter & Hampton LLP
Stephen M. Payne, Ph.D.
Vice President/Chief Naval Architect (Ret.)
Carnival Corporate Shipbuilding Southampton
Joseph H.  Pyne
Executive Chairman
Kirby Corporation
Wombi Rose '09
President
lovepop, Inc.
Bruce S. Rosenblatt (Hon.)
President
Bruce S. Rosenblatt & Associates, LLC
VADM Paul Sullivan, USN (Ret.)
Director, Applied Research Laboratory
The Pennsylvania State University
Applied Research Laboratory
Luther Tai, Ph.D.
Chairman/CEO
Roberts Bay Marina, LLC
Michael W. Toner
Executive Vice President, Marine Systems (Ret.)
General Dynamics Corp.
Jennifer K. Waters, Ph.D. '91
Assoc. Dean for Academic Affairs
U.S. Naval Academy
Christopher Wiernicki
Chairman, President & C.E.O.
American Bureau of Shipping
Chairman Emeritus
Charles G. Visconti '55
Chairman & President
International Cargo Gear Bureau, Inc.
President Emeritus
Ronald K. Kiss  '63
Trustee Emeriti
Patrick J. Gilmartin, Esq. (Hon.)
Gilmartin, Poster & Shafto
Robert D. Goldbach '58
President
MARINEX International
William O. Gray (Hon.)
President
Gray Maritime Company
David H. Klinges (Hon.)
President, Marine Construction Div. (Ret.)
Bethlehem Steel Corp.
John Russell '67
President
Russell Development
Peter Van Dyke '60, Ph.D.
Managing Director (Ret.)
T. Rowe Price
Honorary Trustees
Charles R. Cushing, Ph.D.
President
C.R. Cushing & Co., Inc.
Jerrier A. Haddad (Hon.)
Vice President (Ret.)
IBM
Charles Kurz II (Hon.)
President Emeritus
Keystone Shipping Co.
Richard T. Soper (Hon.)
President & Chairman (Ret.)
American Bureau of Shipping
Ex-officio members
Matthew R. Werner '95, PG'97
Dean and ABS Chair of Naval Architecture and Marine Engineering
Webb Institute
Richard A. Royce, Ph.D.
James J. Henry Professor of Naval Architecture and Director of Research
Hannah Wistort '17
Student Representative
Webb Institute