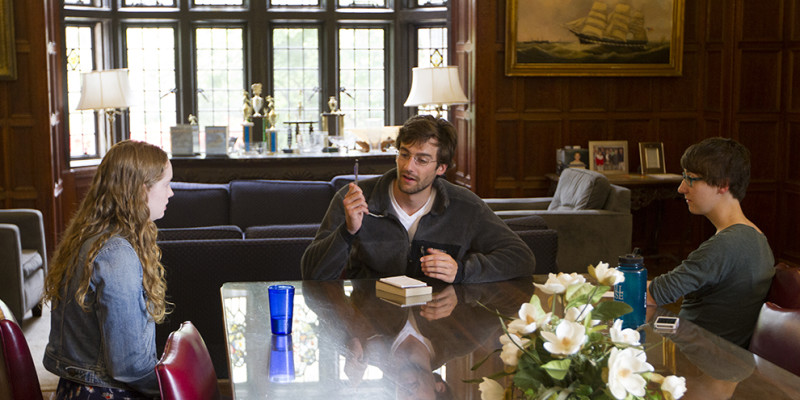 Webb Institute provides all enrolled students full-tuition scholarships to U.S. citizens and permanent residents, valued at $45,500 for the 2015-2016 academic year. Webb Institute also offers need-based aid to help cover additional costs of attending. All students in need of financial assistance must submit a Free Application for Federal Student Aid (FAFSA)
www.fafsa.ed.gov
. The 
Webb Institute Federal Code: 002900
Proper documentation is critical to the financial aid application process. Please note that your financial aid eligibility is based on your current enrollment status and may be subject to change based on final verification of your information. A student's financial aid package is contingent upon federal, state, and institutional appropriations and regulations. If you are selected for a process called verification, you are required to provide Webb Institute all documents requested. Any changes made to the award as a result of verification will be stated in a revised award letter.
Any change of circumstance, change of address, or receipt of external funding, must be reported to the Office of Financial Aid. Webb Institute reserves the right to revoke any aid offer if there is any evidence that the conditions of enrollment status, financial need, or merit are not met. Changes in enrollment, including non-attendance or withdrawals, may reduce or cancel this aid offer. Canceled awards will not be replaced with other aid.
There is up to a 2.0% origination fee that may be deducted from your loan proceeds. Federal regulation mandates that all first-time borrowers at Webb Institute complete loan entrance counseling to sign your Master Promissory Note (MPN) online, prior to receipt of Federal Direct Loan Funds at www.studentloans.gov. You will be asked to use your four-digit pin number.
Cost of Attendance 2016-17
| | |
| --- | --- |
| Tuition | $47,000 |
| Room and Board | $14,400 |
| General Fee | $     400 |
| Books | $     700 |
| Transportation | $ 2,000 |
| Laptop Fee* | $ 2,850 |
| | |
| Total Cost of Attendance | $ 67,350 |
For your budgeting purposes this is our estimate of what you can expect to spend in a school year. Travel expenses vary depending on the students' distance from Glen Cove.
The $200 registration fee freshman pay will be applied against the Room and Board cost.
* The Laptop Fee is charged in the first year only. This cost is inclusive of sales tax and is billed in 2 installments.
---
Maximum Annual Loan Amounts
Dependent Student
| | | | |
| --- | --- | --- | --- |
| Level | Subsidized | Unsubsidized | Total |
| Freshman | $3,500 | $2,000 | $5,500 |
| Sophomore | $4,500 | $2,000 | $6,500 |
| Junior/Senior | $5,500 | $2,000 | $7,500 |
Independent Student (24 years of age or older)
| | | | |
| --- | --- | --- | --- |
| Level | Subsidized | Unsubsidized | Total |
| Freshman | $3,500 | $6,000 | $9,500 |
| Sophomore | $4,500 | $6,000 | $10,500 |
| Junior/Senior | $5,500 | $7,000 | $12,500 |
Types of Financial Aid Offered
Pell Grant
A Pell Grant is a grant from the federal government that does not have
to be repaid. Pell Grants are awarded based on financial need as demonstrated on the FAFSA. The amount of Federal Pell Grant funds you may receive over your lifetime is limited by federal law. The federal government will keep track of your lifetime eligibility used (LEU) and reports
your percentage used to the Office of Financial Aid.
NY State Tuition Assistance Program (TAP)
TAP is a tuition-only award for undergraduate students. It is only for U.S. citizens/permanent residents who reside in NY State and attend a NY State approved college full-time. Students must make academic progress as
defined by the state to continue to receive TAP. Undergraduate students are limited to eight (8) semesters of TAP. All students receiving
TAP must submit proof of U.S. high school completion (final high
school transcript or high school diploma). This documentation must
be submitted by the first day of class of the first semester the student will
receive the TAP award. Failure to submit the necessary documentation
may result in losing eligibility for that semester's award.
All New York State Residents will be required to apply for NY State
Tuition Assistance Program (TAP) as a condition of eligibility for any Webb Institute administered scholarships. TAP Awards are for tuition only and do not reduce student expenses. TAP Awards range from $100 to $5,165 per year. When you file your FAFSA, your FAFSA information will automatically be used to determine eligibility for TAP. Please refer to www.hesc.ny.gov.
Federal Direct Loan Program
Federal Direct Subsidized Loan
Subsidized loans are awarded on the basis of financial need. You will not
be charged any interest before you begin repayment or during authorized
periods of deferment because the federal government "subsidizes"
the interest during these periods.
Federal Direct Unsubsidized Loan
Unsubsidized loans are not based on financial need. You will be charged
interest from the time the loan is disbursed until it is repaid in full.
Federal Parent PLUS Loan (for undergraduate dependent child)
If you have a dependent in college, you may be eligible for college loans
through the Federal Parent PLUS Program (PLUS). Parents can borrow
up to the student's cost of attendance, minus any other financial
aid. These loans are based on credit history, and there is no limit on the
aggregate amount.
Alternative Loans
These loans are available to students or parents to help meet the cost of education. They are based on credit history. Maximum amount of eligibility is based on the cost of education minus
other financial aid. Interest rates and borrower benefits vary by
lender. Webb Institute recommends that you review borrowing options through the federal aid programs first and then evaluate the alternative loan options available
Scholarships
Webb has been successful in insuring the admission and continuation of education for all students in financial need, as long as all academic requirements are met. Students needing additional funds to meet the necessary expenses are requested to consult the Office of Financial Aid prior to the start of each academic year.
Please visit our Scholarship page for a full list of our internal scholarships that are available to students who have completed a FAFSA and meet all academic and financial eligibility requirements.
The Following Disclosures are Required by Federal Regulations
Refunds
Credit balances are refunded to students in the form of a check which is mailed to the student's primary address. When a student withdraws by filing a written formal withdrawal notice to the President of Webb, refunds will be granted for room and board. Webb Institute reserves the right to change the requirements whenever the proper authorities deem such changes necessary. Students are liable for all costs in the collection of delinquent accounts and all applicable late fees.
Return of Title IV Federal Student Aid Policy
Students receiving Federal Title IV funds, who withdraw completely from Webb Institute, will have their Federal Title IV awards and loans prorated and refunded to the federal programs based upon the number of days in attendance. The amount of assistance that a student has earned is determined on a pro rata basis. Students, who did not receive all of the funds earned, may be due a post-withdrawal disbursement. If the post-withdrawal disbursement includes loan funds, students may choose to decline the loan funds to avoid incurring additional debt.
Federal and State Satisfactory Academic Progress
To be eligible for Federal and State Financial Aid, the student must maintain satisfactory academic progress and program pursuit. There are two distinct measures of satisfactory academic progress: a "quantitative" measure, the number of credits that the student is completing, and a "qualitative" measure, the student's cumulative grade point average. Students are required to meet both standards to remain in good academic standing.