Aboard the Desperado by Abner Mills '24
My Experience on Desperado for the Newport to Bermuda Race was very different from Zach's on Groupe 5. We sailed with 12 people with a set of 3 watch groups and a Navigator that was separate from the watch system.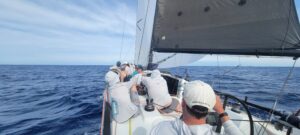 On a distance race like N2B, it's very common that you will spend time in every role at one point or another. I am usually a bowman, and I very much did take part in the majority of the sail changes but I also spent a lot of time trimming sails and driving the boat. The first day of the race was miserable weather, it was very lumpy seas and loads of rain which tested my stomach for sure. The following day leading up to the gulf stream had high winds and decent waves for surfing. We were seeing boat speeds in the high teens very often and I believe our max boat speed was 23kts. We had to gybe out before the gulf stream to avoid the adverse current but after a few hours, we were heading to Bermuda again.

On the morning of our last day, the breeze started to die down and the rest of our race was a bit slower. We finally got in after an elapsed time of 73 hours 51 minutes and 22 seconds. Zach may have a better telling of the conditions than I, he is better at remembering those details, also they were in relatively close proximity for a good majority of the race.
We ended up coming 2nd in the Gibbs Hill Professional Division and 1st in Class 18 for this Race, quite the showing for a student-filled boat.
Sailing Background
• Offshore Team Co-Captain along with Zach Doerr.
• I first learned to sail by taking the small boat sailing merit badge at boy scout summer camp.
• In order to continue sailing and learn more, I found a group called the Cayuga Lake Cruising Fleet. I would have to travel an hour and a half one way to be able to sail every weekend. I sailed a Tanzer 25 usually in a mixed fleet of around 5 to 8 other boats. My boat did okay usually.
• Since starting at Webb I have logged over 3500nm.
• Most of my Webb sailing has been on Figaro 2's with my 2nd semester of sophomore year including much more sailing on Desperado for races such as Vineyard (Fall semester), AYC Spring Race Series, EDLU, Block Island Race, Newport – Bermuda Race.
• Over the summer between freshman and sophomore year, I stayed on campus with a few others and raced in the Block Island Race Week, Around Long Island Race, and many other races on the Long Island Sound.
Aboard the Figaro 2 by Zachary Doerr '24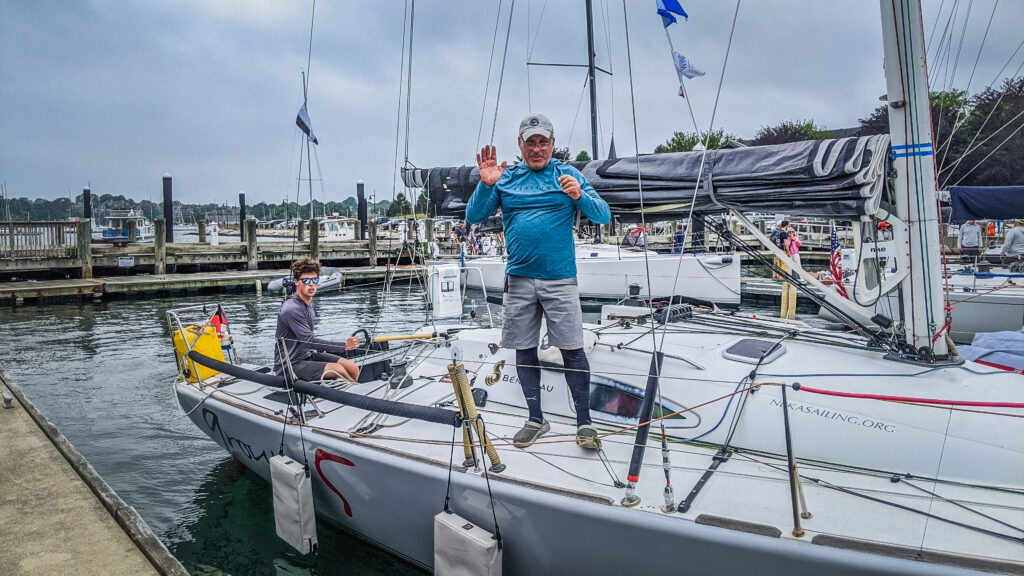 I sailed on a modified Figaro 2 in the Double Handed Division with my coach Vlad Shablinsky. The start for us was amazing conditions. We had a small upwind portion while leaving Newport before it became a tight jib reach in around 18-20 knots of wind from the southwest.

Within two or three hours, however, the wind shut off. At this point, we had fairly large leftover swells making the boat quite miserable to be on. These conditions lasted the rest of the first day. We did a lot of sail changes in the light and fluky conditions as a cold front passed over us.

After the front passed in the middle of the first night, the wind began to fill in beautifully from the northwest at 20 knots. We put up our running spinnaker, which we carried for the rest of the race. The waves built and there was a lot of good surfing opportunities. The top boat speeds going down waves was typically 16-20 knots, with a top speed for the race of 21 knots. Throughout the second day, it increased in strength as we approached the Gulf Stream. At the Gulf Stream, we gybed into a southeast moving eddy and stayed with it for most of the second night. We had some serious squalls with winds into the low 30 knot range. We carried our big spinnaker the entire time, and Vlad and I both worked hard that night to keep the boat upright.

As morning approached, the wind steadied at around 25 knots, and after exiting the Gulf Stream we gybed onto starboard tack again, and decided to sail low, keeping east of the Rhumb line. As the third day went on, the wind began to shift right and eventually to slowly die during the third night. We were lifted nicely to Bermuda and had to throw in just a few gybes within sight of the island. We finished on our fourth day at sea in about 10-12 knots of wind with an elapsed time of 77 hours, 41 minutes, and 22 seconds. We ended up correcting five hours ahead of our nearest competitor in the double handed division and nearly eleven hours ahead of the next boat in our class, taking first place in both class and division.
Sailing Background
• Offshore Team Co-Captain along with Abner Mills
• From Butler, PA
• Learned to sail first on my dad's Capri 22, he sold that and bought a Cal 24 which I continued to learn on. I then started sailing sunfish and eventually Hobie 16s as well. I also had some experience with J80s and Flying Scots before Webb. Most sailing was done on a small lake in PA with a little bit of Great Lakes sailing and Chesapeake Bay sailing as well.
• I have done several regattas on the Figaro 2s, and have done Around Long Island Race 2021, Vineyard Race 2021, Block Island Race 2022, Newport Bermuda Race 2022, and Bermuda Short Handed Return 2022 on Groupe 5.
• Like AJ, I also stayed on campus last summer.