Sustainability in Ship Design and Operations Conference 2023
November 6 @ 9:00 am

-

November 7 @ 5:00 pm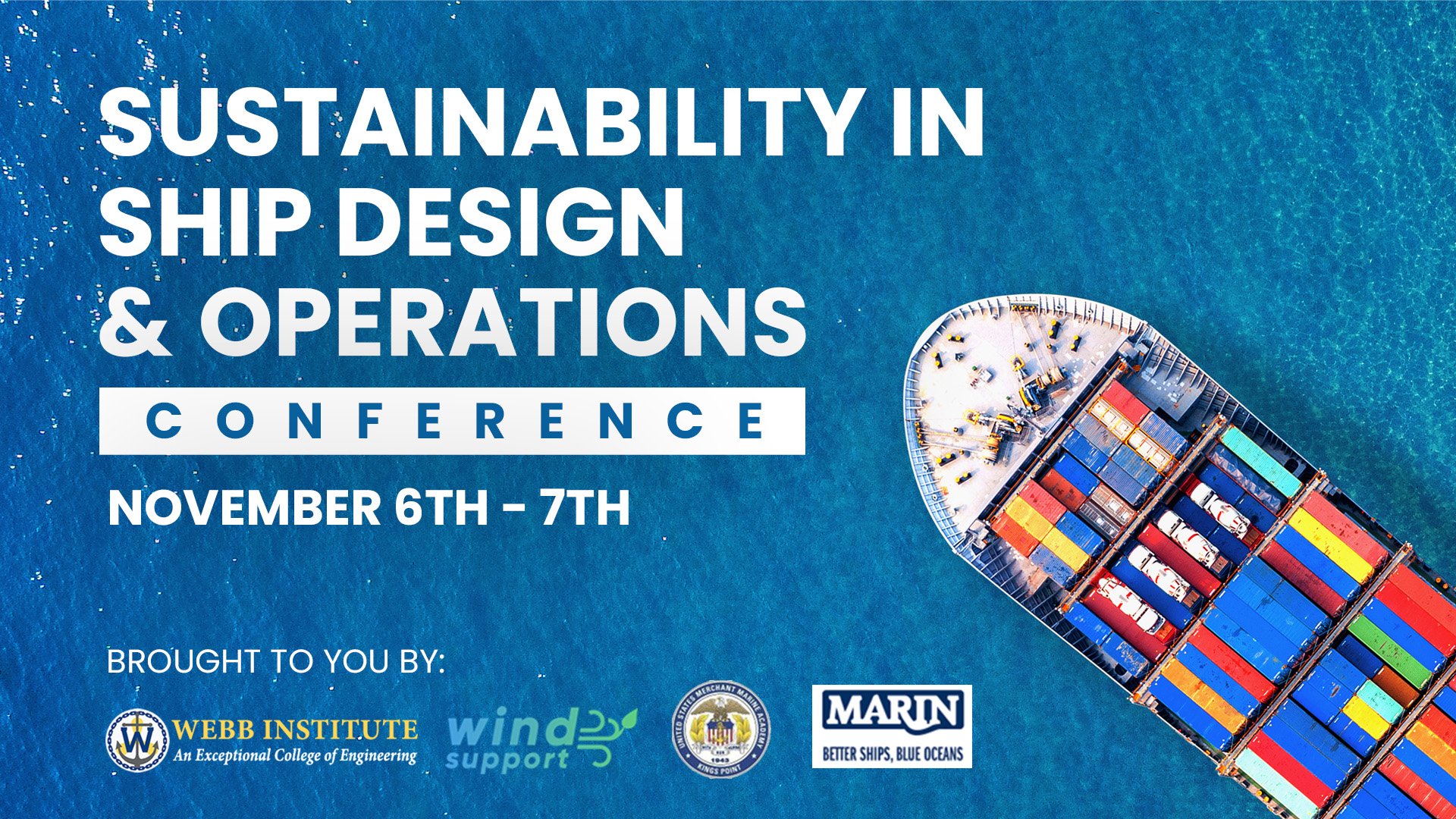 Webb Institute and the U.S. Merchant Marine Academy, in association with MARIN and Wind Support NYC, are hosting a conference on Sustainability in Ship Design and Operations. This two-day conference will build on the success of the Sustainability in Ship Design conference held last year by these organizations and plans to bring together industry and academia to discuss the concepts, technologies, case studies, and success stories related to sustainability in ship design and the greater maritime industry. In-person and remote attendance options are available.
Presentations and panel sessions will be offered by some of the world's leading organizations including:
Program Schedule
TBA
Click here to view a PDF of the Call for Content
Click here to view the PROGRAM and SCHEDULE 
Student Poster Session
Open to high school, undergraduate, and postgraduate students to highlight interesting sustainability research, design, and capstone projects, students are invited to submit a poster design for display at the conference. Posters shall be 30" x 40" in size, include a title, name of the student(s) involved, school name, project description, and interesting graphics. Posters will be displayed during both days of the conference with opportunities to discuss and network during breaks. 
Interested students may submit a digital copy of their poster to the conference organizers at ude.bbew@stneve by October 1st.
Date: November 6th – 7th, 2023
Time: 9AM – 5PM EST
Location:
Day 1 – Monday, November 6th – Webb Institute – 298 Crescent Beach Rd. Glen Cove, NY 11542
Day 2 – Tuesday, November 7th – US Merchant Marine Academy – 300 Steamboat Rd, Kings Point, NY 11024
It is anticipated that a number of the presentations will be accredited for continuing education/PDH credit. Additional information on these presentations and how to apply for PDH credit will be provided.
There is a $60 registration fee for in-person attendance. The fee covers attendance for both days of the conference, lunch, coffee, and assorted snacks.
There is no charge for online-only attendees and presenters.
Registration closes October 15, 2023.


The views and viewpoints expressed during the event are those of the speakers and do not necessarily reflect the opinions, policies, or endorsements of the U.S. Government or of the non-Federal entities (NFE).  References to NFE's, trade names, or commercial products do not constitute their endorsement by the U.S. Government and are meant for illustrative and educational purposes only.