The rippling effect of the COVID-19 pandemic has touched us all in one way or another.  As is the case for most colleges and universities across the nation, Webb is adapting day-to-day operations for the safety of the entire Webb family—students, faculty, staff, administration, and their families.
Some things have changed…Webb students and faculty have quickly adapted to distance learning. The majority of staff and administration are working from home.  Homecoming and Commencement will be "remote" celebrations.  Social distancing has become the norm. 
Yet so much has stayed the same…The "bat cave" is still fully operational and Monday morning lectures continue though Zoom. Webb students are working extremely hard to complete their course work. Webbies are collaborating on and off campus to tackle both academic problems and to support one another through the tough days albeit with a safe distance between one another.  And finally, the Webb family remains generous in their financial support of Webb and its students and we are grateful for this more than ever.
What is Webb Giving Day?
For the past seven years, during the month of May, Webb pauses to reflect and thank members of the Webb family for their love and support of the school and its students. Webb Giving Day is a celebration of our benefactors who emulate the giving spirit of our founder, William H. Webb.  This special day provides a unique opportunity to acknowledge and thank the community for their past, present, and future financial support of Webb's Annual Fund.
We invite alumni, trustees, parents, parents of alumni, current and past grandparents, and friends to join us.  The 7th Annual Webb Giving Day is highlighted by a short video on Friday, May 15.
How can I help promote Webb Giving Day?
Share, "like," and post about Webb Giving Day through Facebook and Twitter using #WebbGivesThanks. Help spread the news and support Webb students!
How can I make a gift?
If you have not yet had the opportunity to do so, and if your financial circumstances permit you to participate, please make your Annual Fund gift today by mailing a check to Webb, by visiting our Website, or by calling Webb's Development Office at 516-759-2040.
Read Our Student Testimonials!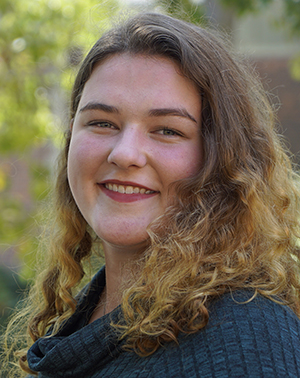 When the news hit that Webb students would have to take classes remotely for the rest of the semester, it was a shock for everyone. Most of us headed home, but for me and sixteen other Webb students, staying on campus was the safer option. I am grateful that the Webb family was here to help with this transition.
Though much has changed as we sit in the dining hall with seats between us, gather in groups no larger than five, and take classes on our computers in separate rooms; some have stayed the same—our beautiful campus is jumping into spring as the old and new cherry trees have blossomed!
Webb students are working hard to adapt to distance learning. We are staying in touch with the outside world through our computers or phones (okay, that hasn't changed much), and are supporting each other through this crazy time. I am so thankful for the extended family that I have gained through Webb, including friends and mentors whom I will appreciate forever.
As I prepare to give my senior thesis and look to life after Webb, I want to thank the Webb family for helping me get to this point. Webb Giving Day is a wonderful opportunity to show your support of Webb and my fellow classmates. Thank you for your participation this year.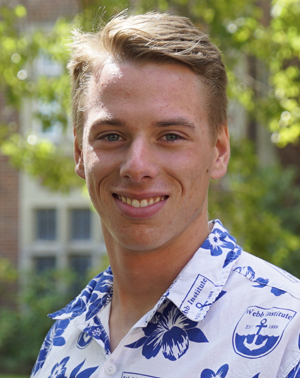 My classmates and I made our way back to Webb after an incredible Winter Work experience at sea. After only two weeks back on campus, most of us went home because of the COVID-19 virus outbreak.
Back in Michigan, my parents helped me set up a small office space in the basement. The transition to distance learning did not take long thanks to the help of Webb faculty and staff. As a class, we have stayed in close touch with each other. We have set up evening Zoom calls to collaborate with homework and take time to just hang out and talk.
One of the things that drew me to Webb was its tight-knit community and the support of every student. This has stayed true throughout the COVID-19 pandemic. I am grateful to be a Webb student, now more than ever!
It is thanks to you, the Webb Family, that my peers and I have this fantastic opportunity. Thank you for your continued support on Webb's Giving Day!