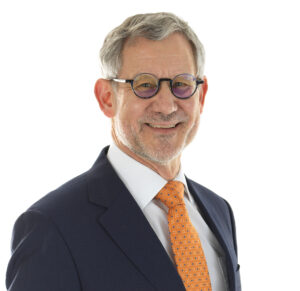 Mark Martecchini Named as Next President of Webb Institute
(November 2021) "It is my honor and great pleasure to announce the election of Mark Martecchini as the 16th president of Webb Institute," said Board of Trustees chair Bruce S. Rosenblatt. "He is a visionary leader who is passionate about the mission of Webb Institute and is committed to building upon our 130-year history of excellence in engineering education." Effective July 1, 2022, Martecchini will succeed R. Keith Michel who has served as Webb's president for the past nine years.
The search for the seventeenth president of Webb Institute
(August 2021) The search is underway to find the next president of Webb Institute to replace President R. Keith Michel '73, who announced his retirement on October 15, 2020, after nine years of service. The expected transition day is July 1, 2022.
In July 2021, the presidential search committee, consisting of Webb board of trustees members, began working with the executive search firm, WittKieffer, to conduct a national search to identify qualified candidates. Jon J. LaBerge '76, vice chairman of Webb's board of trustees, will lead the search committee. This committee will receive input and communicate with selected faculty members, administrators, and students at Webb.
Chairing the Committee:
From the Board of Trustees: 
Bruce S. Rosenblatt (Hon.) – President, Bruce S. Rosenblatt & Associates, LLC
Dr. George Campbell Jr. (Hon.) – President Emeritus, Cooper Union
Joseph J. Cuneo '57 (Ret.) – Chairman, MARINEX International
Dr. Roderick MacKinnon – Professor, The Rockefeller University
Dr. Jennifer K. Waters '91, P'20 – Provost and Vice President for Academic Affairs, SUNY Maritime
Christopher Wiernicki – Chairman, President, and C.E.O., American Bureau of Shipping
About WittKieffler
WittKieffer is a global executive search firm with 50 years of experience serving organizations dedicated to improving the quality of life. They are industry experts skilled at creating tailored solutions that suit each of their clients, and their depth of experience includes work with both market leaders and market disruptors.
Their team features professionals with experience in the sectors they serve, further enhancing their alignment with clients' missions and goals and their ability to recruit leaders with the best mix of skills, experience, vision, and character. They also have a presence in major markets around the world, allowing them to draw on a global pool of candidates and to serve clients wherever their talent needs may be. WittKieffler is ranked among the Forbes top recruiting firms and Hunt Scanlon's list of the Top 10 executive recruiters in the U.S. For more information about WittKieffer, please visit their website.