Part of what makes Webb's unique community life work is our commitment to leadership. The Institute helps students develop skills in a number of ways.
Student Government:
The student body is largely self-governing. Through the Student Organization and the Student Court, the students of Webb help in determining the policies and implementing the standards that govern their conduct in the classroom, in the dormitory, on the athletic field, and in all aspects and relationships of college life.
---
Honor Code and Honor Council:
The Honor Code mandates that Webbies maintain the highest standards of conduct and honesty at all times. In accordance with the Honor Code, students recognize profound responsibilities both as individuals and as members of the Webb community.
The code reads, in part:
"Every student is on his honor to so conduct himself as to attain the objectives of the Student Organization and the college: that of developing graduates of professional ability who possess a sense of responsibility and leadership…Students should respect the privacy and rights of others at all times…"
Violations of the code are resolved quickly and efficiently through the work of the Honor Council, which is comprised of a chairperson, a senior and a junior representative, and two members at large. The Honor Council also holds meetings with the students to discuss academic integrity and to promote upholding the Honor Code.
---
Leadership Week
Each year, before the beginning of the fall semester, student officers participate in Leadership Week. During this week, students gain grounding in current leadership theories and begin to create the working team that will handle all campus issues for the upcoming year. Webb, as a whole, benefits from the "ownership" students have over their living and working environment; campus life at Webb remains reflective of the evolving needs and desires of the community.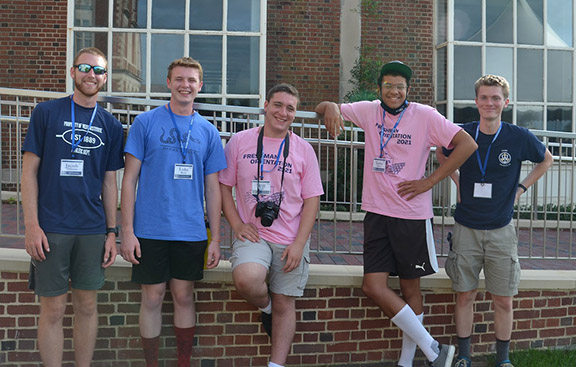 Orientation and Leadership leaders