Located in Glen Cove, NY on the Long Island Sound, Webb Institute is a top-ranked undergraduate institution offering one academic option, a double major in Naval Architecture and Marine Engineering. It is also the only four year full-tuition scholarship private undergraduate program of its kind in the country.
With 100% job placement, all of our graduates move on to successful careers in the engineering industry.
Quick Facts
Full-tuition Scholarship for every student
All students graduate with a dual BS in Naval Architecture and Marine Engineering
Paid Internships for all students in every academic year
All students live on our 26 acre campus located off the Long Island Sound
100% job placement to graduates every year
Student-to-faculty ratio 7:1
Students are governed by an Honor Code System
---
For more in-depth information about admissions and academics, please view our catalog.
---
The application deadline for this year has passed. Applications will re-open in August 2016.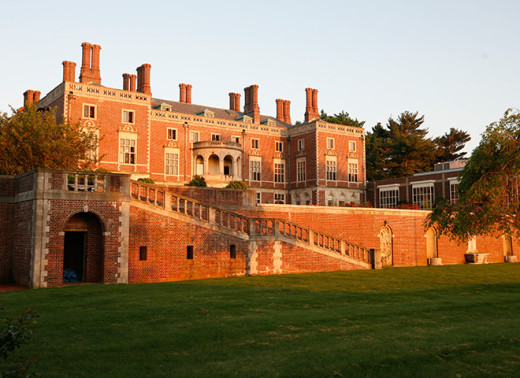 ---
Experience the beauty of our campus first-hand. Contact admissions to to schedule a tour, sit in on classes, and spend the night. Tours are conducted by the Admissions office Monday through Friday, 9am to 3pm except holidays.
Schedule a tour today! Contact:
Lauren Carballo
Director of Admissions and Student Affairs
Direct: 516-403-5900
lcarballo@webb.edu
Additional visitor information (directions, campus map, accommodations)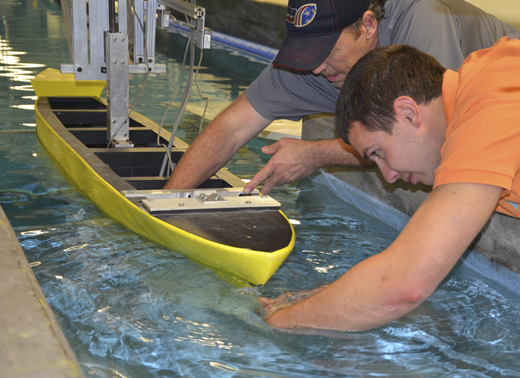 ---
Most applicants are unmarried and between the ages of 16 and 24 on the date of admission. Home-schooled students and students from other colleges are also welcome to apply.
Regardless of AP scores or previous college coursework all students enter Webb as freshmen. Selection is made without regard to race, religion, gender or geographic origin.
The required standardized tests (no older than two years old at time of application) are the SAT's, SAT II's or ACT.
Students applying to Webb from other colleges may have the SAT II's waived in lieu of college courses in calculus and either physics or chemistry with no less than a 3.2 or B+ final average. This is reviewed on a case by case basis and students should consult the Office of Admissions regarding this waiver.
Early Decision
---
We consider candidates who make Webb Institute their first choice under an early decision plan. Applicants wishing to be considered under this plan must have taken all required College Board tests by the end of October of their senior year in high school and must have an excellent academic record.
October 15: Applications due.
All required application forms, including a transcript indicating rank in class, must be on file by October 15 of their senior year. If accepted for early consideration, the applicant will visit the campus for the final interview before the end of November.
All early decision candidates will be notified by December 10 whether they have been accepted. Accepted candidates will be expected to withdraw all applications to other colleges and to provide a non-refundable deposit to secure their position in the incoming class.
Any applicant not accepted under the early decision plan will be considered, without bias, for admission during the regular process beginning in March, unless a final rejection is received in December.
In addition to these requirements specific to Early Decision candidates, the same forms necessary for Regular Decision candidates must also be submitted by Early Decision candidates.
---
Our College Board SAT code is 2970. Our ACT code is 2987
Regular Decision
---
Before December 20: Visit campus and meet with an Admissions officer. Visits are not required in the preliminary stage of application, but are highly recommended.
By February 1 of Senior Year: Take the College Board Exams

Scholastic Aptitude Test (both verbal and mathematical sections)
SAT II Physics or Chemistry
SAT II Mathematics, Level I or II
February 15: Applications due. It is recommended that students begin the application at the start of their senior year to help the Admissions Office track your progress and contact you if necessary.
In most cases, there are four available SAT test dates between the start of the last year of high school and our application deadline of February 15th. They are early October, early November, early December, and late January. It is recommended to take the required tests in November and December and leave the January date as a backup in case prior testing cannot be completed or scores obtained do not fall into the desired range for candidates.
Please contact our Admission's Office or your high school guidance counselor for additional information about these exams.
Candidates will be contacted in late February and early March about the status of their application.  Interviews take place on a rolling schedule throughout March and April and are by invitation only.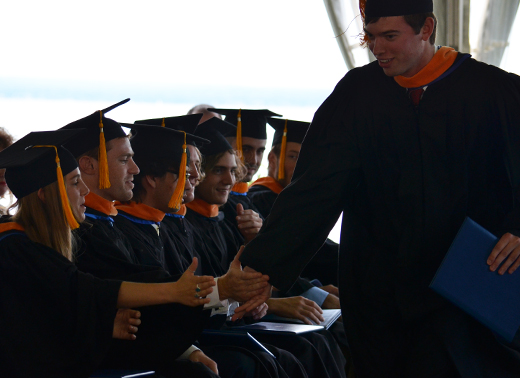 ---
Webb has been successful in insuring the admission and continuation of education for all students in financial need, as long as all academic requirements are met.
Students needing additional funds to meet the necessary expenses are requested to consult the Director of Financial Aid prior to the start of each academic year.
Internal Scholarships are available to students who have completed a FAFSA and meet all academic and financial eligibility requirements.
Expenses
---
Webb is the only private engineering college in the country that provides full-tuition scholarships, covering all four years at Webb to all accepted students who are U.S. citizens or permanent residents.
The tuition cost for foreign students for the 2016-2017 academic year is $47,000.
There are no laboratory, library, or other course fees charged. This unique arrangement is testimony to the generosity of our founder.
However, you will encounter some expenses, and some students may require financial aid. Please click here for more information about Financial Aid.
Net Price Calculator

Cost of Attendance 2016-17
| | |
| --- | --- |
| Tuition | $47,000 |
| Room and Board | $14,400 |
| General Fee | $400 |
| Books | $700 |
| Transportation | $ 2,000 |
| Laptop Fee* | $ 2,850 |
| Total Cost of Attendance | $ 67,350 |
For your budgeting purposes this is our estimate of what you can expect to spend in a school year.
Travel expenses vary depending on the students' distance from Glen Cove.
The $200 registration fee freshman pay will be applied against the Room and Board cost.
* The Laptop Fee is charged in the first year only. This cost is inclusive of sales tax and is billed in 2 installments.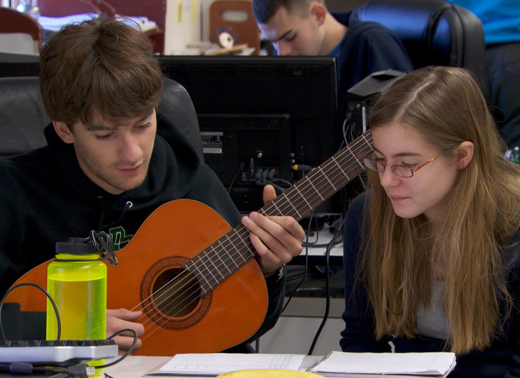 ---
If you need additional financial assistance, we recommend pursuing federal grants and loans-and we'll help you do so.
The first step is to get an overview of what's available. Try FinAid (www.fafsa.org) or the College Board (www.collegeboard.com).
For government grants and loans, you must submit a Free Application for Federal Student Aid (FAFSA) (http://www.fafsa.ed.gov/). Our federal school code is 002900.
We're happy to help you secure financial aid. Feel free to call us at 516-671-8355.
Click here for more information about Financial Aid.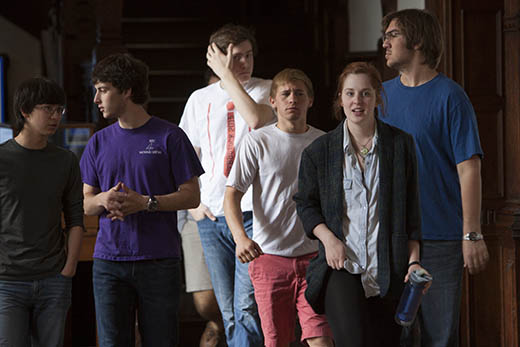 Webb Institute Open House
---
Open House at Webb Institute gives potential students an idea of what life at Webb is truly like.  High school students interested in naval architecture and marine engineering are introduced to our academic program by President Michel and Dean Werner.
Current Webb students conduct tours throughout the day and alumni are also present  for potential students to hear what it is like to work in the field of naval architecture and marine engineering.
Open House usually takes place at the end of October.  If you are unable to attend, please feel free to contact our admission office to schedule another time to visit.
Tours are conducted by the Admissions office Monday through Friday, 9am to 3pm except holidays.
Contact Admissions:
516-671-8355
admissions@webb.edu