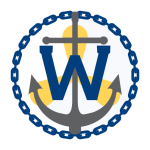 Glen Cove, NY February 4, 2016 – Webb Institute's Campaign Cabinet, led by President Keith Michel '73 and Campaign Chair Joseph Cuneo '57, is pleased to announce that $28 million (70%) of the $40 million goal has been raised to date in the Campaign for Webb.
The Campaign for Webb: America's Most Unique College is the most ambitious fundraising effort in the institution's history.  Through this effort, Webb plans to raise $40 million to enhance the college's programs, infrastructure, and financial resources to meet the growing challenges of an expanding marine industry.
"William H. Webb set the standard for philanthropy in his time; he was one of the leaders in providing for the engineering education of young people.  The investments made through the Campaign for Webb are investments in outstanding young people of today and tomorrow," said Joseph Cuneo.  "Our success to date is testimony to the fact that Webb Institute instills the commitment to give back to benefit future generations."
The early phase of the Campaign, also known as the silent phase, set the tone with five Cornerstone investments, representing contributions of $2.5 million or greater.  Since the public phase launch, alumni, parents, and friends have provided an equally impressive and generous response, raising over $5 million to date with 3 ½ years left in the Campaign period.
"My participation in the Campaign is motivated by my desire to honor my father, Richard B. Couch '33, my interest in the marine industry, and my admiration for Webb and what it has been able to accomplish over the past 127 years.   To continue our success, we will need the support of the entire Webb family," said John Couch, honorary alumnus and Campaign Cabinet member.
Of the $40 million Campaign goal, $28 million will be raised to strengthen the endowment and ensure intergenerational sustainability of the full-tuition scholarship model, while $12 million will be earmarked for facilities updates and expansion.
During the public phase of the Campaign, the Webb Alumni Association and Webb–through its network of Regional Coordinators and with the assistance of alumni and friends–are hosting 18 events throughout the United States and in Rotterdam, the Netherlands.  A comprehensive "State of Webb" will be featured in each event.
To register for the regional events, please visit our website at:  https://www.webb.edu/regional-events/
About Webb Institute
Founded in 1889 by William H. Webb, Webb Institute is a top-ranked undergraduate engineering college specializing in Naval Architecture and Marine Engineering. Webb provides full-tuition scholarships to all admitted students; admission to Webb is extremely competitive with a maximum of 28 students being accepted into the program each year. Webb Institute prides itself on a 100% placement rate for graduates who are highly sought after by all segments of the marine industry. The campus is located on a beautiful, waterfront site in Glen Cove, NY.  For more information, visit www.webb.edu.
---
General Contacts:
Keith Michel
President, Webb Institute
516-671-2277, ude.bbew@lehcimk
Anthony R. Zic
Director of Development, Webb Institute
516-403-5375, ude.bbew@ciza
Media Contact:
Kerri Allegretta
Director of Media Relations and Communications, Webb Institute
516-403-5392, ude.bbew@attergellak