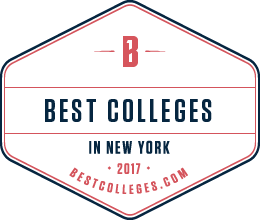 Best Colleges has ranked Webb Institute as the third Best College in New York in their 2017 assessment! Best Colleges, which ranked a total of 25 colleges in its assessment, gave Webb an overall score of 88.52, beating out Cornell University.
Vassar College came in second and Columbia University took first place.
Best Colleges Profile of Webb Institute:
Originally a shipbuilding academy, Webb Institute was established as a private engineering college in 1889 and has remained largely unchanged to this day. With a current enrollment of only 94 students, Webb is the smallest entry on our list of the best New York colleges. The institute's 26-acre Long Island campus features only four classrooms; each room is divided to accommodate both formal lectures and hands-on project work.
All students who successfully complete the school's rigorous undergraduate program are granted a dual Bachelor of Science (B.S.) degree in naval architecture and marine engineering. The 146-credit curriculum includes foundational coursework in fields like mathematics, lab science, materials science and thermodynamics. Third and fourth semester students learn complex methods and theories related to ship design and dynamics, electrical engineering and marine transportation, as well as laws and ethics that guide modern ship construction. Every year, students must supplement their coursework with an eight-week internship period. Most students complete their bachelor's degree program after four years of full-time study.