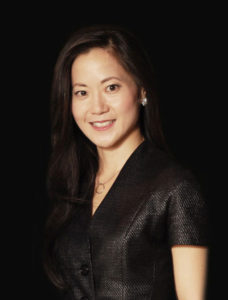 Angela Chao will deliver the 2019 commencement address at Webb Institute on Saturday, June 22, and will be awarded an Honorary Doctor of Science degree, the highest degree Webb can grant.
Angela Chao is Chairman and C.E.O. of Foremost Group, an American shipping company with worldwide operations.
Founded in 1964, Foremost Group is an industry leader in incorporating fuel-efficient designs and technology in its fleet of modern and eco-friendly bulk carriers and has a worldwide reputation for its commitment to reliability, exceptional performance, and high ethical standards.
Angela holds an undergraduate degree from Harvard where she graduated magna cum laude in three years and earned her MBA degree from Harvard Business School. Before taking the helm of Foremost Group, Angela worked in the mergers and acquisitions department of what is now Morgan Stanley Smith Barney. After Harvard Business School, she rejoined Foremost Group, first concentrating on the fundamentals of ship operations and ship management while overseeing the implementation of Foremost's Safety Management System to comply with the International Safety Management (ISM) Code and then in later years, the fleet's Vessel Security Plans in compliance with the IMO's International Ship and Port Facility Security (ISPS) Code. In 2018, she was named Chairman and C.E.O. of Foremost Group.
Angela serves on a number of public and nonprofit boards, including Bank of China, Harvard Business School's Board of Dean's Advisors, Lincoln Center Global's China Advisory Council, the American Bureau of Shipping Council, Massachusetts Maritime Academy's International Maritime Business Department Advisory Board, The Chairman's Council of the Metropolitan Museum of Art, The Metropolitan Opera, Museum of Modern Art PS1, Carnegie-Tsinghua Center for Global Policy Board of Advisors, the Hospital for Special Surgery's International Advisory Board, the Shanghai Mulan Education Foundation, and Foremost Foundation. She is also a member of the Council on Foreign Relations, serves on the Young Leaders Forum of the National Committee on US-China Relations and is the Honorary Chairperson of the Chiao-Tung University Alumni Association in America. Previously, Angela served on the Boards of the New York City Economic Development Corporation, the China State Shipbuilding Corporation, the China Council for the Promotion of International Trade and Executive Committee of the Baltic International Maritime Council (BIMCO).
Her philanthropic activities are a natural outgrowth of her parents' upbringing who instilled in their six daughters a strong work ethic and sense of obligation to give back to the community. Born in the United States, she also speaks Mandarin Chinese; as a New Yorker, she is an ardent supporter of many of New York's most iconic cultural institutions, especially in the arts and opera.