Glen Cove, NY –Webb Institute, a four-year college specializing in naval architecture and marine engineering, has announced that the Academic Year 2018-19 recipients of the Crowley Maritime Corporation's Thomas B. Crowley Sr. Memorial Scholarship are Taylor Campbell (Class of 2019) and Reneé Tremblay (Class of 2020).
Webb's scholarship selection committee have chosen Tremblay of Bristol, Rhode Island, and Campbell of Altoona, Pennsylvania for their hard work, academic excellence, volunteer efforts, and superb leadership skills that they actively display on and off campus.
Campbell is a very active member of the Webb community. Throughout her time at Webb, she has been a member of the Student Organization, Leadership Committee, and Captain of Webb's first-ever women's basketball team. Campbell has also assisted in running campus events and volunteer efforts, including Engineering Day, an event devoted to teaching young children about and stimulating interest in engineering.
Tremblay has been involved with numerous student organizations, volunteer efforts, and community projects during her time at Webb, including Open House and the Summer Engineering Academy. She is Co-Chair of the Leadership Committee as well as Student Public Relations Chair working with Webb's Communications and Media Relations Department, where she assists in social media marketing, yearbook design, and writing for Webb's annual publication, Webb News.
"Reneé and Taylor are exemplary leaders" said Dean Matthew Werner. "Webb is proud to have Reneé and Taylor as members of our student body.  Their multi-faceted contributions to the community and record of achievement at Webb has made them ideal candidates for the Thomas Crowley Scholarship."
"The Thomas B. Crowley Sr. Memorial Scholarship Program provides assistance to students that demonstrate attributes that Crowley Maritime Corp. and Webb Institute hold essential to our missions. These include leadership, service, and commitment to the maritime industry." said President R. Keith Michel. "We are most appreciative of Crowley's ongoing commitment to higher education and look forward to our continued partnership with Crowley Maritime Corp."
Since 1984, Crowley has provided more than $3 million dollars in scholarship funding for more than 1,000 students studying at maritime academies and other select institutions in the U.S., Puerto Rico and Central America. In 1994, Crowley Chairman and CEO Crowley Jr. established the Thomas B. Crowley Sr. Memorial Scholarship Program in honor of his father.
To support this specialized, top-ranked institution, Crowley initiated the Thomas B. Crowley, Sr. Memorial Scholarship at Webb in 2007 and has since given tens of thousands of dollars in support of the school's students. Crowley's involvement with Webb took on added significance in 2008 when the company acquired Jensen Maritime Consultants, a leading naval architecture and marine engineering firm headquartered in Seattle. Many Webb graduates are currently employed by Crowley and Jensen in a number of disciplines from naval architecture and marine engineering, to vessel construction management and vessel operations.
About Crowley
Jacksonville-based Crowley Holdings Inc., a holding company of the 126-year-old Crowley Maritime Corporation, is a privately held family and employee-owned company that provides marine solutions, energy and logistics services in domestic and international markets. Crowley operates under four business units: Crowley LOGISTICS, a singular ocean liner and logistics supply chain division; Crowley SHIPPING, which encompasses ownership, operations and management of vessels, including tankers, container ships, tugboats and barges; Crowley FUELS, a fuel transportation, distribution and sales division that also provides liquefied natural gas (LNG) and related services; and Crowley SOLUTIONS, which focuses on government services, including vessel management for government agencies, as well as engineering, project management, naval architecture through its subsidiary Jensen Maritime, and marine salvage and emergency response through its 50 percent ownership in Ardent Global. Additional information about Crowley, its subsidiaries and business units may be found at www.crowley.com.
About Webb Institute:
Founded in 1889 by New York-based ship builder William H. Webb, Webb Institute is a highly selective, top-ranked undergraduate institution specializing in Naval Architecture and Marine Engineering. Building on a 129-year legacy of academic excellence, Webb is the only full-tuition scholarship, private undergraduate program of its kind in the United States, with a maximum of 28 students being accepted into the program each year. Webb Institute's beautiful, waterfront campus is located in Glen Cove, NY, on the North Shore of Long Island.
For additional information, contact Webb Institute's Communications Department at (516) 403-5392, or visit our website at, www.webb.edu.
 (Photo Caption) Taylor Campbell, Class of 2019, and Renee Tremblay, Class of 2020, recipients of the Thomas B. Crowley Sr. Memorial Scholarship. Photo Credit: Taylor Adamczyk, Assistant Director of Media Relations & Communications at Webb Institute.
Media Contact:
Kerri Allegretta, Director of Communications and Media Relations
(516) 403-5392 or kallegretta@webb.edu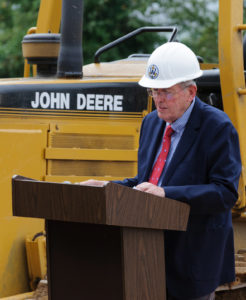 On Thursday, September 13, 2018, members of the Webb Community gathered to celebrate the official Groundbreaking of the new state-of-the-art Couch Family Academic Center.
The event was attended by members of Webb's Board of Trustees, Cornerstone Campaign Donors, Carol and Paul Bentel of Bentel & Bentel Architects, DHI Construction led by Howard Dym, the Mayor of Glen Cove, Tim Tenke, Faculty, Administration, and many others.
The celebration, which was held in the Visconti Reception Room, included remarks by Dean Matthew Werner, President R. Keith Michel, Webb Trustee and Campaign Chairman Joseph Cuneo, Carol Bentel FAIA of Bentel & Bentel Architects, and landscape architect Richard Loeffler.
During the ceremony, a plaque was presented to Webb Institute on behalf of Congressman Thomas Suozzi, who extended Webb well-wishes on the construction of the Couch Family Academic Center.
Following the speeches, attendees and students made their way to the back patio of Stevenson Taylor Hall to witness the turning of the soil and a heartfelt speech by Jon Couch, representative of the Couch Family and Cornerstone Campaign Donor, whom the academic center is named after.
"Our family has been extremely fortunate and a principal reason for that good fortune has been William Webb's vision and generosity," said Jon Couch. Webb has played a central role in my family for four generations. That being the case, it is a wonderful honor to have the family name associated with this magnificent new facility and we are deeply grateful for the recognition."
The Couch Family Academic Center is expected to be completed by Fall 2019.
View The Couch Academic Center Groundbreaking video!
Couch Academic Center Groundbreaking from Webb Institute on Vimeo.
by Kevin O'Keefe '22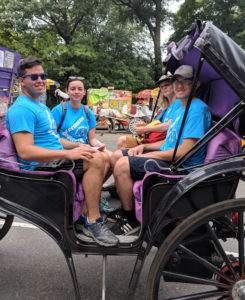 When I first arrived at Webb, I was honestly afraid of what was waiting for me. I had talked over the summer with most of my classmates prior to Orientation Week, but I still had not really known these people that I would be spending the next four years with. Thankfully, because of the activities and events my new classmates and I took part in during Orientation Week, we were able to become close and get to know each other very well in a short amount of time.
Orientation, even though it lasted less than a week, was the best time I have ever had. It felt like a lifetime of fun experiences, with each day feeling like several. We had so many great experiences, from the clue run, which helped me learn the layout of the school, to the scavenger hunt in New York City. The scavenger hunt was by far the greatest of the activities we did during the week. The scavenger hunt had us do so many crazy things throughout the city for points. My favorite of all of them was trying on wedding dresses in Macy's with my group. Oddly enough, the people there were really into it and they all wanted to take videos and pictures with us.
Going into my first year as a Webbie, I hope to learn to properly manage this new environment and still have fun!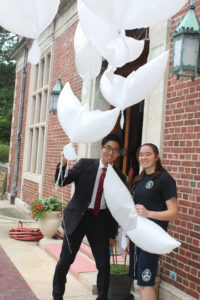 On Saturday, August 25, 2018, the Webb Community gathered on campus to celebrate and remember a special member of the Webb Family, First Lady, Peggy Sylvia Michel who passed away suddenly on July 22.
The celebration included beautiful reflections on Peggy's life by many who knew and loved her including her husband, President R. Keith Michel; son, Dr. Joshua Michel; Webb's Chairman of the Board, Bruce S. Rosenblatt; Vice President of the Webb Alumni Association, Victoria Dlugokecki '88; Pastor David H. Collins '73, Dean Matthew Werner, and Webb students Ashley Dias '19, Andrew Pidduck '19, Jonathan Wang '20, and Kevin Lu '21.  Each speaker shared stories of Peggy's kindness, warmth, generosity, and love for Webb.
In memory of Peggy and her love of gardening, she was a key caretaker of Webb's Student Garden, the newly instituted Peggy Michel Memorial Fund will support the naming of the Peggy Michel Garden overlooking Webb's future academic center and the Long Island Sound, as well as the Peggy Michel Memorial Scholarship Fund.
Contributions in Peggy's memory can be made to Webb Institute.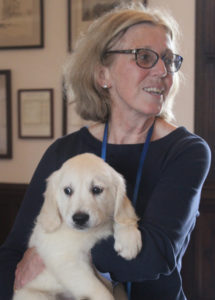 Obituary:
Peggy Sylvia Michel died on July 22, 2018, at the age of 64. An experienced scuba diving enthusiast, Peggy died from cardiac arrest following a shallow dive in the Cayman Islands.
Peggy was born in Paris, France, and immigrated to the U.S. at an early age. She attended the Grace Downs School in Glen Cove, NY, at which time she met her future husband, Keith. Peggy began her professional life working in customer service at Pan American Airways in Manhattan and enjoyed traveling the world. Upon the birth of her son Joshua, she was a stay-at-home mom for several years, after which she studied to become a pastry chef and co-founded a wedding cake business in the San Francisco Bay Area. This was followed by a twenty-one-year career working in various administrative roles at the University of California Office of the President in Oakland, California.
In 2013, when her husband was appointed President of Webb Institute, the nation's premier college of naval architecture and marine engineering, Peggy readily transitioned into the role of "First Lady" at the college. At Webb, she quickly gained a reputation as a gracious host, mentor, and confidant to students, staff, alumni, and friends. Peggy was known for her engaging smile, warmth, and collegial nature. She had a passion for gardening, cooking, knitting, and quilting. Most of all, she enjoyed offering a kind word and helping hand to those in need.
Peggy is survived by her husband of 43 years, Keith, son Josh and his wife Beth, her sister Isabelle McVickar, and numerous nieces, nephews, and cousins whom she loved very much.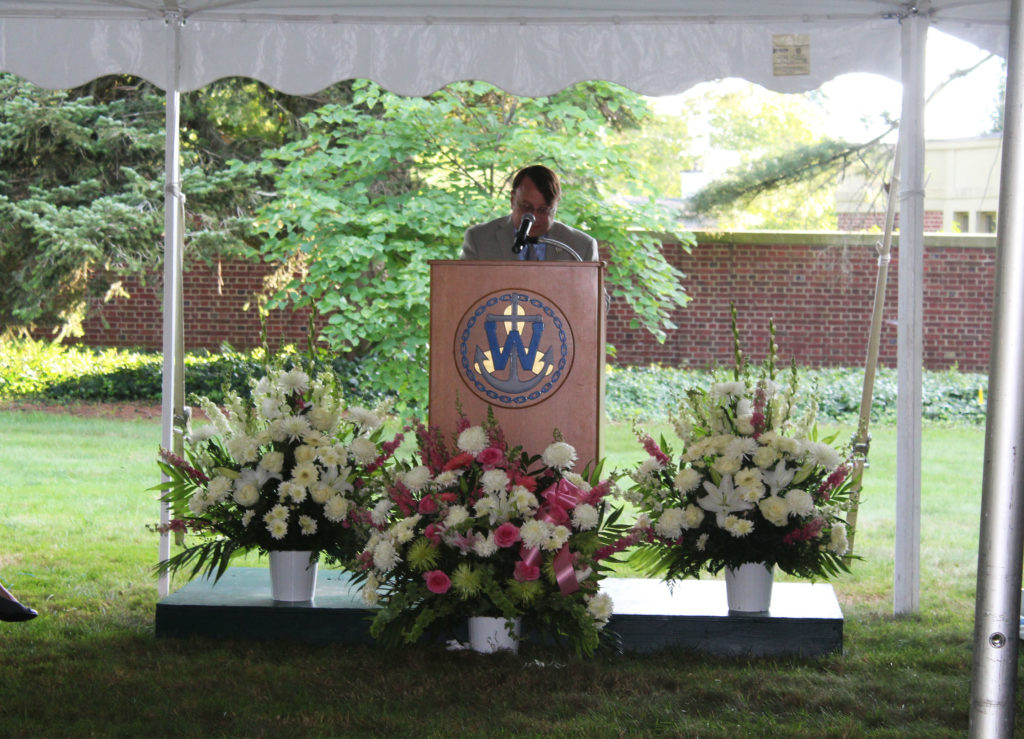 Webb Institute is ranked in The Princeton Review's latest edition of its college guide, The Best 384 Colleges, including being named #15 Best Career Services.
Webb was also received honors in the following ranking lists:
#5 Students Study the Most
#8 Most Accessible Professors
#20 Their Students Love These Colleges
Webb also received high marks in other areas, including 96 in Academics and 96 in Quality of Life according to The Princeton Review survey that asked students to rate their schools on dozens of topics and report their experiences.
A student surveyed for the guide boasted about Webb's career services and premier internship program, "Work terms give each student a  feel  for  industry  sectors  and  allow  them  to  make  improved  career  decisions  when  selecting  a  first  job – You'll learn something in the classroom  and  then  see  it  in  action."
One student said, "Professors are brilliant and since they all have practical work experience they are able to make our education applicable to what we'll be doing once we graduate."
"Students become best friends very quickly, giving everyone a great support system both academically and socially," said another student noted.
One of The Princeton Review's most popular guides, The Best 384 Colleges rankings are based on surveys of 138,000 students at 384 top colleges that includes a wide representation by region, size, selectivity, and character. Published annually since 1992, the book includes detailed profiles of the colleges with rating scores in 8 categories as well as ranking lists of top 20 schools in 62 categories.
For more information on the rankings  and  methodology  visit  www.princetonreview.com/college-rankings/how-it-works