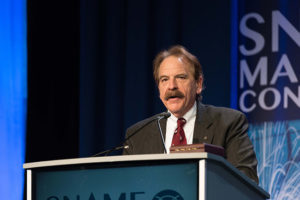 On October 23, 2017, Webb Institute Professor of Structural Engineering, Dr. John C. Daidola, P.E., received The David W. Taylor Medal at the 2017 The Society of Naval Architects and Marine Engineers (SNAME) Maritime Convention in Houston, Texas. 
The David W. Taylor Medal is the highest award SNAME confers. The award is named after the man who built the first experimental towing tank in the United States, recognizes contributions to the development of future maritime systems through the creation of technology based on research. Professor Daidola was selected for this year's medal for his notable achievements in naval architecture and marine engineering.
In addition to receiving the David W. Taylor Medal, Professor Daidola presented a paper at the convention on pontoon boat instability in waves. In his paper, Dr. Daidola investigates the stability of pontoon boats running in waves utilizing a quasi-static analysis considering the conditions for stable equilibrium and the limits where instability can be expected.
The variables include the wave environment as well as the principal characteristics of the vessels themselves.  The procedure identifies limiting conditions as well as providing a basis for developing vessel proportions appropriate for expected wave conditions.  The procedure is applied to several vessel design conditions.  The results of this study should be useful in considering both the design of these vessel types as well as identifying limitations for their application.
About Professor John C. Daidola, PhD, P.E:
Dr. John C. Daidola, P.E. is a graduate of University of Michigan and Stevens Institute in naval architecture and marine engineering. He has authored over 80 publications on a variety of subjects of interest to the industry. Dr. Daidola is a licensed engineer, currently registered in eight states. He has been employed by Newport News Shipbuilding, the naval architecture and marine engineering firms of M. Rosenblatt & Sons, Inc., and successors as well as John J. McMullen Associates, and as an Adjunct Professor at Stevens Institute and U.S. Merchant Marine Academy.
Currently, Dr. Daidola is an Assistant Professor of Structural Engineering at Webb Institute and the President of his own naval architecture and marine engineering firm, AENY. He is a Fellow of SNAME and has been active in the organization, including as its first Vice President Technical.
By Jonathan Wang '20, Galen Ng '20, Mary McGuinness '20, and Max Pierce '20
Five months, four Webbies, a foreign country, and a mission to meet Ed Sheeran, eat the best fish and chips in England, get hired at Lloyd's Register, marry into the Royal Family, make it to class on time.
Southampton University, with a Webb factor of roughly 240, is proving to be a bit of a college culture shock for the four of us. Here, we are slowly learning how to be real people and behave in social situations that are not comprised of only Webbies. And even though we would do questionable things to have Chef Wiener fly here to cook for us, we are very excited to be across the pond broadening our perspective and learning Ship Science just steps away from Lloyd's Register.
It has only been three weeks in England so far, and while we have not met the Queen yet, we have learned a few things while here:
Southampton has neat ships: We discovered this at the Southampton Boat Show. We also gained a taste for luxury, seven-figure yachts. After stepping aboard the biggest and most luxurious yachts on display, we are now hoping to spend Sea Term sailing on a megayacht.
Boldrewood Innovation Campus is pretty awesome: As Shippies here at Southampton, some of our classes are located at a new campus called Boldrewood. The modern looking campus is brand new and has buildings for the university and Lloyd's Register. It does not disappoint inside either as it is home to a 138-meter towing tank, UAV labs, and a large computer lab which we've used to learn FEA and CFD.
Walking is hard: Traveling to classes has been one of the biggest changes for us. When a class finishes, we must gather our belongings and walk across the campus to the next lecture hall. We also often have classes at other campuses, which means walking an additional 0.8 miles each way. Gone are the days of rolling out of bed at 8:59 AM and hightailing it into the classroom or napping between classes. We now have to factor in half an hour in the morning to get from our dorm to classes
We are in more societies than just SNAME: From Cake Decorating Society to Actuarial Science, there's a society for just about anything. Between the four of us, we've joined societies including Break Dancing, Water Polo, Athletics and Cross Country, and Pottery.
 The Bubonic Plague a.k.a. Fresher's Flu was never actually eradicated: Turns out when you squeeze hundreds of freshers together in dorms and lecture halls, the flu spreads like wildfire. We've all been sick to some degree, and the frequency of coughs in lectures is at about 3 seconds right now. Hooray for the Cough Choir!
Stonehenge rock: Although it is smaller than it appears to be on the cover of National Geographic, it is still impressive when you consider the builders somehow managed to stack some massive rocks on top of each other. While visiting Bath before Stonehenge, we admired the architecture, toured some beautiful churches, and most importantly, had English tea. Mary particularly enjoyed the jam, Jonathan feasted on the clotted cream (to Galen's disgust), and Galen devoured a peanut butter fudge brownie. On the trip, we also saw the beautiful English countryside and many sheep.
Chef Weiner is a blessing: We took the lazy route and chose a part-catered meal plan instead of cooking all our meals. Frankly, the food served in our dorm leaves much to be desired. It is just not the same as Chef Weiner's meals. Just thinking about all day bagels, cereal parties, fruit, and the salad bar brings tears to our eyes. We miss it all.
Of course, we are here at Southampton to study. To make sure everyone back at Webb knows we are not slacking off, we have evidence of our studiousness.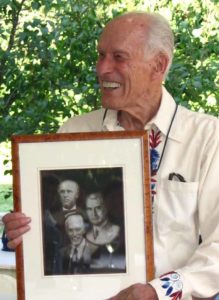 During the early morning hours of Thursday, October 19th 2017, we lost a beloved friend. Professor Emeritus Jacques Hadler will be sorely missed on the Webb Institute campus.
Falling ill in the spring, requiring hospitalization and then physical rehabilitation, Professor Hadler moved home to Maryland in June. Continuing his physical rehabilitation there, he regained strength and was enjoying time with his family. He was with his family as he passed.
Professor Hadler came to Webb as Director of Research from 1979 and 1983; was Dean from 1983 and1987 and again from 1991 and 1998. He was the J. J. Henry Professor of Naval Architecture from 1989-2001. Webb Institute awarded him an honorary Doctor of Science degree in 1993, the highest honor Webb can bestow. Professor Hadler taught a countless number of students over his time at Webb, once being referred to as a Propeller God.
On Wednesday, October 18, 2017, Webb Institute announced the 2017-18 recipient of the Thomas B. Crowley Sr. Memorial Scholarship by Crowley Maritime Corp., The Webb's scholarship selection committee chose Tyler Gray-Hoehn (Class of 2018) from Brookfield, Wisconsin, for his hard work, academic excellence and superb leadership skills that he actively displays on and off campus.
Throughout his time at Webb Institute, Tyler has been very active in student government and community projects because of his love for Webb and his desire to give back. This year, Tyler is the Senior Class President, as well as the Vice President of the Student Organization (SO). He has also been Webb's Motor Boat Chair, Van Chair, and a member of the Honor Council. In addition to his campus leadership roles, Tyler is active in Webb's athletics, playing on both the soccer and volleyball teams. Tyler says his involvement in campus activities and leadership at Webb have taught him invaluable lessons that will benefit him in his professional and personal life forever. Unlike most Webb graduates, Tyler plans to be a merchant mariner after commencement.
"Tyler is a great asset to the Webb community," said Dean Matthew Werner. "He has stood out as a leader in the student body since setting foot on campus three years ago.  His commitment and passion for Webb is admirable, as is his drive to make Webb a better place through his own actions. I feel that Tyler's record of achievement at Webb reflects what the Crowley Scholarship seeks to recognize."
"The Thomas B. Crowley Sr. Memorial Scholarship Program provides assistance to Webb students who demonstrate attributes that both Crowley and Webb hold in high esteem – leadership, service, and commitment to the maritime industry," said President R. Keith Michel. "We are most appreciative of Crowley's ongoing commitment to higher education and honored to continue our partnership with Crowley Maritime Corp."
Since 1984, Crowley has provided more than $3 million dollars in scholarship funding for more than 1,000 students. The company has also donated more than $2 million over the years to support other educational programs. In 1994, Chairman and CEO Tom Crowley Jr. established the Thomas B. Crowley Sr. Memorial Scholarship Program in honor of his father who led the company to extraordinary heights before passing away in 1994. The company continues to give scholarship dollars to deserving students in the U.S., Alaska and Puerto Rico. In 2006, the program was expanded to Central America, and to date has provided financial assistance to more than 20 students in that region. To learn more about the Crowley scholarship program, visit www.crowley.com/scholarships.
About Crowley
Jacksonville-based Crowley Holdings Inc., a holding company of the 125-year-old Crowley Maritime Corporation, is a privately held family and employee-owned company. The company provides project solutions, energy and logistics services in domestic and international markets by means of six operating lines of business: Puerto Rico/Caribbean Liner Services, Latin America Liner Services, Logistics Services, Petroleum Services, Marine Services and Technical Services. Offered within these operating lines of business are: liner container shipping, logistics, contract towing and transportation; ship assist and escort; energy support; salvage and emergency response through its 50 percent ownership in Ardent Global; vessel management; vessel construction and naval architecture through its Jensen Maritime subsidiary; government services, and petroleum and chemical transportation, distribution and sales. Additional information about Crowley, its subsidiaries and business units may be found at www.crowley.com .
On Tuesday, August 15, 2017, twenty-eight students from across the Country joined the Webb's Class of 2021, eager to take on the Webb challenge. This active and talented group of individuals bring a variety of impressive skills and hobbies to Webb.
During their high school careers, 93% were athletes, 75% participated in community service, 64% participated in performing arts, and 32% competed in FIRST Robotics and other competitive robotics teams.  In addition to those activities, member of the Class of 2021 have some unique achievements including: constructing a 14-foot sailing catamaran, climbing Mount Whitney, building a go-kart, bee and butterfly keeping, hiking the Long Trial and Appalachian Trial, and being a tri-athlete.
Since their week-long orientation back in August, the Class of 2021 have quickly integrated themselves into Webb's unique community and become full-fledged "Webbies." Many students have already joined athletic teams, participated in student leadership, joined in on community service projects, and attended on and off-campus activities.
In mid-September, the Class of 2021 and their families celebrated the start of the Fall Semester during Webb's annual Family Weekend. Students and their loved ones spent the weekend enjoying the various activities Webb had planned, including an ice cream social, BBQ luncheon, Jazz Band and WooFS performances, a competitive soccer game, brunch, and the grand finale, the Freshman Boat Competition. The Class of 2021 excelled in their race, with all student vessels successfully floating on the sound. The "Purple Team" made up of Alex Koziol, Maggie Maguire, Dillion Esposito-Kelley, and Chris Merola, were the victors.
Webb looks forward to learning more about the Class of 2021 and is eager to see what they accomplish in their first year aboard.
Photos from this year's Orientation and Family Weekend are available on Smugmug.