Each year, Professor Richard Harris's Western Culture II class participates in a art project that requires them to recreate a painting or illustration. The goal of the project is for the student to learn to look closely at-and really see a work of art, as well as acquire a better sense of the roles of composition and color.
This year, the Class of 2019 recreated a painting or illustration from the Post-Impressionist period or later by artists such as Vincent Van Gogh, George Prosper Remi, and Hiroshi Yoshida.
Upon completion, each student work of art was exhibited in the Visconti Reception Room to be viewed during graduation week.
View student art work below. 
---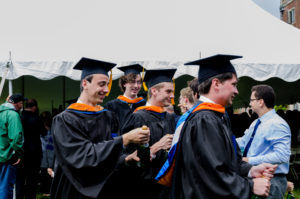 On Saturday June 17, 2017, Webb Institute awarded nineteen Bachelor of Science degrees at its 121st Commencement Ceremony. Each graduating student received a dual degree in Naval Architecture and Marine Engineering.
Webb's commencement ceremony opened with the singing of the National Anthem by the WooFs (Webb Family Singers) and included inspirational remarks from the ceremony's Principal Speaker, Bruce S. Rosenblatt.
Rosenblatt, President of Bruce S. Rosenblatt & Associates, LLC, and Chairman of Webb's Board of Trustees, addressed graduates on building and expanding relationships, both personal and professional, as a key to success. "Within minutes, you'll shift from being students at Webb to becoming alumni of Webb," said Rosenblatt. "Within a short while you'll start your careers and your marine industry family will quickly grow to include your bosses, co-workers, customers, the vendors you work with, and a myriad of others. That's a great thing and be sure to take advantage of it as there will be many people out there who will want to help you to be successful, just as others had done for them."
Additional remarks were made by President R. Keith Michel, Dean Matthew Werner, Former-Dean Richard Neilsen, and the Class of 2017's Student Speaker, James Morrissey.
Morrissey's humorous speech touched on the importance of the "family" dynamic amongst students and the unforgettable memories they have made during their years at Webb. "We've been through a lot together," said Morrissey. "Four years at Webb, seven naval architecture classes, six marine engineering classes, four semesters of math, all the classes in between, container ship design, and thesis. Through all that we've really come together not only as a class, but as a family," said Morrissey.
In addition to the awarding of degrees, several students received additional awards and prizes for their outstanding academic achievements in a variety of areas, such as excellence in thesis and mathematics.
Following commencement, Webb's Class of 2017 will spread out across the country and the world to begin graduate work or start their professional careers in the marine industry. Notable employers include: Carnival Cruise Line, General Dynamics Electric Boat, and Cruise Lines International Association.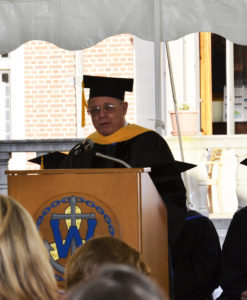 On Saturday, May 20, 2017, Webb Institute honored one of its own during the Annual Alumni Homecoming event.
After a fun-filled day of activities, delicious meals, class reunion photos, and presentations, Alumnus Arthur A. Burr '54 was awarded in a special ceremony with the highest degree Webb Institute can grant, an Honorary Degree of Doctor of Science.  Mr. Burr was chosen for his excellence in the marine industry, and unwavering support of Webb Institute and its students.
Over the years, Mr. & Mrs. Burr have given so much to Webb. In 2006, their generous donation made The Arthur & Marilyn Burr Junior Classroom possible, which is in memory of Arthur's departed classmates, John Franklin and John Dalzell.  Additionally, in 2007, the Benjamin C. Keeler Reading Room was dedicated because of the Burr's gifts to Webb.  The "Art Burr" William H. Webb scholarship endowment provides a full tuition scholarship for a Webb student each year.
Alumni in attendance for the special ceremony remarked that they were "inspired" by Mr. Burr's achievement and the example he has set for alumni to give back to Webb.
After receiving his honorary degree, Mr. Burr thanked Webb, his extended family (his Burr Yacht company associates), his wife Marilyn, and daughter Theresa for their support.
The Webb community is eternally grateful for Mr. Burr's supreme generosity that will transcend throughout our institution for years to come.
Video of Honorary Doctorate Ceremony
Photo Gallery of Homecoming 2017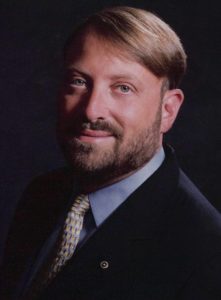 Bruce S. Rosenblatt served as President of his family-owned business, M. Rosenblatt & Son, Inc. (MR&S), a full service naval architecture & marine engineering company established in 1947 jointly by his grandfather, Mandell, and his father, Lester.  He is now President of Bruce S. Rosenblatt & Associates, LLC (BSR), naval architects & marine engineers, the successor organization of MR&S.
Mr. Rosenblatt proudly employs a number of Webb Institute alumni, and has taken on several Webb student interns over the years, as well as very generously contributed to Webb's Mission and Strategic Plan.  From 2005 to the present, he has served as a member of the Webb Board of Trustees, the last year as Chairman providing guidance, time, and talent; for that we will be forever grateful.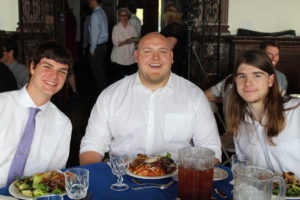 On Friday, April 28, 2017, the Webb community celebrated Founder's Day. Founder's Day focuses on honoring and recognizing our founder, William H. Webb for his grand achievements, extraordinary vision, and generosity. William Webb's grand efforts have given hundreds of students the opportunity to obtain a great education in a truly unique way. Therefore, it has become a tradition to honor him by devoting one afternoon each year to repairing, reorganizing, and beautifying Webb Institute's historic campus.
During this year's Founder's Day observation, students, faculty, and staff spent the day combing the beach, maintaining student whalers, reorganizing library archives, planting new trees and flowers, washing windows, setting up for the evening's dinner and much more!
After the days tasks were completed, everyone washed up, dressed in their formal wear, and headed to the Visconti Reception Room to enjoy the Annual Founder's Day Banquet. The evening included performances by the WooFs, a delicious dinner by Flik Dining, the traditional cutting of the cake, and speeches by Webb's Student Organization President Vincent Commisso '18, Dean Matt Werner, and President and CEO of Metal Shark Boats, Chris Allard '04. Allard's captivating speech touched on the current state of the marine industry, what lies ahead in the future, the legacy of William H. Webb, and the importance of carrying on Webb's mission.
View Founder's Day Dinner Video