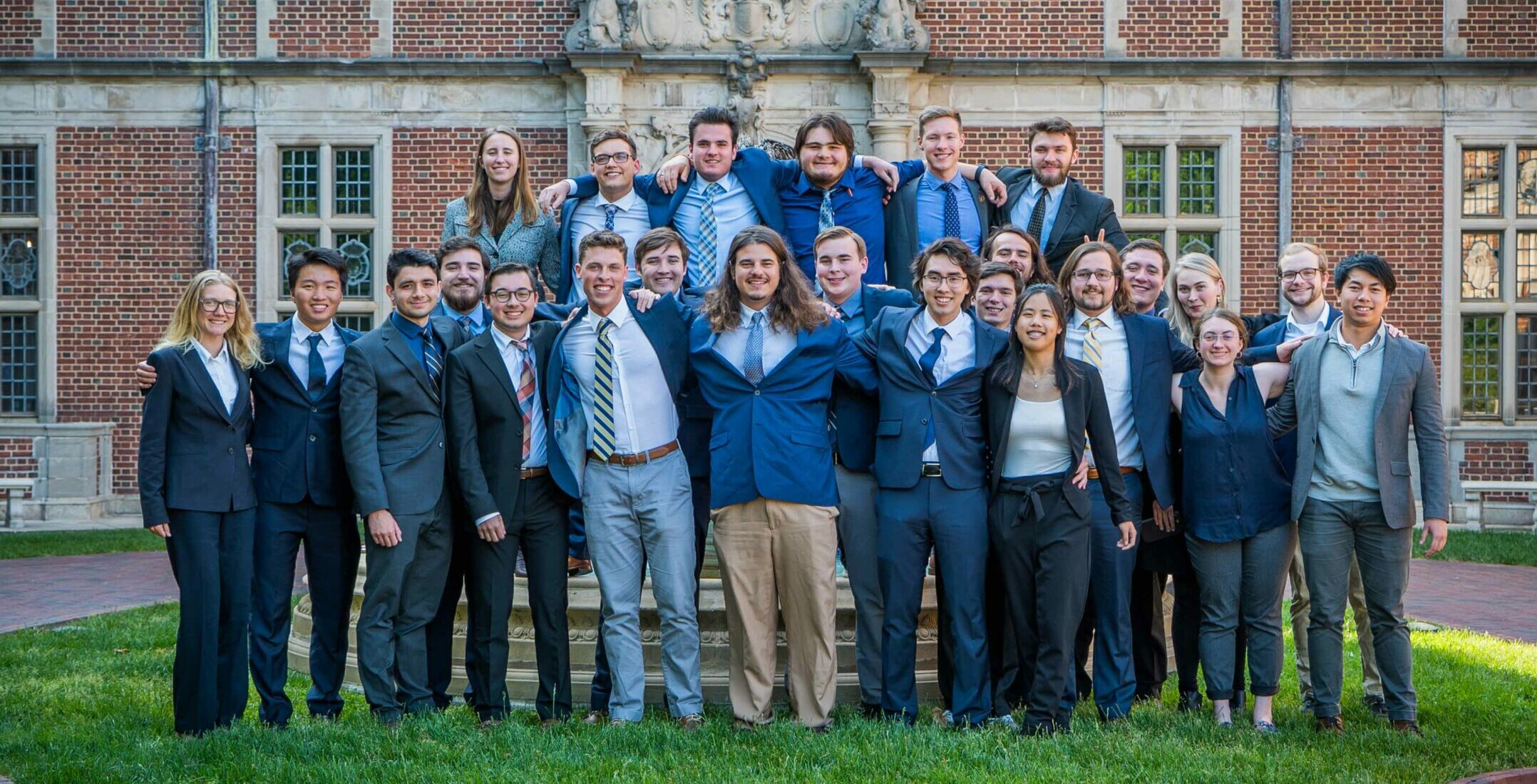 As a part of Professor Bradley D.M. Golden's '99 Ship Design 1 (SD1) class, the juniors spent the first two-and-a-half months of the spring semester preparing their first complete concept designs.
Using the knowledge they've gained in their nearly three years studying at Webb and the experiences from their winter work periods to date, this was the students' first opportunity to apply the naval architecture and marine engineering principles they've studied including stability, ship's structures, main machinery systems, auxiliary systems, resistance and propulsion, and electrical engineering.
Working in small groups of three and four, the students selected one of the vessel types and took their first couple of spins around the design spiral to prepare vessel concept designs. To help make the project as realistic as possible, members of industry familiar with each of the vessel types helped prepare the statements of design requirements that each of the designs had to meet. To challenge the students even further, one or two "curveballs" were thrown into each design statement to make the students think long and hard about how they would achieve their objectives.
At the end of the spring semester, the students presented their final designs to their fellow students, faculty, and members of industry who served as part of an evaluation team. After three years at Webb, the Junior class can now say with confidence that they're familiar with the design process and are well on their way to joining the fields of naval architecture and marine engineering.
Spring 2023 projects - The Class of 2024

USCGC Icy Elfy
Designers: Zane Ballister, Matthew Coogan, Max Mah, Kenna Reed
Vessel Type: Coast Guard Buoy Tender/Icebreaker
Operational Profile:
Icebreaking in winter months, buoy tending in open water.
• U.S. Coast Guard support
• Maritime Law Enforcement
• Maritime Response
• Maritime Prevention
• Maritime Transportation
• System Management
• Maritime Security Operations
• Defense Operations

USS Peace
Designers: Zachary Doerr, Evan Kawabata, Elliot Ocheltree, Richard Thill
Vessel Type: Coastal Patrol Vessel
Standard Mission:
This class of CPV ships will be sold to NATO allies in Europe for:
● Antiterrorism patrols and response.
● Drug enforcement and interdiction.
● Migrant interception and rescue.
● Near-shore and harbor defense.
● Command and communications post or major incident response.

HLV Bladerunner
Designers: Margo Bourn, Alex DeMeo, Kohta Erdos, Tim Lazouski, Jack Otto
Vessel Type: Heavy Lift Vessel
Standard Mission:
The primary purpose of the vessel is to lift and transport large items including floating assets, construction equipment, and assembled products for the offshore wind industry. The vessel will be responsible for transporting equipment across the Atlantic Ocean to North American wind farms.

M/V Jerry
Designers: William Calli, Payne Donaldson, Evan Spalding, Kadi Zheng
Vessel Type: Luxury Cruising/Diving Liveaboard
Standard Mission:
Replace owner's aging fleet of wooden hulled diving liveaboard vessels.
• Offer one and two week diving excursions throughout the western Pacific.
• Provide 30 passengers a luxury travel experience

MV Fishionary
Designers: David Dagoon, Konrad Freischlag, Emma Passariello, Addison Pope
Vessel Type: Offshore Aquaculture Support Vessel
Standard Mission:
MV Fishionary is designed to support offshore fish farm operations. The vessel is equipped for transporting personnel, equipment, feed, and fish between fish pens and other offshore fish farming locations. Delousing capabilities are included.

It's Knot Rocket Science
Designers: Daryn Cook, Chris Grieves, Joseph LaPlaca, Abner Mills, Miguel Sanchez
Vessel Type: Rocket Recovery/Landing Vessel
Standard Mission:
It's Knot Rocket Science is a Lloyd's Register-classed Rocket Recovery and Landing Vessel. Operating in the region surrounding the Bahamas, the vessel's primary purpose is to recover capsules and land rockets on the 3000 m2 landing pad located on the aft end of the vessel. The diesel electric propulsion system is supported by sufficient battery capacity to allow for the vessel to operate in a zero-carbon emissions mode for 10% of the vessel's operational profile. To ensure the vessel's capability to perform it's duties to the highest extent, the vessel is design to meet DP3 standards.